It's difficult to know what you will really need when decorating a nursery for the first time. One piece of furniture that will make your lives as new parents easier is a nursery rocking armchair, also known as a nursery glider. Read on if you're looking for the best rocking chair for nursery. As you rock back and forth in a nursing chair, you will feel the tension disappear from you and the baby.
Nursing moms know that a comfortable nursery rocking chair is essential for feeding, and babies soon go to sleep with a rocking motion. These traditional chairs grow with your child as they remain useful when little ones feel unwell or restless. The chair can always be moved into another room if space becomes tight as these seats look fabulous in any room. It's a purchase you'll be glad you made. In this guide we will help you with exactly what you need to look for when buying the best nursery glider or rocker for your baby's nursery.
Why Is A Nursery Glider or Rocking Chair Necessary?
You are going to spend a lot of your time in the nursery with your baby, especially in the first few months of your child's life. Whether it is for feeding, story time or rocking baby to sleep, a comfortable nursing chair is an absolute lifesaver.
Besides this, most babies love the rocking motion of most gliders or nursery rocking chairs, so it's that much easier to put baby to sleep (or back to sleep again!)
The Benefits of A Good Glider Recliner Nursing Chair
Before we talk about the best nursery gliders and nursing rocking chairs available, lets discuss the benefits of nursing or breastfeeding chairs.
Creates a cozy environment for breastfeeding
The main reason you need a nursing chair. During the initial days, you spend a large portion of your day breastfeeding. It can be quite uncomfortable and bad for your back when you feed at the bed or seated in an ordinary chair. It is ideal to have one that is specifically designed for nursing.
Builds a Strong bond with baby
Using a nursing glider gives mom and baby time to bond, and this is essential in building a strong and secure relationship. You will be skin to skin and can relax together in a nursing chair.
Alleviates lower back pain
Postpartum lower back pain can be caused by incorrect seating position when nursing or breastfeeding. A comfortable breastfeeding chair can help correct this, and reduce pain in the process. It is ergonomically designed to be comfortable for the body while breastfeeding.
Comfortable and Relaxing
Even when you are not nursing or feeding, a nursing chair or glider is a great place to relax or unwind. They often come with comfortable thick padding for the back or an ottoman where you can raise your restless feet. The rocking and gliding mechanisms are also quite relaxing.
What To Look For When Choosing the Best Nursing Chair
Comfort: The chair should be extremely comfortable on your arms and back. Look for thick cushioning and extras like armrests and footrest. These make breastfeeding more comfortable and enjoyable
Material: Choose materials that are safe, organic and non-toxic, as they come in contact with baby's sensitive skin. Avoid chairs finished with materials that have strong odors or a chemical smell. Also choose fabric or materials that are easy to clean and maintain. If possible, go for stain-resistant fabrics. For the cushioning, make sure it is made of a premium material that doesn't go flat over time.
Size: Apart from aesthetics and the space available in your nursery, consider your weight and height before choosing the size of your nursing chair.
Safety: Make sure you choose a safe chemical-free and non-toxic nursing chair. Also make sure the nursery glider chair does not have sharp parts or hard surfaces that can hurt your baby. Some chairs have locks that can stop the rocking motion. This is a great feature to prevent pinching little fingers.
Cost Effective: Create a budget before you begin looking at chairs, and only limit your search to ones within your budget.
Construction: Incest in a well made high quality chair that will last you a long time. Consider future babies or converting it into living room furniture or bedside reading chair once baby outgrows it for nursing.
Functional Mobility: Make sure the chair is functional and practical. It should be easy to get in and out of especially with a sleeping baby in your hands.
Easy to Clean: It is important to have a chair that can be easily cleaned. Babies can get messy, and so some chairs even come with removable, washable covers. These are fantastic.
Quiet: Find a chair that is a silent nursery rocker and does not squeak.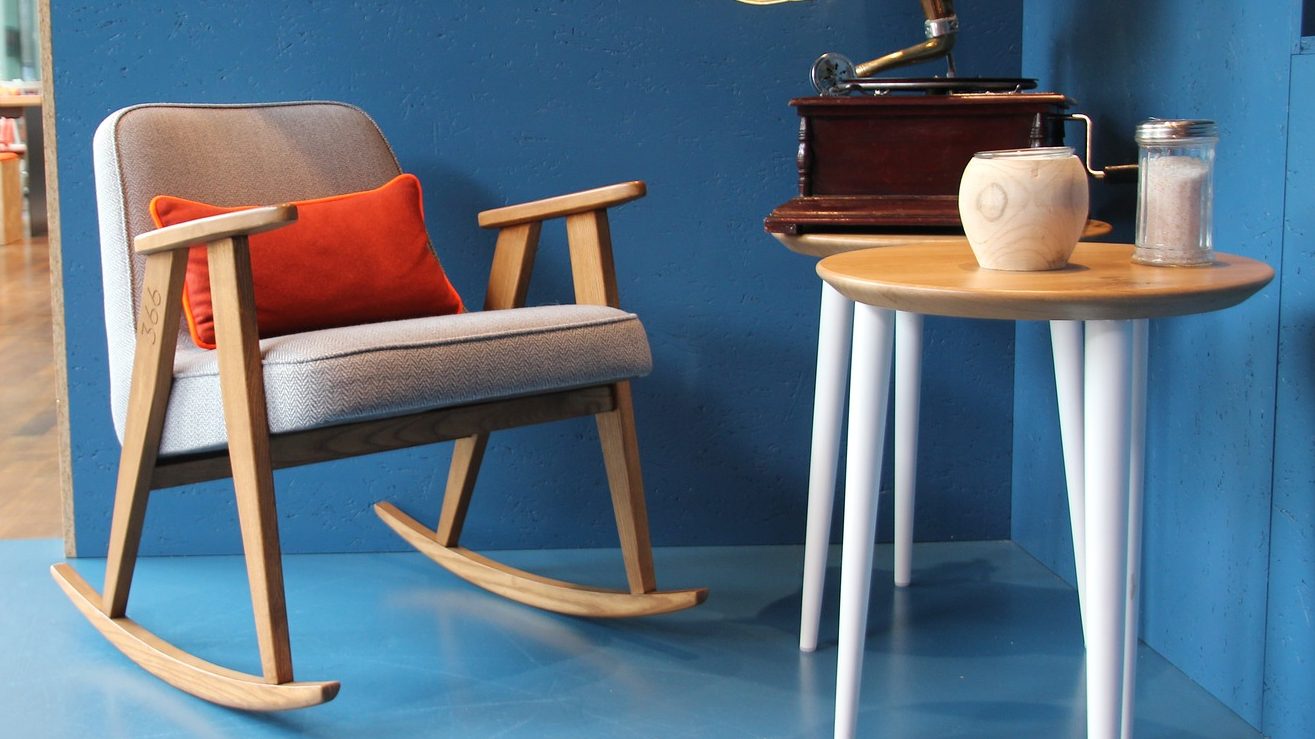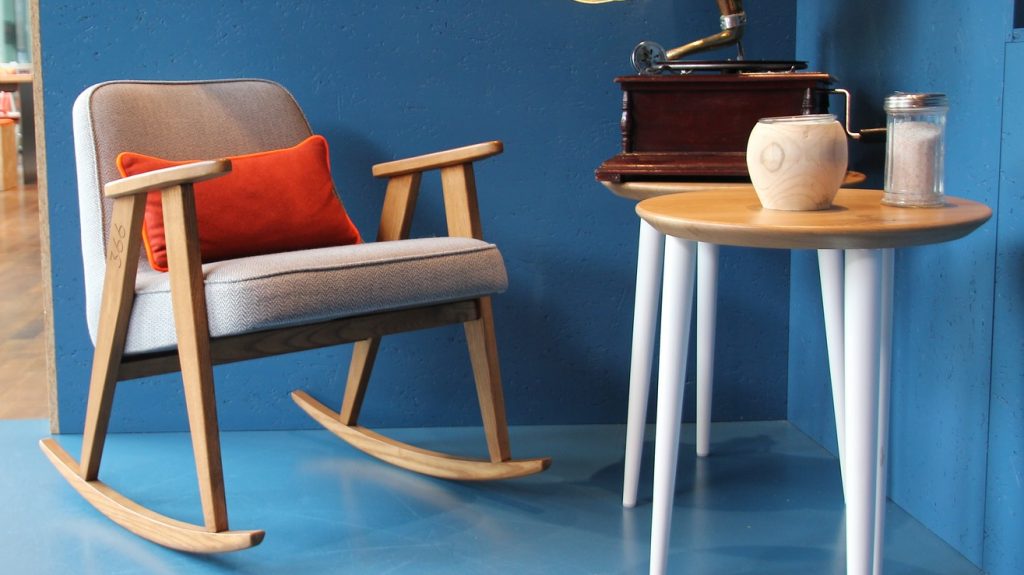 Best Rocking Chairs For The Nursery
One of the best rocking chairs for nursery, the Dutailier Sleigh Glider-Multi-Position Recline and Nursing Ottoman Combo comes with plenty of very useful features. A separate, rocking footstool enables you to keep your feet up as you glide back and forth in the chair. Thick cushions on the chair seat and a sturdy wood frame make this a comfy piece of furniture that will last for years.
The most unique feature of this glider rocker for nursery is its 6 position reclining action – you can select your favorite angle which is great for nursing a newborn or having a nap. Being able to lock the chair into a recline position an outstanding feature that is important for nighttime. The cushions on this chair can be removed, but the covers do not come off for cleaning – the fabric sponges clean easily. The nursing chair needs to be self-assembled at home, but one person can put it together quickly.
What I love about it:
Non toxic construction
Long gliding motion
Removable cushions
Silent when gliding
High quality construction
Best Affordable Glider Recliner:
The budget-friendly Storkcraft Custom Hoop Glider and Ottoman is an attractive addition to a nursery or bedroom. This glider rocker for nursery is made with a strong wooden frame. Additionally, the enclosed ball bearings give this chair a smooth gliding motion. Moreover, a coordinating foot stool gently rocks so that you can glide backwards and forwards with your feet up.
This Storkcraft chair has padded arms and a handy side pocket that is perfect for holding little things like your phone, a book or the remote control. This chair has an affordable price tag but some taller or larger people may find it a little too small for comfort. It requires some assembly at home but is simple enough for one person to do by themselves.
What I love about it:
Quiet gliding motion
A wide range of colors and patterns available
Convenient side pocket
A thick back cushion
---
For a modern home, the Modway Rocker Molded Plastic nursery rocking chair is a perfect choice. It's an affordable version of the Charles and Ray Eames mid century chair and it features distinctive wire, 'Eiffel' legs and a simple molded seat. This chair adds contemporary style to the living room, bedroom and even the kitchen.
The gentle rocking motion will soothe baby and relax parents after a long day. Thanks to the wipe clean plastic, it is also very functional. Its lightweight construction means chair moving is easy so you can take it outside, upstairs or next door easily. With a choice of shades, the Modway nursery rocker fits in well with any color scheme.
This chair is a little smaller than traditional nursery rocking chairs so will take up less room. The back is lower and the sitting position is upright, so it is not a chair to snooze in. It is a versatile chair that can be used in so many ways when the little ones have grown. Therefor it is one of the best rocking chairs for your nursery today.
What I love about it:
Modern Eames style chair
Traditional rocking chair motion
Beautifully simple design
Easy to clean
---
The DaVinci Olive Upholstered Swivel Glider with Bonus Ottoman swivels around on a metal base, and it also glides back and forth in a relaxing motion. The coordinating ottoman is static for a non-rocking footrest and it can also be used as extra seating or a side table. This glider is comfortable for nursing mothers and parents of all ages. Covered in soft polyester upholstery fabric, this chair offers a simple, elegant style. The chair has plenty of seating room and has a high back plus a lower-lumbar pillow. Manufactured to be free of formaldehyde and chemical flame retardants.
The comfort of the extra padded seat and back is what sets this nursery rocker chair apart from the others. It comes assembled so it is ready to use straight away, but there must be sufficient room to get the complete chair through entrance ways.
What I love about it:
Swivel and gliding motions
Versatile ottoman included
Simple design goes with most decors
Will be useful for many years
---
The deep cushioning on the Delta Children Emerson Upholstered Glider Swivel Rocker Chair makes it very comfortable. It is a versatile nursing rocking chair for the nursery that can be used for nursing, rocking a child to sleep or as a living room seat for everyday use. The upholstery is high quality and sponges clean, it is also lovely to the touch. The wooden frame is sturdy, and the motion is a swivel action plus a gliding action. Wide armrests and a deep buttoned back give this chair a sumptuous appearance that will last the test of time. It is delivered in two parts and requires self assembly. Some people have found this tricky.
What I love about it:
Deep cushions in microfiber fabric
Stable frame expertly crafted
Safety tested
One of the best rocking chair for nursery
Ottoman footrest purchased separately
How To Choose The Best Rocking Chair For Nursery
With a variety of styles and features available, take some time choosing the best baby glider for you. The look of the furniture is important, but so is the support and comfort it offers. Measure the space you have available to make sure it will fit easily into your room.
This chair will be part of your home for many years, so select one that will be easy to keep clean and looking fresh. Buy one with non-toxic materials and avoid any using flame retardant chemicals to make sure your precious baby is safe.
Other features to look for when choosing the best nursery glider chairs are:
Lumbar support.
Recliner
Ottoman
Swivel
Do You Need More Than One?
This depends on the space you have and your preference for comfort and convenience. Most parents have one designated chair that stays in the nursery. Some. however, choose to put another nursery chair in the bedroom, especially if baby will be co-sleeping.
Having one chair is the essential, but anymore after that are optional, and come down to space available, your house layout and personal preference. Many of the nursery chairs for sale last much longer than your baby's nursing years, so it's a great idea to find a chair that you could later convert into a living room armchair or one for the study or reading nook.
Different Kinds of Nursery Chairs
There are many different kinds of nursery chairs for sale. Whether you are looking for a more traditional nursery rocking chair or something more modern, there are so many options to choose from. Chairs vary in size, shape, structure, and materials, but most importantly they are classified as are gliders, recliners, or rockers for nursery.
The best baby glider for you depends on a number of factors that pertain to your specific needs. For example, if you get hot fairly easily you might want to choose a more airy material like fabric rather than plastics or materials conducive to heat. You might also want to keep in mind what features and movements may be most important to you.
Safety Information
Some gliders have been recalled over the years because of their poorly structured frames. Pick out a gliding chair carefully and make sure it is made well. You don't want it to malfunction and pose a threat to you especially when you're with a newborn baby. Also keep an eye on any moving or rocking parts that are accessible and could be easily pinch little fingers. You don't want your baby getting injured on the nursery rocking chair.
Some nursing armchairs may be made of materials that are harsher than others. Choose the best rocking chair for nursery that is non-toxic, free of chemicals and flame retardants. Always double check product recalls by the US Consumer Product Safety Commission (CPSC) before purchasing a chair to make sure that yours is safe.
Tips to Make Breastfeeding More Comfortable
While choosing the perfect nursery rocking chair is a great place to start, there are other things you can do to make breastfeeding more comfortable. Below are some tips and tricks of the trade
Invest in an organic breastfeeding pillow: It elevates the baby to the right level, and reduces pressure on your arm. This also helps relieve pressure on baby's back.
Find a position that works best for you and your baby: Experiment with several positions and figure out which ones work for your body's comfort and for baby's needs.
Dim the lights: Especially during night feeds. This encourages the baby to go back to sleep quicker after feeding.
Make sure your baby is latching properly: This is usually quite tricky to figure out with your first child in the beginning. But once you do, breastfeeding can become a really enjoyable experience and a great time for bonding with your child.
Use a breast pump: While you might want to solely breastfeed, if things are too difficult for you to bear, breast pumps are lifesavers. They even allow you to store milk supply that you can use later on.
Take care of your nipples: Lanolin will be effective in the treatment of soreness and cracking.
What are the Types of Breastfeeding Chairs?

Nursing chairs are classified broadly into three types based on their design: Rocking chairs, Gliders and Recliners. The most common is a nursery rocking chair, which is great for nursing and putting baby to sleep. Nursery gliders rock back and forth in a gliding motion, but do not recline backwards much. A nursery reclining chair on the other hand comes with a backrest that you can recline. Other than these. you can also choose a classic lounging chair for nursing your baby. Some of these chairs come with an ottoman foot rest while others do not.

How Can You Use a Breastfeeding Chair Safely?

While choosing the best nursing chair, make sure that there is no exposed hardware or any sharp object that can harm your baby. Especially for chairs with rocking or gliding motions, look for a design that features a lock. It should be made of chemical free materials that are not harmful for parents or babies. Do not fall asleep when rocking baby to sleep, and you might lose your grip on the sleeping child. Also, do not leave baby to sleep on their own on a nursery rocking chair.
The best nursing glider recliners and nursing chairs create a cozy place to feed your baby. They often adjustable positions to suit your requirements, and make a big difference for comfort and pain relief for new moms. Additionally, the best rocking chair for nursery is also often made of soft and safe materials. With the perfect nursery rocking chair, you will look forward to the next feed.
Once you have selected the right nursing chair, nursery glider or the best rocking chair for nursery, take a look at other nursery essentials such as organic baby cribs, mattresses and pillows.