Baby crib accessories are add-on products that can be used to make baby cribs more useful, safe and beautiful. There are many crib accessories available in the market today but personally, I have found only a few of them genuinely useful as adding too many accessories in the baby's sleeping area can pose certain dangers.
For example, if the sleeping section has crib bumpers or a lot of toys, there is a danger to baby's breathing during sleep. Babies can't easily move things away from themselves, so baby can suffocate in the crib if it is jumbled with too many accessories.
However, not all the baby crib accessories pose a danger of this kind. In fact, Some can make your life much easier as a parent. One of the best and most useful crib accessory for me has been crib rail covers. As time passes, you'll find your crib getting introduced to a lot of wear and tear. Its surface will get faint scratches towards the upper sides of the railings. This would mostly occur when you lean in to settle your bundle of joy. And after the baby enters his teething period, crib railings are going to be his favorite teether!
This would pose a danger to the crib's body as well as your baby's health since some baby cribs have toxic paints and smells. We have reviewed the best non toxic baby cribs available in the market based on customer reviews. To avoid these scars and protect your baby from possible crib-toxins, it would be a nice idea to go for some economic and safe crib rail covers right from the time when you buy your crib.
Another crib accessory that can save you a lot of money and time is a good crib rail. If you have a convertible crib but haven't bought the toddler bed conversion kit yet, then look into this amazing product before paying for an expensive crib conversion kit.
Please read on to get a better insight into these important crib accessories.
Best Baby Crib Accessories 2021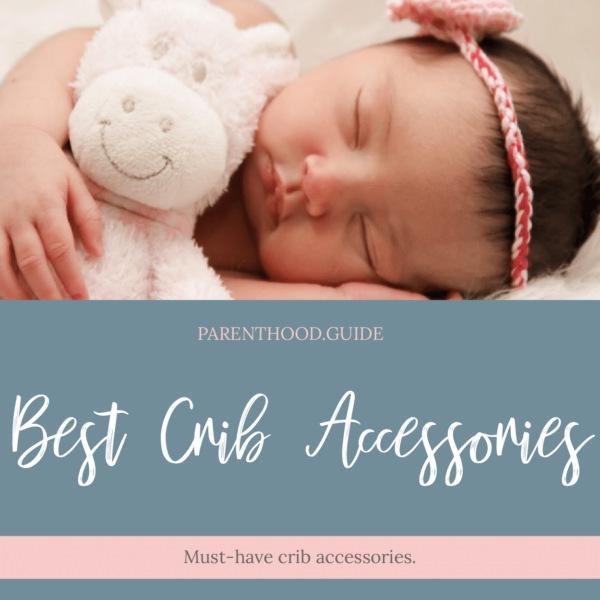 Crib rail covers are a great idea to protect your baby's crib from getting teething marks and/or general scratches that tend to appear on most of the real wood cribs in due course of time.
I have shared my favorite rail covers below. You can check out the style and measurements of these Trend Lab Crib Covers to see if they would suit your little one's sleeping haven.
Best For Long Crib Rails:
No products found.
What I love about it:
Protects your teething baby from harmful toxins, and guard your crib rails from teeth marks and drool discoloration.
Rail cover is made with soft fleece on top, a padded middle and waterproof back for ultimate protection
Easy to set up on the crib
Includes one long rail cover for crib front or back. Coordinating set of two side rail covers is available for separate purchase to offer ultimate crib coverage.
Wide versions of CribWrap rail covers are also available by Trend Lab
Something to keep in mind:
Easy to put on the crib, but the ribbons not very durable.
Some customers claim it's slightly small
No products found.
Best For Side Crib Rails:
No products found.
What I love about it:
Material of the rail cover is made with soft fleece on top, a padded middle and waterproof back
Easy to set up
Non-toxic rail cover- free of PVC, lead, phthalate and BPA
Includes two short rail covers for crib sides
Coordinating long rail cover is available for separate purchase
Something to keep in mind:
Easy to put on the crib, but the ribbons not very durable.
Some customers claim it's slightly small
No products found.
Some convertible baby cribs do not come with Toddler Bed Conversion Kits. They require you to purchase one separately as and when the need arises.
I personally do not like this idea of having to pay to complete a product in stages. While it is okay to leave the choice for the purchase on a parent, I think the basic purpose of a convertible crib is to transition it from a baby crib to a toddler bed at least (If not a full size bed!)
So when I was searching for the best baby crib accessories, I came across different toddler bed kits available. Particularly this really cool alternative. Here is a product that is more sturdy and cost-effective than most of the other options out there.
The 'Hiccapop Convertible Crib Toddler Bed Rail Guard' is a metallic rail with good strength and no sharp edges. It can be attached to your baby's crib easily and can convert the crib into a nice toddler bed. Works perfectly with cribs that attach to beds.
However, it is important to note that this rail has been designed only for toddlers aged 2 and above.
What I love about it:
one of the best baby crib accessories and works with almost all the convertible cribs
Saves the cost of buying expensive Toddler Bed Conversion Kit
It is strong and sturdy
Pull the rail down to make a day time bed
Something to keep in mind:
The rail's 'pull down' feature can pose a danger when a baby hangs on to it and succeeds in pulling it down, when no adult is around.
Minor manufacturing problems have been reported in some cases. So, it would be best to check the product thoroughly as soon as it arrives!
Hope the above shortlist of the best baby crib accessories makes that first step into parenting a little bit easier. Along with the best crib accessories, you might also want to furnish you child's nursery with a great nursing chair to make those night time feeding sessions easier, and invest in a good child-safe top-of-stairs baby gate for your staircase if your nursery is on a different floor from the living.