Have you noticed something about habits? When you start one very young, it becomes so ingrained in your psyche that you love it throughout your life. Hiking is like that for me. I've loved it since I was two feet tall. Naturally, I couldn't wait to build a love for the outdoors in my tiny tots. I've learnt that you can start as soon as your child meets the age and size requirements for an organic hiking baby carrier. Which is basically from birth!
Since childhood, my love for travelling and exploring often got me into a spot of trouble. I loved climbing trees, hills, rooftops, and almost anything else I was able to grip my feet on. Well-meaning friends advised me that once I was pregnant, I would have to put travelling, hiking and outdoor adventures on hold. For just about 10 years or so. Well, I think not.
That's when I began to look outside for inspiration from parents who didn't sacrifice their dreams, but in fact, inculcated it as a lifestyle choice. This search led me to hunt for the best organic hiking baby carrier that's out there. I was pleasantly surprised to see so many wonderful choices. Of course, I looked at options that are non-toxic and chemical free and found the best baby carrier for hiking that I've shortlisted below.
Finding the best organic baby carrier for hiking will greatly depend on your personal circumstances such as budget, the age of your child, and how often you'll use it, but here's a glimpse of the best hiking baby carriers in each price range and category.
Top 7 Baby Hiking Carrier Backpacks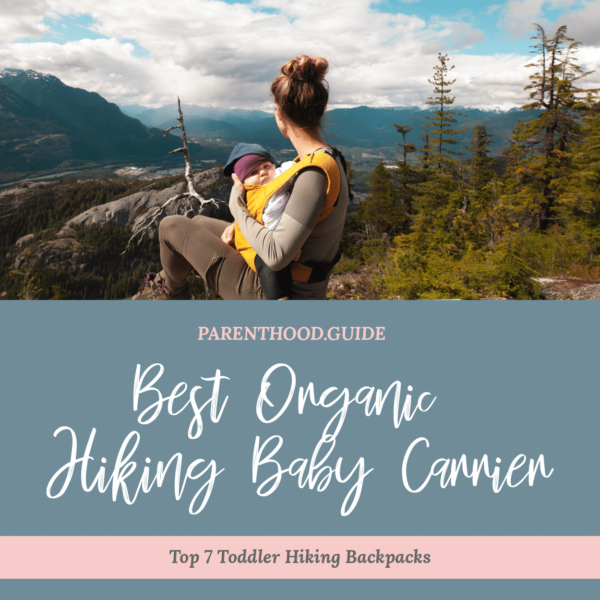 The Osprey Poco baby carrier backpack is arguably the best baby hiking backpack for the outdoors. Made of nylon, the mesh makes it strong and durable. It has seven pockets, some zipped and some mesh, that give you ample room to keep and organize food, snacks, and other supplies, including a large lower pocket for bulkier items. What's more, it includes a detachable day pack that can be worn by another adult or child. Ample padding in the cockpit, where your baby rides, provides a comfortable ride. It is one of the best baby backpacks out there. If you want to compare the Deuter Kid Comfort vs Osprey Poco, read on further.
What I love about it:
On-the-fly adjustable hip straps allow for a precise fit
A built-in sunshade is easy to store
Stirrups for bigger kid comfort
Built-in changing pad won't get lost
Lifetime warranty
Something to keep in mind:
Torso length adjustment can be difficult
Additional Specs:
Max load: 48 lbs (child, gear and pack combined)
The weight of pack: 7 lb. 9 oz
1404 cu. in. carrying capacity
Sunshade made from 100% recyclable, non-toxic materials
Osprey Poco age range: 6 months to over 3 years
The Deuter Kid Comfort baby carrier backpack is aptly named as it offers great adjustability for the comfort of your child. With height adjustable foot and headrests, the fit is really snug. I especially like the foot rest because those little feet won't fall asleep while you're hiking. The kickstand makes an audible sound so you know it's correctly locked in place before you set your child down. A built-in sunshade can be stored in the headrest when you don't need it. When we compare the Deuter Kid Comfort vs Osprey Poco Premium for the best child carrier backpack, both come out neck-on-neck.
What I love about it:
Foot, head, seat adjust-ability for maximum rider comfort
The removable, washable chin pad
Good ventilation for the rider and wearer
One of the best baby hiking backpack and has an integrated sunshade
Something to keep in mind:
Tall headrest
Kickstand occasionally opens when in use
Additional Specs:
The weight of the Pack: 7 lbs, 10 ounces
Volume: 1100cuin / 18L
Self-report their carriers to be free of flame retardants
---
The Escape is an ideal baby and toddler hiking carrier. It's designed with the comfort of the rider and wearer in mind, and one of the best organic baby carriers for long hikes. A mold-able headrest provides the support needed for developing neck muscles while the fleece covered shoulder straps and contours are soft and comfortable. Additionally, this toddler hiking backpack folds down flatter than most carriers and includes a zip-off day pack so you can share the load. Footrests prevent the rider's feet from falling asleep. It is one of the best baby backpacks out there.
What I love about it:
Compact design
Durable
lightweight child carrier
Something to keep in mind:
Lack of head support
Difficult to use the kickstand
Additional Specs:
Weight – 3kgs / 6.6lbs
Age range – 6 months (or when baby can sit unaided) to 3 years (or maximum load).
Maximum load – 18kgs / 39.7lbs
Material: Mokopuna Merino™ is a fibre that is annually renewable, biodegradable and non-synthetic, with a sustainability certified supply chain.
---
While the Chicco hiking backpack carrier isn't as compact or sleek as some other designs, it has all the features and suspension systems needed for a smooth ride. A height adjustable padded seat allows your child to be comfortable in this hiking carrier. It's a great organic baby carrier for light hiking. The better adjusted the seat; the less the child will move around, making it easier to carry them. It is comfortable for the wearer and rider and an overall great hiking baby carrier for baby or toddler.
What I love about it:
Stability especially when freestanding for easy loading and unloading
Fully adjustable, and folds down for compact storage and transport
Something to keep in mind:
Sunshade doesn't provide complete protection
Riders feet stick out on the sides
A drool pad might be useful with smaller babies
Additional Spec:
Weight: 6.5 lbs.
Child weight should be between 17 lbs. and 40 lbs. (approximately 6 months to 36 months)
However, note that Chicco hiking backpack carrier self-reported flame retardant use at the time of writing (though a safer flame retardant)
---
Best Organic Baby Carrier for Serious Hikers:
The Pathfinder baby hiking backpack is designed with the serious hiker in mind. This is no average carrier. It has ample storage space for diapers, wipes, and other baby essentials. I have found that both men and women can wear it comfortably and its easy to adjust to wearer's body type. It includes a sunshade and changing pad. Additionally, adjustable seat height and leg secure straps provide a comfortable, safe ride for the child. Overall a great choice for longer trip and journeys.
What I love about it:
Easily adjusts to the wearer
Good interior padding for the rider
Viewing mirror
Durability
Something to keep in mind:
Sunshade doesn't provide side protection
Older/larger children can be hard to load
Additional Specs:
Maximum weight load (Child + Gear + Pack): 50 lbs
Child weight: Minimum 16 lbs / 7.3 kg; Maximum: 40 lbs
Volume: 1300 in3 / 21 L
Weight: 7 lb 10 oz
Material: Polyester
Kelty report all their carriers to be free of flame retardants
---
Best Soft Carrier for Hiking:
The 4GS is the best soft carrier for hiking because it has the right combination of features with soft 100% cotton fabric. This baby backpack cross-country carrier is durable and stable enough for working in the yard or a day hike. Removable sleeping hood and foot straps allow you to make the adjustments you need for added comfort but when you don't need them, they can be stored out of the way. However, this might not be the best hiking baby carrier for petite moms, but it's one of the best baby carriers for newborns.
What I love about it:
Machine washable
Can be used for breastfeeding
Easy to adjust
Multiple adjustments allow for a customized fit
Something to keep in mind:
Fitting inconvenient for adults under 5′ 2″
Something to keep in mind:
Child Weight range: 7–45 lbs.
Fits adults 5'2″–6'3″
100% cotton for the Classic Collection
Carrier weight: 2 lbs.
Boba confirmed that they have never used flame retardants in their carriers.
---
Best Standing Carrier for Toddlers/Older Children:
The award-winning Piggyback is a harness with a back frame that allows your older child to ride piggyback style while being secured to your back. Made of climbing gear components, this framed carrier has four handholds and an adjustable non-skid standing bar. The wearer harness evenly distributes weight and can be adjusted to fit most adults. As the best standing carrier for toddlers/older children, the Piggyback offers the safety and stability to handle heavier kids over difficult terrain, and so is arguably the best toddler backpack carrier for older children.
What I love about it:
Portability
Compact
Enables older children to experience harder trails
Something to keep in mind:
Pressure might be on wearer's shoulders
Tall children can be difficult to carry
Quick movements can throw wearer off-balance
You need to purchase a rain cover separately for wet climbs
Additional Specs:
Weighs less than 3 lbs.
Child Weight capacity of 60 lbs.
Ideal for children from 2 ½+ years up to 6 years
The Piggyback Rider® has met or exceeded all required consumer product regulations for the USA, Canada, EU, Australia and New Zealand
All materials are the highest grade climbing buckles and polypropylene webbing
---
What Features to Look For in a Hiking Baby Carrier
Now that you have the low down on the best baby backpack carriers for hiking, there are a few important features that you might want to consider while making your choice:
Height:
Some carriers have high headrests that can make going through low branches or brush difficult.
Fasteners and Harness:
A five-point harness system is the safest. Some harnesses come with features to keep them from getting tangled for easy loading and unloading.
Fabric and Padding:
Make sure the carrier provides a comfortable fit for both rider and wearer. keep in mind that you might want to look at non-toxic materials for the safety of your child as they may suck or chew on the carrier.
Kickstand:
Make sure it's easy to open and lock in place for safety. It should also close snugly against the carrier so that it won't get caught on anything while you hike. Even with a kickstand, don't leave your child in a carrier unattended as they can easily tip over.
Leg Openings:
Openings should be small enough that your child won't slide out but large enough that their circulation won't be negatively affected. Some carriers have adjustable leg openings for the best fit.
Shoulder, waist, and chest straps:
Sufficient padding is a necessity for all-day comfort. Adjustable straps will help you keep the weight on your hips with the shoulder straps helping to stabilize movement. A sternum/chest strap should hold the shoulder straps in place so they don't slip.
Storage:
If you go for long day hikes, storage is going to be important. Under seat storage compartments and removable day packs will give you the most space while models with lots of pockets will help you keep baby supplies organized.
Weather shield:
To truly enjoy the outdoors, your child needs to be comfortable and protected from the weather. Integrated shades and rain covers are easiest to store and use. Make sure the shade protects the child from all directions including the sides.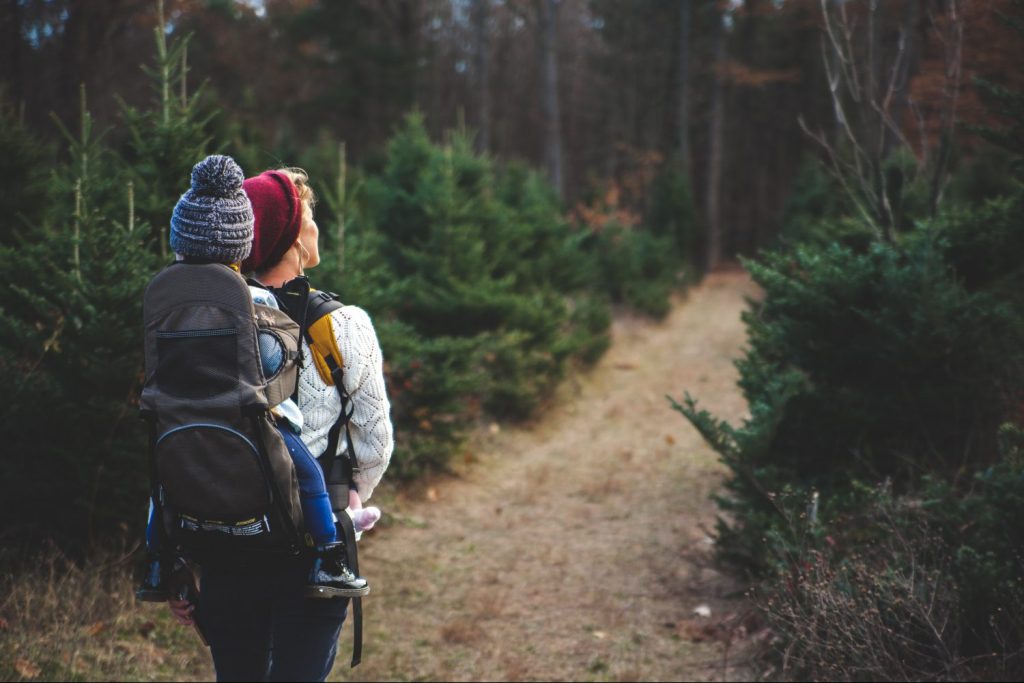 Baby carriers come in all shapes, forms and sizes, and there isn't a solution where one size fits all. So depending on the wearer and the child's height and size, you might want to choose one that's right for you. Keep in mind that children tend to chew on the parts, especially when they're small enough to fit in a carrier. You won't be watching them at all times, as they are most likely riding on your back. For this reason, I'd strongly advise you make sure all materials used to manufacture your carrier are chemical free so as to ensure your child's well being. All the options listed above are non-toxic and safe.
Our favorite is the Poco premium, but it does burn the budget a bit. If you're looking for a pocket-friendly carrier, the Chicco is a great choice as it is sturdy as well as economical, even if not as durable and high quality as the Poco.
What are you waiting for? Book that family ticket to the Dolomites and pack your bags! Happy travels.
Looking for some more great safe baby gear for you and baby? Read our shortlist of the best cribs with changing table, baby walkers, and strollers. Or if you're new to the world of organic, non-toxic and chemical free baby products, then I recommend that you start with our non toxic guide.