Summer can be a whirlwind for parents with young kids. With the kids off school and our time filled with family activities and outings, vacations can creep up on us. For some reason, sunscreen can end up being a last minute rushed purchase at the airport for many people.
High street sunscreen brands may protect your children from the sun, but what's in them could be harmful for your child. Here's a shortlist of the safest sunscreen for babies and how to choose what's right for your child.
Benefits of Natural Ingredients and Organic Skincare Products
We hear so much about "going natural" these days, but what are the real benefits of natural ingredients and organic products?
Some chemicals found in your everyday sunscreens can be harmful to skin and the environment! Organic sunscreen is much better for you and your planet. Think about all those people sunbathing on the beach wearing chemical sunscreens, who then go swimming in the sea. Have you ever wondered what effect this would have when hundreds of people from one beach in one day could transfer the chemicals from their sunscreen into our oceans?
If this doesn't convince you, chemical sunscreens absorb into our skin and merely disperse the sun's rays in a less harmful way, whereas organic ingredients sit on top of your skin and act as a mirror against the sun – so an organic baby sunscreen is actually giving you more protection.
Extra protection, a healthy environment, and extra friendly ingredients are even more important for our little ones. So take a look below at some of the best organic sunscreen for babies.
What to Avoid in a Baby Sunscreen
Our skin isn't as safe in the sun as we once thought and organic ingredients are a great solution. There are a few things to look out for when buying an organic sunscreen. For example, many people look for zinc oxide as the main ingredient, as this is a great mineral for protecting your skin against the sun. But just because it says zinc oxide on the front, doesn't mean it's organic or mineral-based. There are a lot of brands starting to use zinc oxide in sunscreens but some include other chemicals and are still chemical-based.
So remember to take a look at the ingredients to make sure it's natural. If the brand has great morals about sourcing ingredients then it usually quite obviously shows on the packaging.
What to Look for in a Baby Sunscreen
Extra things to look for in a super healthy sunscreen are things like cruelty-free practices, biodegradable and recyclable packaging. Another huge positive if you ask me, is if the product itself is vegan.
Whether you're a meat-eater or not, beauty and skincare products have long been cruel to animals. This in itself can be bad for the environment. Look for that vegan stamp on the front. This means you've most likely chosen a fab natural product that's kinder to skin.
Safest Sunscreens for Babies 2021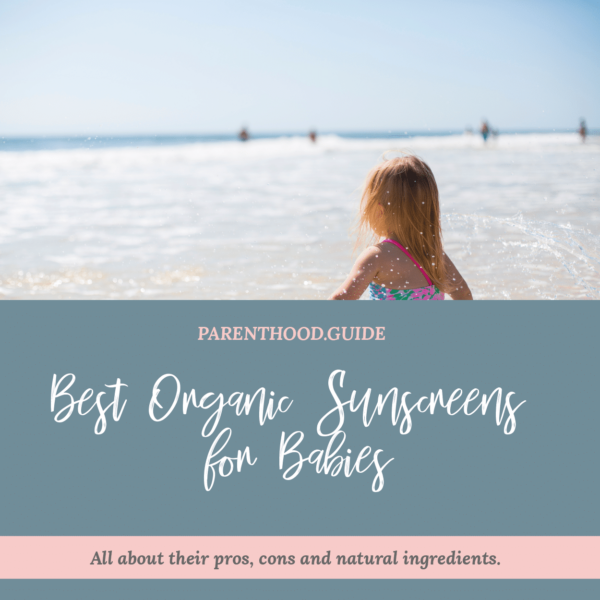 Aveeno is a great brand for all skincare. With organic, ethically sourced ingredients it's hard to go wrong with their full baby skincare range.
There are two organic baby sunscreen options for babies – a lotion and a face stick, great for on the go! Both are made using zinc oxide, which is a great natural ingredient for sun protection. It's a reef friendly mineral, won't harm the environment and will give your kids extra protection to keep them smiling in the sun! Extra ingredients mainly include oats which is Aveeno's sworn-by method as it is said to replenish, hydrate and balance skin.
Aveeno also has amazing ethnic standards. It's 100% natural, so no added chemicals to worry about, and it's all grown using eco friendly, pesticide-free farming practices.
What I love about it:
Water resistant.
Paraben free, phthalate free & fragrance free
Naturally sourced, organic ingredients & Eco friendly farming practices.
No added chemical solvents.
Made with zinc oxide – safer for skin and better protection.
It says it in the name really – Babyganics is a brand that puts a lot of thought into their ingredients. This brand was created by parents to give babies safe and organic skincare to help them continue to play and have fun.
You can find a baby lotion, spray, and face stick from Babyganics – you've got it all! There's also an SPF 30 option for the lotion.
Additionally, the packaging is recyclable and their ingredients are organic and plant-based wherever possible. They even have a list of 'never-use' ingredients that come from official sources.
What I love about it:
Invented by parents! If fellow moms aren't a trustworthy source then I don't know who is.
Organic & plant-based ingredients.
Water resistant.
Made with zinc oxide – safer for skin and better protection.
Broader selection – having a spray available is great for easy application on wriggling babies.
Things to keep in mind:
A downfall of Babyganics is the price – you're certainly paying more for their organic ingredients and caring approach, so it's a decision of how worth-it it is.
With such young sensitive skin, babies ideally need the maximum possible SPF. When buying from Babyganics, keep in mind that their option of an SPF 30 sunscreen should be 2nd choice after their SPF 50 products.
---
Babo Botanicals Baby Skin Mineral Sunscreen Lotion SPF 50 is a fast-absorbing, non-whitening & lightweight sunblock for very sensitive skin. It is made with 100% Zinc Oxide Active. It is not only non-Greasy, but also water resistant. Moreover, it is made with Eco-friendly materials that are specifically 'reef-friendly'. Additionally, it is also vegan and fragrance-free, which is always a plus.
What I love about it:
Water resistant and perfect for babies.
This sunscreen is specifically developed with 100% non-nano zinc to provide you with 80 minutes of water and sweat resistant coverage.
Fragrance free.
Zinc-based mineral formula. Specially formulated to naturally protexct you skin from UVA and UVB rays this sunblock is oxybenzone and octinoxate free.
Environmentally friendly and reef safe. No Oxybenzone. Mineral Based sunscreen.
Hypoallergenic to reduce the risk of allergic reactions. Clinically tested and rated number #1 in safety by Environment Working Group (EWG).
Gluten, soy, dairy, peanut, almond and walnut free.
Made in USA and B Corp Certified.
Free of Formaldehyde, MEA, DEA, TEA, and most common allergens.
---
Thinkbaby & Thinksport address the growing concern of toxic chemicals leaching from consumer products and aim to create safe alternatives for babies to athletes alike.
With a team of physicians & scientists, Thinkbaby & Thinksport lead in the usage of safe materials for consumer products. This is the first sunscreen to pass Whole Foods Premium Care requirements and top-rated by EWG since creation in 2010 with a "1" rating. It's also the recipient of a tremendous amount of awards. Moreover, it is certified cruelty free, gluten free & vegan. You can't go wrong with this one.
What I love about it:
Top-rated by EWG and recipient of a tremendous amount of awards
Free of biologically harmful chemicals like avobenzone, oxybenzone, paraben, phthalates, PABA, 1,4 dioxane, and UV chemical absorbers
Highly effective with an SPF at 50+.
Highest level of water resistance per the FDA (80-minute water resistance) and broad-spectrum coverage for UVA and UVB
Reef Friendly: Free of known reef damaging chemicals and highly biodegradable. Non-nano zinc oxide formulation, non-aerosol formulation
Applies and absorbs easily without the oily feeling or obtrusive smell of traditional sunscreens.
Leaping Bunny certified cruelty free, gluten free & vegan
---
Badger SPF 30 Baby Sunscreen Cream is one of the safest and Eco-friendly sunscreens for babies. It is made with Zinc Oxide. Moreover, the sunscreen boasts of being water resistant and reef safe. It's a natural mineral Sunscreen with organic ingredients. The certified organic sunscreen base ingredients are antioxidant rich, ultra-moisturizing, and great for your babies skin.
Badger sets the standard for simple safe baby sunscreens that protect your infants and toddlers. This broad spectrum mineral sunscreen has only 7 simple ingredients: non-nano zinc oxide, organic sunflower oil, organic beeswax, sunflower vitamin E, organic chamomile, organic calendula, and organic sea-buck-thorn. Pediatrician tested, gluten-free & hypoallergenic this all-natural baby sunscreen is perfect for your babies delicate skin.
What I love about it:
Badger's SPF 30 Baby Sunscreen Cream uses our original non-nano, large particle zinc oxide. This mineral stays on top of your baby's skin, scattering and absorbing UVA & UVB rays, and won't absorb into their bloodstream. Naturally water and sweat resistant for at least 40 minutes it's perfect for the beach, pool, and light activities.
The light chamomile & calendula scent is calming and relaxing.
Safe for coral means safe for your baby too! Badger sunscreens are made without oxybenzone or any chemicals shown to harm coral or humans. All Badger sunscreen lotions and creams are top rated for safety and efficacy by the EWG sunscreen guide. This eco-friendly biodegradable mineral sunscreen protects you without endangering marine life.
98% organic ingredients.
Non-GMO and contains no dyes, parabens, or other artificial ingredients.
Badger is a family owned, women run B Corporation (Benefit Corp) making mineral baby sunscreens and other organic skin care products
---
Bare Republic may not be a well-known brand, but stood out to me for many reasons. Firstly, it has everything moms look for in an organic product and more, their morals are even in the logo!
It's great for your baby's skin and the environment they're growing up in, not to mention being biodegradable. The brand is a sunscreen only brand, dedicated to creating an extensive range of organic and mineral sun protection products for all ages and nothing more. There's just something really reassuring about knowing that all the focus of this brand goes into nothing but sun-care, almost as though even more love has gone into creating it.
Once again, there's a lotion and face stick to choose between, and both are pediatrician tested.
What I love about it:
Natural ingredients.
Cruelty-free.
Biodegradable & reef-friendly – free of parabens, chemicals & fragrances.
Brand entirely dedicated to sunscreen!
Pediatrician tested.
Water resistant.
---
Kiss My Face started out on a small farm in New York about 35 years ago, their first product being a bar of soap made from olive oil. Natural, green ingredients are what they're all about, with added perks such as being vegan, cruelty-free and recyclable.
The main ingredients of their organic baby sunscreen are aloe vera and chamomile. In all products at Kiss My Face, you can expect only natural, chemical free, soothing ingredients. What's even better is their morals. As a brand they have never tested on animals and never will, most of their products are vegan (including the baby sunscreen) and overall they are continually striving to help the planet, reduce their carbon footprint and produce more and more organic options for our skincare.
What I love about it:
Cruelty free and vegan!
Recyclable packaging.
100% Natural ingredients – zero added chemicals or fragrances.
Water resistant.
Excellent brand morals for sourcing ingredients and helping the environment
Things to keep in mind:
No great on-the-go options stand out from Kiss My Face – unlike the other brands I've mentioned, this one doesn't have a face stick.
Zinc-oxide seems to be the favorite for mineral sunscreens at the moment, and this product doesn't contain any. So if zinc oxide is strictly what you're after, this may not be the one.
---
A Non-organic Alternative:
Organic and natural is always ideal but there may be times when its not an option. Firstly, it's the slightly more costly option and you may not always want to spend as much. There's also always a chance that you can't get your hands on a fully natural product – you may be in a rush at the airport with fewer brands available, or you may already be on holiday with only bigger, international brands to choose from. That's why this is a great alternative to keep in mind:

8. Neutrogena® Pure & Free Baby Sunscreen, SPF 50
Neutrogena is a brand we all know, and there's definitely something great about finding exactly what you need from a familiar household brand, so why not turn to them for your babies' skincare?
Much like most organic baby sunscreen, including Aveeno, this is also made with zinc oxide. So you've got that extra protection needed for vulnerable skin. They're dermatologist recommended and even awarded the National Eczema Association Seal of Acceptance™! So we can be sure that it's gentle enough for our babies.
The last thing any mom wants is their baby getting burned in the sun. This is why this organic baby sunscreen face stick from Neutrogena's baby range stands out so much more! A sun protection factor of 60+ is not something we see very often! Face sticks are great for on the go and busy family days out when their faces are exposed for a long time. This high SPF just gives us even more sense of security.
What I love about it:
Super high SPF face stick!
Dermatologist recommended & safe for sensitive skin conditions such as Eczema.
Made with zinc oxide – safer for skin and better protection.
Water resistant.
Fragrance free.
Things to keep in mind:
This baby sunscreen is not chemical-free.
It's made with zinc oxide so it's still much better than ordinary chemical sunscreens and a great alternative for when you can't get your hands on a fully natural product, but it's not a certified organic option, so have a thorough look at those extra ingredients first.
---
How to Choose the Best Sunscreen?
As you can see, there are many options when looking to go organic with your baby's sunscreen, and these are only a few of the options out there. Not only this, but there are many reasons to go organic in the first place.
The environment our kids are growing up in needs some TLC for sure, and with everyone using chemical skincare, it's no wonder that so many are trying to open our eyes to what's in the products we use.
But the good news is, we're finally starting to listen, and many brands are helping us out by filling that organic hole in the market, allowing our little ones to live healthier and greener. While we're on the topic of sun, read all you need to know about non-toxic kiddie pools to splash about in this summer.