Deciding which diaper to buy is a decision that as a parent I used to agonize over. With so many different types of diapers on the market, finding the best organic diapers was very difficult. But someone once told me that what you choose for your child reflects what's important to you. Keeping this in mind, I have certain key factors in this regard. I look for gentleness, absorbency, low cost, organic diapers having less of a footprint on the planet. Most importantly, I choose products that have fewer chemicals and are safe for my baby. And finally it depends on whether or not it works for my baby specifically.
The two most popular diaper options currently available are cloth diapers and disposable diapers. Cloth diapers are earth friendly, gentle on baby's delicate skin, and cost-effective. However, the only downside to this type of diaper is that it is often not mommy-friendly. Especially when travelling or on the move. You need to wash them often or change the insert before reuse. This is not convenient when you don't have a nappy laundry nearby.
Organic disposable diapers, on the other hand, are the first choice for me. That's because they provide superior performance, are convenient and chosen well. Moreover, they can be ultra-gentle on the baby's skin. Luckily, there are some great Eco-friendly and organic baby diapers out there.
Here are the top six green disposable organic diapers available today.
What Are Organic Diapers?
The term "organic diapers" is often misleading. Although you'll find some diapers, which use natural or eco-friendly materials, they're not 100% organic. The best organic diapers use organic cotton or bamboo fibers. They're more biodegradable than standard diapers. But compostable diapers are even more biodegradable than eco-friendly diapers.
Why Choose Eco-Friendly Diapers?
Eco-friendly diapers are safe for babies. They're free of harmful chemicals such as chlorine, latex, or fragrances. Also, eco-friendly diapers are free of dyes and made of organic and natural materials. Thanks to their increase biodegradability rates, eco-friendly diapers are parents' number one choice. They eliminate the elements of specific health or environmental concern and replace them with more organic or natural ingredients.
Reviews of Top 6 Disposable Organic Diapers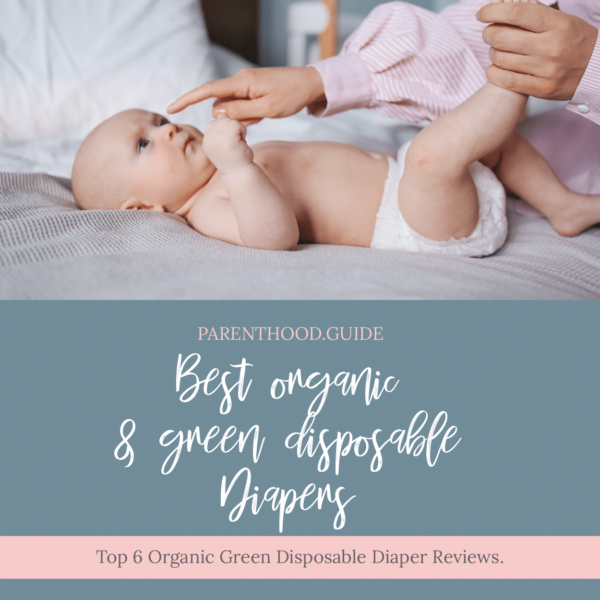 These are the best organic diapers I have tried. They might not look extra cute and while they seem slightly big, they are extremely soft and amazingly absorbent. What's more, they're good for the planet. I have tried almost every brand out there on the market. And I found that this is one of the best. Moreover, they're so soft, sensitive, and have an indicator line. With Andy Pandy, you'll never have a blowout, leak or wet bed again. Hopefully.
What I love about it:
Eco-friendly diapers made from the highest quality premium materials.
Naturally hypoallergenic and antibacterial making it ideal for babies with sensitive skin
Made from biodegradable bamboo, it is extremely soft and silky to the touch, yet strong and absorbent.
Excellent quality, moisture wicking and thermal regulating capabilities. Keeps your baby's skin dry and comfortable in hot or cold temperatures
Natural aloe liner to nourish your baby's skin
Wetness indicator that lets you know when baby needs to be changed
Does not contain Chlorine. Free of alcohol and Preservatives.
No Phthalates, Latex, PVC, TBT, or Antioxidants.
Something to keep in mind:
Specifications:
Sizes: Newborn and 1 to 6
These award-winning natural diapers are thin yet ultra-absorbent. What's more, they feature a wetness indicator and breathable back sheet which wicks away moisture fast. This keeps your baby's skin dry and reduces the likelihood of a rash.
They also have a soft, stretchable waist and flexible side panels for increased comfort. To top it off, the diapers' efficient leakage barriers ensure a snug body fit and minimize diaper blowouts. Bambo Nature diapers are one of the most environmentally friendly nappies out there. Moreover, they are certified free of harmful chemicals like phthalates, AZO-pigments and chlorine.
Bambo Nature organic diapers are dermatologically tested and FSC certified. They are also certified by several certification bodies including the British Retailer Consortium and the Danish Asthma/Allergy Association.They're available in most parts of the world, so they're a great diaper option to look for when traveling. It's worth mentioning that these organic diapers are 75% biodegradable and 99% compostable.
What I love about it:
Soft and comfortable
Fragrance-free and dye-free
Doesn't chafe or leave marks on baby's skin
free of harmful chemicals like phthalates, AZO-pigments, chlorine, formaldehyde, heavy metals and colophonium.
Something to keep in mind:
Slightly higher on the price margin
The diapers often run large
Lower absorbency
There's some gaping/drooping around the legs. This may result in minor leaks and occasional blowouts
Color change on the wetness indicator stripe is not very visible
Specifications:
Sizes: Newborn and 1 to 6
---
If you're looking for diapers that are easy on your wallet, the environment, and your baby's delicate skin, Babybanics are one of the best organic diapers. What's more, this organic diaper is free of latex, chlorine, fragrances and petroleum-based lotions.
Above all, they are not whitened and feature a core made with plant-based ingredients. Babyganics diapers are designed for superior comfort and enhanced absorbency. For instance, they have soft stretchy breathable side panels for a custom fit and leak control. Moreover, the super-absorbent core allows for rapid absorption and provides up to 12 hours of leakage protection.
What I love about it:
Super-absorbent
Extremely soft and comfortable
Made from high-quality premium materials
Something to keep in mind:
Are quite thick
May cause irritation/burns and occasional diaper rash
Specifications:
---
Seventh Generation diapers are safe, economical and Eco-friendly. For instance, they are free of fragrance, lotions, dyes, latex, and chlorine. Moreover, the diaper core is made of wood pulp that's sustainably sourced and FSC certified.
This ultra-absorbent, high capacity core provides superior leakage protection to keep your baby dry and comfortable. These hypo allergic disposable diapers feature double leg cuffs and a stretchy waistband that help control leaks.
In addition, they also have stretchy tabs for easy open changing and a custom fit.
What I love about it:
Fit perfectly
Non-toxic and fragrance-free
Very absorbent
Great for babies with sensitive skin
Something to keep in mind:
Leaves gel beads on the baby's skin
Really prone to leaks
Specifications:
Sizes: Newborn and 1 to 6
Specifications:
Sizes: Newborn and 1 to 6
---
These diapers from Earth's Best are very affordable and Eco-friendly. For instance, they are made from natural materials including corn and wheat starch and are free of harmful chemicals found in mainstream diaper brands.
The newborn diapers have comfortable, stretchy tabs while the rest of the sizes have soft side panels for a secure fit and to prevent leakages. The breathable sides and moisture barrier cuff provide further protection from leaks keeping your little one dry and comfortable.
What I love about it:
Pocket-friendly
Free of chlorine, latex, fragrance, and dye
Great for heavy-wetters and overnight use.
Are softer and less 'stiff' than most organic diapers
Something to keep in mind:
Run small
Are long and narrow
Not ideal for babies with very sensitive or eczema prone skin
Specifications:
Sizes: Newborn and 1 to 6
---
Nature Babycare Diapers are excellent for babies with very sensitive skin. Moreover, they are made from natural materials including GMO-free corn and are 60% biodegradable. What's more, these organic diapers are also made with chlorine-free absorbent pulp that is sustainably harvested from Scandinavian forests.
It's worth mentioning that Nature Babycare diapers are certified by AB Vincotte. That's the Swedish Society for Nature Conservation and the Swedish Asthma and Allergy Association. These organic disposable diapers are less bulky when compared to most premium diapers.
And since they are made of natural materials, they are soft providing comfort without sacrificing protection. The diaper's absorbent core offers good leakage protection ensuring your baby stays dry and comfortable, making this one of the best organic diapers available.
What I love about it:
Chlorine-free, latex-free, fragrance-free and dye-free.
Are super absorbent
Something to keep in mind:
The quality of the diapers could be better
Hard to find a good fit
There have been issues of leakage and occasional blowouts
Specifications:
Sizes: Newborn and 1 to 6
Important Factors to Consider When Buying Organic Diapers
While some organic diapers are environmentally friendly or made with natural materials, which biodegrade easier than standard diapers, you shouldn't take the term "organic" at face value. Organic diapers aren't completely organic. They just have a high level of natural ingredients, which are gentle and safe for your baby's sensitive skin. Also, organic diapers are a more environmentally choice compared to synthetic standard diapers.
Organic diapers are safer for most babies. They reduce and even eliminate the use of ingredients, which could be of environmental or health risk to your baby. Instead of using materials or ingredients such as chlorine or latex, organic diapers use natural dyes or soft bamboo.
When choosing organic diapers look for ingredients such as bamboo, natural inks, dyes or adhesives. Bamboo fibers are widely used in organic diapers as they're durable, resistant, sustainable, and eco-friendly. They grow quickly and aren't farmed with dangerous chemicals. Bamboo is soft on your baby's skin, it's absorbent, and naturally hypoallergenic.
Check for the label TCF, which means "totally chlorine free." Any chlorine in your baby's diaper can be rough on your baby's skin. It's also best to choose organic diapers, which don't include perfumes, lotions, latex, or fragrances.
Best Natural Diaper Ingredients to Look for in Organic Diapers
The safest organic diapers are free from a variety of dangerous chemicals such as dioxins, phthalates, and VOCs (volatile organic compounds). Also, organic diapers are free from fragrances, lotions, chlorine, and dyes. To avoid the dangerous and harmful ingredients, look for organic diapers made of safer ingredients, which ensure low risk of diaper rash or irritation, low risk of allergic reactions, and decreased exposure to fragrances and harsh chemicals.
Check out for diapers made of bamboo fibers, which are breathable, odor resistant, antimicrobial, and naturally antibacterial. Bamboo disposable organic diapers are soft to the touch and made from bamboo fibers. Also, they're 60% more absorbent than cotton.
Organic diapers aren't 100% made of natural ingredients but they blend natural and petroleum-based ingredients. Pay attention to the extent of environmentally friendly ingredients and make sure all diapers are free from chlorine, dyes, lotions, and fragrances. You'll find diapers made of petroleum-based plastic sprayed with a blend of seed oils. Their core is made of a blend of derived SAP and bio-based absorbers.
Other organic diapers contain PLA (polylactic acid, which is a plant-based plastic), with added vitamin E. The core is made of petroleum-based SAP and bio-based polymers.
What Chemicals Should You Avoid in Diapers?
Moms should avoid toxic chemicals in diapers, which can cause serious harm to their babies. Avoid superabsorbent polymers (SAP), which are usually combined with fluff pulp for the absorbent core of the diapers. Without SAP granules, the core isn't as absorbent as it should be. The most used SAP variant is synthetic sodium polyacrylate.
Dyes can cause allergic reactions and contain heavy metals and toxic chemicals. Avoid diapers containing pigments or inks, which can cause allergic reactions or rashes. To mask unpleasant odors, some diapers contain perfume fragrances, which are a mix of synthetic chemicals. Fragrances can trigger asthma attacks or cause eczema eruptions.
Avoid adhesives in the outer and inner lining of your baby's diapers or the absorbent core. Also, look out for lotions on the inner lining, which can cause irritations. Avoid phthalates, which are used to make the plastic more durable and softer. Moms should also avoid dioxins, which are organic pollutants and carcinogens. Make sure the disposable organic diaper is unbleached, chlorine-free, or totally chlorine free.
How to Save Money on Non-toxic Diapers?
Non-toxic diapers are an investment, which can run up to 50 cents more per each diaper, depending on the brand you choose. For example, you'll find deals on mainstream diaper brands, which can be tempting. But Amazon offers discounts of up to 20% on diapers if you're an Amazon Prime subscriber. Become an Amazon Family member for free and subscribe for regular diaper delivery of up to 6 months.
Delivery subscription periods on Amazon Prime's Amazon Family program range between 1 and 6 months, depending on your needs. You'll never run out of diapers.
Is the Gel in Diapers Toxic?

The gel in organic disposable diapers is not toxic. You may notice crystals and gel in diapers, which are super-absorbent to draw wetness away from your baby's super sensitive skin.

Are Organic Diapers Worth It?

Diapers, which are marked organic use more sustainable and natural ingredients compared to standard diapers. They're safer for your baby and worth the extra price.

Are Organic Diapers Biodegradable?

Yes, organic diapers are mostly biodegradable. But organic diapers also contain synthetic materials, which aren't biodegradable.

What Diapers Do Hospitals Use?

Hospital use a variety of diaper brands, depending on the policy of the hospital. The most common diapers used are Pampers Swaddles for newborns, followed by Huggies.

Do Diapers Have Chemicals in Them?

Yes, diapers contain chemicals such as dioxins, sodium polyacrylate, and tributyl-tin (TBT). You'll also find disposable diapers, which contain VOCs (Volatile Organic Compounds).

Which Organic Diapers Are Eco Friendly?

All organic diapers are eco-friendly. They contain increased levels of natural ingredients, although you may also find synthetic materials in their composition.

Will My Baby Be Completely Safe from Irritations and Diaper Rash?

Most likely, yes, with organic diapers, your baby will be safe from irritation and diaper rash. Organic diapers contain increased rates of natural ingredients to prevent harm to your baby's sensitive skin.

When Should I Change My Baby's Diapers?

You should change your baby's diaper as soon as your baby has "gone" in it. The rule of thumb is to change your newborn baby's diaper every 2 to 3 hours, and increase the time between changes as they grow older.
With so many diapering options available to parents, I strongly recommend using eco-friendly and organic diapers and wipes. They are not only good for the environment, but they are also great for babies' bottoms. Especially those with sensitive skin. Additionally, the best organic diapers do a wonderful job of keeping babies dry and comfortable. If you are considering using the best organic disposable diapers for your baby, try experimenting with various brands and sizes until you find 'the one' that works for your little one.
"Once you've got the diaper sorted, you may want to look into other non-toxic and organic nursing and feeding gear, like non-toxic sippy cups and non-toxic breast pumps. Or make the process of weaning easier with the right organic infant formula for breast fed babies".
If you're new to organic and non-toxic baby products, and want to know more for the safety and well being of your child, then I recommend that you start with an introduction to non-toxic baby products.