When it came to weaning my baby, one of the first dilemmas I faced as a parent was whether to go for a non-toxic bottle or a non-toxic sippy cup, or both? In most cases you might opt to have bottles for formula or milk, and also have a sippy cup handy for water or juice.
In my case, my first daughter was so attached to her bottle, that it was heart breaking to eventually wean her out of it. So when it came to my second child, I decided to skip the bottle completely, and choose one of the best non-toxic sippy cup alternatives. And boy, was I glad!
A sippy cup is basically a training cup. They are often plastic and have a screw-on or Snap-On lid and a spout that helps your baby to drink with minimal spillage. Many people prefer using the best sippy cups to help their babies' transition from bottle-feeding or nursing to using a regular cup. They can also help your baby enhance their hand-to-mouth coordination. Sippy cups are available in different models, spouts, and come fitted with or without handles.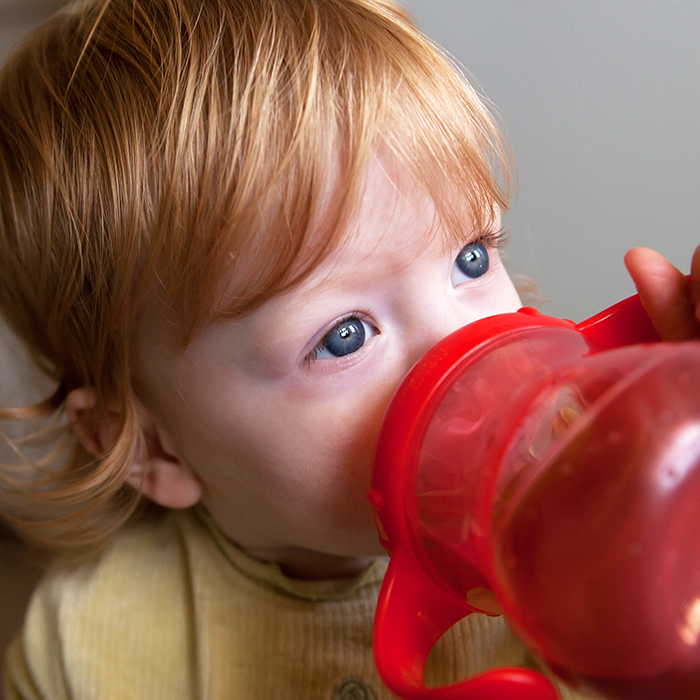 Why are Some Sippy Cups Bad for Babies?
There are concerns that some of the plastics in sippy cups contain chemical bisphenol A (BPA), and using them would expose children to this harmful chemical. Although the use of the chemical became illegal in 2012, some people are still wary about using plastic sippy cups. This is because when they start to wear out, plastic cups develop scratches from which leach chemicals, germs or bacteria flourish. This might compromise the health of your child.
When Can You Introduce a Non-toxic Sippy Cup?
There is no definite time for you to introduce a sippy cup to your baby. For some babies, they might take to the best sippy cups as early as six months while others may seem uninterested until they are one year. After your kid is six months or older, you should monitor him or her to see if he or she is interested in the cup. According to the American Dental Association, you can introduce your baby to a training cup any time after turning one.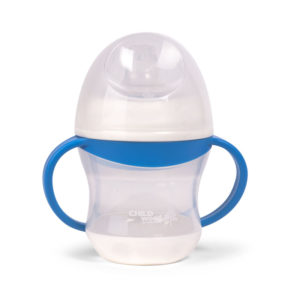 Reviews of the Best Sippy Cup Alternatives:
Klean Kid Kanteen 12oz is one of the best sippy cup alternatives, as it is free of BPA polypropylene. It is made of food-grade stainless steel, which is common in food-making and brewing industries. This makes the cup suitable for your child. Its design features a large mouth for easy cleaning; you won't spend a lot of time scrubbing it. The inside of the sippy cup is not coated with plastic or aluminum. Its small hands also come in handy for your kid since they are comfortable to hold as they drink.
What I love about it:
It comes with a large mouth for easy cleaning after use.
Made From BPA-free polypropylene, which is non-toxic. As such, you are sure that your baby is drinking from a toxin-free bottle.
The stainless steel ensures that the flavor of the drinks is not compromised.
Things to Keep in mind:
The bottle will develop some scratches or dents after continuous use
Thermos Foogo products are among the best sippy cups in the market, and this bottle is no exception. Its design utilizes the manufacturer's vacuum insulation technology to enhance temperature retention. The bottle has a contoured body that gives your baby a firm grip. It offers better utility with its 10-ounce capacity and up to 12 hours of heat retention capacity.
You can clean it in a dishwasher; you won't need to clean it manually. It is made from raw materials that comply with the industry and government set standards such as CPSIA, thus making it suitable for your child. The product is highly durable, since it is made from high premium quality products for reliability and enhanced performance.
What I love about it:
It is made from high-quality materials for enhanced durability
Its insulation can keep drinks warm for 12 hours, thus keeping your child's drinks warm for hours
Has a contoured body to give your child a firm grip
Things to Keep in mind:
It may start to leak with continuous use
---
The bottle is ideal for children since its sip and straw cup are made of glass. When using it, the liquids only touch the glass and silicone from the inside to ensure that it is the best for your child.
The plastic casing is designed to absorb shock when it falls to protect it from breaking. It comes with a straw spout and a silicone sip to ensure it is durable. This will ensure that your baby can use it for as long as he or she needs it.
What I love about it:
It has a non-slip and shock-absorbing base that will prevent it from breaking down.
It comes with a straw that can help in the oral development of your child.
The glass sip and straw cup makes it ideal for your baby. It is one of the best sippy cups available
Things to Keep in mind:
Its recommended use is under adult supervision
---
Pura Kiki is 100 % free of plastic and is made of medical-grade silicone. This could be the best non-toxic sippy cup since it comes with an infant bottle, sports bottle, straw bottle, and a snack container. These accessories ensure your baby transitions easily as he or she grows. Another great investment is a good bottle warmer, which saves a lot of time and stress.
It comes with a manufacturer's soft silicone travel cover and a fast-flowing XL sipper spout for enhanced convenience. Moreover, the cup can be cleaned in a dishwasher, and it takes a few minutes to clean since it is made of stainless steel. The inside of the bottle is calibrated so it is easy to give your baby the right amount of drinks.
What I love about it:
You can use your dishwasher to clean it
Its internal volume is calibrated for easy monitoring of the drink levels
100 % plastic-free; it is one of the best sippy cups for your child
Things to Keep in mind:
When your baby experiences suction-collapsing, you will need to sterilise the silicone sippy cup lid by boiling it
---
This high-quality product features a double-walled stainless steel straw cup and offers you an 8-ounce capacity. It can help you keep your child's drinks cool for up to 15 hours and comes fitted with a flip-top lid that is easy to open and close.
The bottle has a spill-proof straw to prevent the liquids from spilling, while the easy to grip handles will make it easy for your child to hold it. The sealing ring is aligned with the pull-tab inside lid to give it a leak-proof bottle sealing.
What I love about it:
It comes with easy to grip handles to give your kid a secure grip
The bottle has a flip-top lid that allows you to open and close it conveniently
You can use it to keep drinks for your baby cold for more than 15 hours
Things to Keep in mind:
Its holding capacity is limited
---
These non-toxic sippy cups are BPA free because they are made from natural bamboo. This also means that they are chemical-free, which ensures that each cup is safe for your little ones. The package comes with FDA approved Boo and Bobo cups that can be reused, making it not only safe for your child but also eco-friendly to use.
Since you can clean the cups easily, you can use them at home or while enjoying outdoor activities such as camping, birthdays, barbeques, and all kinds of parties. These toddler cups are made from high-quality bamboo, and they are dishwasher friendly and highly durable. Moreover, you do not have to monitor your kids while using the cups since they do not break easily.
What I love about it:
They are dishwasher-friendly
The cups are eco-friendly; they are made from natural bamboo
They are durable and non-toxic
Things to Keep in mind:
If your child has developed teeth, they risk chipping them while using the cups.
---
These cups will make your kids' activities fun for a long time. The containers are made for kids who are getting over sippy cups, which means they withstand kids' rough handling. Their design, therefore, allows them to withstand numerous drops, bumps, and other accidents that may come their way.
Premium stainless steel makes up these cups to ensure they are suitable for your toddler. They do not contain BPA, they are chemical-free, and you do not have to worry about them being hazardous. Moreover, they are eco-friendly and durable since they can be washed and reused repeatedly. That makes it one of the best sippy cup alternatives.
What I love about it:
You can clean them in a dishwasher.
The cups help conserve the environment since they are re-usable
Ideal for both indoor and outdoor use
Things to Keep in mind:
They do not come with a lid
---
Premium stainless steel makes up this cup and can keep drinks cool for up to 15 hours. With the 360-degree drinking edge, the cup eliminates any possibility of spills. The cup will also seal automatically when the kid stops to drink to avoid spillage. It comes with a lid that makes it the best non-toxic sippy cup for the on the go sipping.
You can wash it in a dishwasher, which means that you can clean it alongside other baby products in the dishwasher. The fact that it does not have valves, spouts, or pieces not only makes it easy to clean but also easy to use for your kids.
What I love about it:
It is easy to clean
You can use it to keep drinks cool for up to 15 hours
Its automatic seal makes it spill-proof; your kids will not mess themselves up while using it
Things to Keep in mind:
The silicone parts will need replacing after some time because they wear out with continued use.
When purchasing sippy cups, it is always important to ensure you pick non-toxic containers. Toxic cups contain BPA and Phthalates, which means that they are likely to have adverse health effects on your child.
Additionally, choose the best sippy cups that have limited or no plastic parts since the plastic often develop dents and scratches that can make it unhealthy with time. Since your toddler is yet to master his or her use of utensils, be sure to get sippy cups that have holding handles or a grip to give the kid a firm grip when drinking. A good grip minimizes the risk of spillage. You can even take it with you on your walks or strolls, and your child is sure to love it.
If you're looking for other nursing and feeding options, make sure you check out our reviews of the best organic pacifiers, the best infant formula for breast fed babies or the best non-toxic breast pumps you might need for nursing and feeding.
While choosing products to buy for your children, ensure their safety by choosing options that are non-toxic and chemical free. If you're not familiar with this or want to learn more, this is a great place to start.