There's not much that can top that moment that your baby takes their first step. Watching them explore how to navigate the world is so precious, and it leads to countless "Proud Mommy" moments in my life. But it's also important for me to know that my daughter is safe while exploring her balance. Using the best baby walker for carpet helps your child get around safely while figuring out how her legs work.
I do my best to keep toxic chemicals out of my house so my kids can lead a safe and worry-free life. This extends into their toys and walkers as well. I've made this list of some of the best non-toxic baby walkers on the market. Take a look at what other parents have found helpful in these products to help you make the best choice for your family. Taking the extra time to make sure you select a quality, non-toxic baby walker for carpet is well worth it, believe me. Nothing beats the peace of mind that comes with knowing you're doing everything you can to keep toxic chemicals and lead away from your child.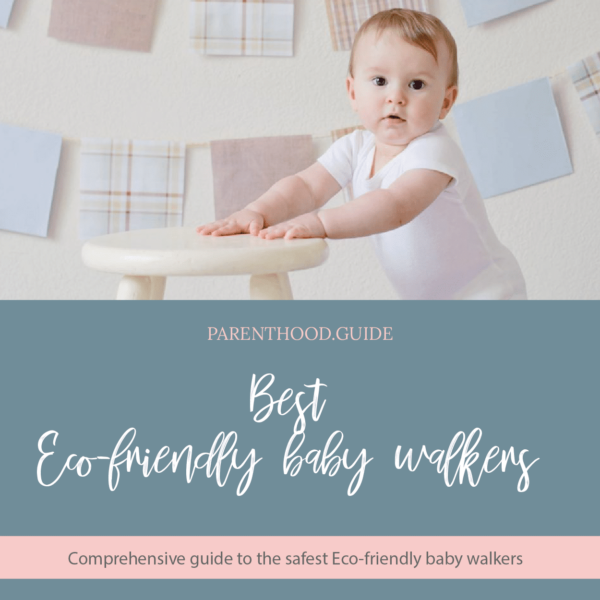 Reviews of Top 5 Best Baby Walkers for Carpet
This colorful non-toxic baby walker for carpet converts from a mobile walker to a stationary activity center to keep your toddler engaged. The comfortable, padded seat is removable and machine washable for ease of use. You can customize the height to grow with your baby, making it great for larger households who will use it for more than one child. It even has an MP3 hook-up to play music for your baby while they play.
What I love about it:
Adjustable height
Removable and washable seat
MP3 hook-up to play music
Folds flat for easy storage and transportation
Something to keep in mind:
Some parents complain of the base detaching during assembly.
Additional Specs:
Dimensions: 32 x 25.8 x 32 inches
Weight: 15.4 pounds
Maximum weight: 26.5 pounds
2 AA batteries required
Lead free, non-toxic materials
Average Review: 4.4/5
This baby walker for carpet has a modern, sleek design that will fit with the decor of any home while still allowing your baby to get around. Its seat is removable and washable, and the walker adjusts to three different heights. An extra-large tray makes eating easy, and the tray itself is removable to wash. This contemporary designed walker has both baby and parents in mind.
What I love about it:
Adjustable- 3 heights
Modern design
Removable, washable tray and seat
Does not contain BPA, PVC, or Phthalates
Something to keep in mind:
Reviewers love this product; no complaints!
Additional Specs:
Dimensions: 27.8 x 25.5 x 18 inches
Weight: 12.3 pounds
Maximum weight: 30 pounds
Lead free
Average Review: 4.5/5
---
This adorable ride on comes in 6 different styles and moves in every direction to promote motor skills development. It's great for indoor and outdoor use, as long as there is a smooth surface to ride on. Promote balance and motor skills by letting your toddler climb aboard this solidly constructed ride on toy. Overall, its a great pick for the best baby walker for carpet.
What I love about it:
Children won't get stuck in one spot: the wheels move in every direction
Indoor and outdoor use
Promotes motor skills and balance
Something to keep in mind:
Children must be supervised while using this productAdditional Specs
Additional Specs:
Dimensions: 15.9 x 12.3 x 9.6 inches
Weight: 4.6 pounds
Average Review: 4.7/5
Constructed of wood
---
This alligator themed push toy adds excitement to your child's walk with an exciting, colorful display. This is one of the best baby walker for carpet picks as it is designed to encourage creativity and discovery, all while helping your child learn to balance on her own. Constructed from durable hardwood and non-toxic paint, this product is safe and fun for your child to use. Plus, it's just so darn cute, that it is one of the best baby walker for carpet picks.
What I love about it:
Solid hardwood construction and non-toxic paint
Colorful and exciting
Promotes balance, exploration, and creativity
Something to keep in mind:
This product can be dangerous if children run or are left unattended.
Additional Specs:
Dimensions: 15 x 15 x 11.8 inches
Weight: 7 pounds
Non-toxic paint
Average Review: 4.5/5
---
With the award-winning Wonder Walker from Hape toys your child will be ready to walk in no time. Setback wheels provide a sturdy base for kids to pull up, and the unique design makes pushing a breeze while encouraging first steps. If that weren't enough, movable knobs, gears and colorful balls turn it into a busy-box on wheels.
The rubber lining of the wheels make this a great choice for kids. Durable child-safe paint finish and solid wood construction make this a safe and non-toxic toy your child will love. Additionally, it is made with wood from environmentally sourced forests. Finally, the Wonder Walker is a recipient of the Parent's Choice Approved Award, making it one of the best baby walkers for carpet.
What I love about it:
Movable knobs, gears, and colorful balls offer five different activities
Develops coordination and fine motor skills
Carefully designed rubber-trimmed setback wheels will protect floors
Sturdy wood craftsmanship from sustainably sourced forests
Non-toxic finishes and child safe materials
Something to keep in mind:
Some small parts are marked as choking hazard
Wheel speed and height of handles cannot be adjusted
Additional Specs:
Dimensions: 13.11 x 18.11 x 19.88 inches
Weight: 7.13 pounds
Sustainable resources for materials
When it comes time for your little one to start exploring balance and walking, you want best baby walker for carpet that you know you can trust. These products are all free of toxic chemicals, and full of exciting activities and opportunities for your child to learn and explore. I can't tell you how much peace of mind I get from knowing that my child isn't being exposed to harmful substances. Living a natural, non-toxic life doesn't have to be hard. I hope these reviews help you find the perfect baby walker for carpet for your little one. Happy walking!
If you're looking for other great non-toxic and safe baby products, make sure to check out our reviews of some of the best baby activity tables, best strollers and car seats. Or head over to out non-toxic toys section to find safe and engaging natural toys for your little one from rockers to play mats to much more.
Or to get a better gist of all the safe and non-toxic products out there, and why this is important for your baby's health and safety, start here.