When your little one reaches 4 to 6 months old, they begin to need an element of freedom. They also want to look around, reach for things and test their legs. At the same time, you crave a few minutes of hands-free time. Investing in the best baby activity center will give you what you need. But with so many baby exersaucers out there, which model is best?
You need a baby jumper activity center that is safe, sturdy and lots of fun. But there are a few other things to consider too. Some exersaucers fold down so they can be stored away, others have more than one function so they grow with your child. An activity center version comes with toys, and other options bounce, scoot along or swivel. All have pros and cons so take a look at the reviews below.
What is a Baby Exersaucer?
An Exersaucer is an activity and play station for a baby. Along the lines of the older-style baby walkers, they provide a safe place for babies to sit, bounce, swivel and play. Little ones love them because they can see all around the room and make some movements independently. Parents and carers like them because they offer some hands-free time.
What Age Can They Be Used?
Exersaucers can be used from around 4 months old. Babies should be able to hold their own heads and have started to pull themselves around. Their feet should be able to reach the floor or platform. Use these devices too early and ligaments, tiny bones and muscles can be affected. At around 18-months, the youngster will have outgrown an exersaucer.
Are Baby Activity Centers Safe?
The devices are much safer than the original baby walkers – they are more sturdy and move around less. They can be adjusted to make sure they are the correct size which stops a baby slipping down the seat. To ensure there is no danger, babies should not be left unattended in an exersaucer.
Best Baby Activity Center- Top Non-toxic Baby Exersaucers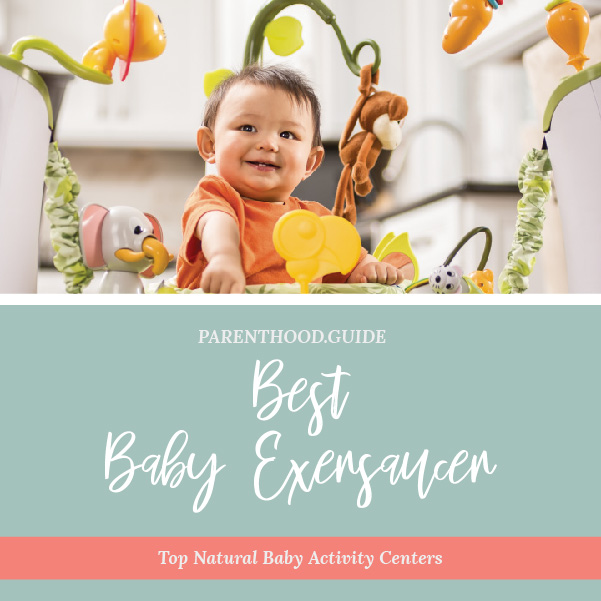 The Skip Hop Baby Activity Center has a lot packed into it. With 3 different stages, it can be used for babies aged 4 months up to toddlers. The toys are all removable for easy cleaning and they can be clipped onto the activity station in a variety of places.
This is perhaps the best baby exersaucer for a whole-body experience thanks to the 360-degree rotational seat and the ability to clip the musical toy piano at baby's feet so they can press the keys with their toes! Removable legs makes storage simple, and the adjustable foot platform means the baby jump activity center can fit each child correctly.
What I love about it:
Converts from exersaucer to play table
Discovery window so baby can see feet
Seat spins 360 degrees
Free from PVC, Phthalate and BPA
Gender neutral and fun colors
Designed with a pediatrician
Best Walker + Exersaucer:
The Tiny Love Meadow Days is more of a baby walker than an exersaucer. It's very sturdy with adjustable height legs so it can be changed to suit the size of your baby. A selection of playful characters clip onto this baby activity station and each one teaches baby something different.
There are 4 different functions – with the seat in place, it's a baby jumper activity center with an impressive up and down movement, plus there's a swivel of 360 degrees. This device can be used as a baby walker, and as the child grows, it can also be pushed along from behind.
What I love about it:
Four different functions and 20 activities
Seat easily removes for cleaning
Collapses down for storage
Hard to move on carpets or rugs
Jumping activity difficult for lighter babies
ASTM and federal safety standard approved
---
Best Portable Exersaucer:
If you want to take your baby activity center out and about with you, the Oribel PortaPlay is the best exersaucer to get. The adjustable legs fold underneath neatly for easy transportation. The PortaPlay is great value because it converts to a play table as your little one grows older. Matching stools are available separately to create a coordinated set.
The colors are bright and bold, and the forest-themed toys keep youngsters completely interested. Your baby's feet touch the floor when the legs are correctly adjusted, so they can bounce and twist in the seat that swivels 360 degrees.
What I love about it:
Folds down neatly for storage and travel
Toys have no sound effects
From 4 months to 5 years
Toys teach motor skills
Plastic seat cover wipes clean
Superior plastic construction
---
Best Jumper Activity Center:
The Jolly Jumper has been around since 1948 but this improved baby bouncer comes with a Super Stand that is sturdy, tall and great for inside and outside use. The saddle seat firmly supports baby's spine by keeping the correct, upright position.
Little ones enjoy the feeling of freedom as they leap up and down. They learn balance and coordination as they play, and muscles are strengthened with every bounce. As an alternative to the door-way version of this baby bouncer, the frame means that baby can play in the center of any room, nearer to the adults.
What I love about it:
Frame folds flat when not in use
Six-foot tall frame
No tools needed
Can be used in the garden or home
There is a weight limit of 28lbs
Trusted manufacturer with 70 years' experience
---
What are the Benefits of Baby Jumper Activity Centers?
The best baby activity center will keep a youngster entertained, teach motor skills and give them freedom of movement. An element of exercise is achieved and muscles are strengthened when using these devices. Babies are often happier if they can see what's going on around them and siblings can interact more easily when they are in an exersaucer.
Baby Jumper vs Exersaucer
A baby jumper is designed specifically for jumping up and down. Little ones love the sensation and the activity strengthens legs, helps with balance and teaches coordination. The best baby activity center exersaucers spin and gently bounce with an area for toys.
Why Choose a Non-toxic Baby Exersaucer?
Plastic is a useful material for toys and equipment because it's strong, easy to clean and lower in price. Toxic materials can omit harmful chemicals, so it's wise to select a exersaucer that is BPA and Phthalate-free and conforms to US ASTM F2012 Standards. Unfortunately the popular Evenflo Exersaucer didn't make this list. This is because while they are BPA free, they are not PVC and Phthalate-free. So depending on your level of concern, you may choose whether or not to go for them.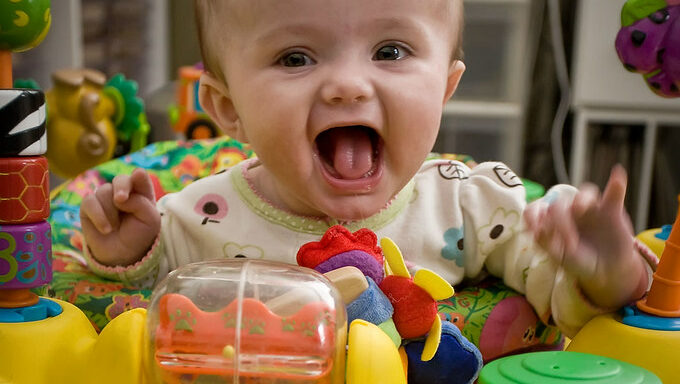 You know your baby and what they love to do. A more active little one will enjoy exersaucers that move and jump, whereas a thoughtful child wants to investigate toys with sounds, shapes and textures.
Most little ones enjoy spending time with one of these activity devices or activity tables, and they can be used by visiting friends and family so are good value for money. With a great selection available, finding the best exersaucer for your baby is easy to do. You may also want to check out the best baby activity gyms or play mats to develop your baby's motor skills, and also provide a safe playing environment.