The safest baby cribs, mattresses and paints are made and processed using materials that are completely chemical-free, eco-friendly, organic and hence safe for the baby. A crib is a child's bed with side bars. The structure of a good Eco-friendly organic baby crib ensures a child's comfort and the side-bars ensure the little one's safety. SAFETY on the whole is, in fact, the most important feature to look for while selecting a crib. That is why you should choose an organic and non-toxic crib.
Unfortunately in today's time, side bars are not the only thing to consider while checking for a crib's safety. The main cause of danger in cribs today is the possibility of the presence of toxins in the cribs' paint or finish.
These toxins include lead, phthalates, formaldehyde (used in glues) and some Volatile Organic Compounds (VOCs) among others. They can cause problems such as immune dysfunction, hormone disruption, IQ and fertility problems and even cancer among children.
Most eco-friendly cribs are very highly priced – almost like a luxury product! But luckily there are a few cost-effective yet safe alternatives available. Before you move forward to read more, let's take a quick look.
These non-toxic safest baby crib brands follow safety regulations and ensure that the products they manufacture are non-toxic and chemical free. Their prices are also quite affordable. As a result, we have some reasonably-priced cribs that are a great choice for baby and children in terms of safety too.
The main causes of crib toxicity are the toxic paints used on these cribs or mattresses that go inside these cribs. I'll come to that later, but first let's go through my favorite non-toxic safest baby cribs available in the US.
Here is a detailed review of the best non-toxic cribs with what I like about each of them and the things I don't.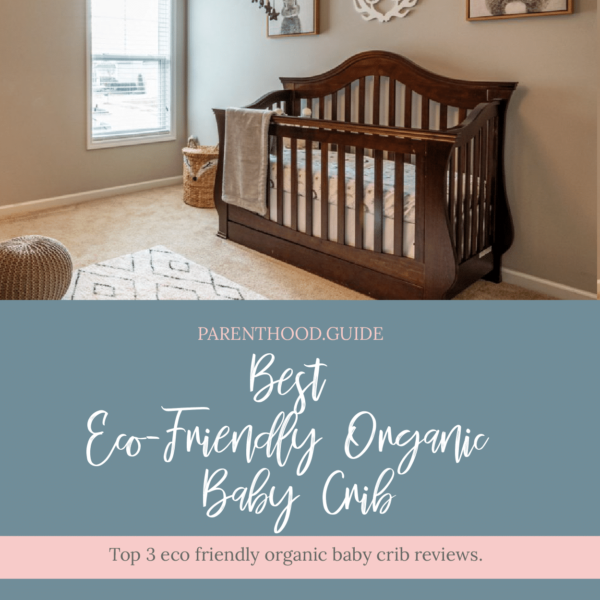 Reviews of the Safest and Best Non-Toxic Cribs for your Baby
Colours Available:
Espresso, Cherry, Chestnut, Ebony, Honey-Oak, White
What I love about it:
Non toxic crib, safe and Eco-friendly (Green-guard Certified! Meets ASTM international and U.S. CPSC safety standards and is JPMA certified)
Made with solid wood (New Zealand Pine wood)
Beautiful to look at
Supports good weight and is sturdy
Convertible into a toddler bed, day bed and full size bed. (The full size bed conversion kit has to be purchased separately)
Toddler rail included (money saver)
Easy to assemble with straightforward instructions
4 adjustable mattress levels or height settings. This means that you need one mattress but can set its height to either of the four levels. Hence, its a nice pick for short mums as it helps to easily place down a sleepy baby with a convenient height setting
Sturdy mattress springs
Something to keep in mind:
Railing gets teeth marks easily, crib can get scratched on rough handling
The 3rd rail (for toddler bed) is only 1/3rd the entire length not ½ so, some parents might find it small
Slight color variations possible due to use of natural wood which is by the way, a very safe material!
Colors Available:
Espresso, White, Grey, Espresso-White, Grey-White
What I love about it:
Non-toxic crib, eco-friendly and organic baby crib (Lead and Phthalate safe with non-toxic finish, JPMA Certified; meets ASTM International and U.S. CPSC Safety Standards)
Pure wood (this is one of the safest baby cribs and is made with New Zealand pine wood)
Gorgeous looks
Nice pick for short mommies
Converts into a day bed and toddler bed
Toddler Bed Conversion Kit is included
4 adjustable mattress levels or height settings
Sturdy mattress base made of metallic wire springs
Fairly easy to assemble
Something to keep in mind:
Like most baby furniture, this organic baby crib has to be handled with are. This is due to its soft wood and paint.
Although majority of the buyers have been very pleased with this crib's quality yet, in a few rare instances, some customers noticed a faint paint smell coming from the crib. In such a case, I would suggest you to let the crib off-gas before you use it. Off-gassing simply means keeping the crib in open or opening the room windows till the crib smell escapes. are great odor absorbents and are 100% organic and safe.
*Note
Due to this crib's size being slightly smaller than the usual crib size, please make sure you buy an appropriately sized mattress for it. Usually the standard mattress size works just fine.
---
Colors Available:
What I love about it:
Non toxic crib – No harmful chemicals (JPMA certified to meet or exceed all safety standards set by the CPSC and ASTM)
Wood construction
Easy to assemble!
Convertible into a day bed, toddler bed and full size bed
3-position mattress height adjustment
Sturdy
Beautiful
Something to keep in mind:
Toddler bed and full-size bed rail have to be bought separately.
In the 'dark-chocolate' colored crib, some slight color variations have been reported in comparison to the pictures available online. No quality issues have been reported.
*Note
Always remember to make sure everything is intact and included in the package soon after it arrives so that you don't exceed the returning period just in case something is not right!
Best Non-Toxic Paint for Safest Baby Cribs
If the crib smells of toxic, chemical based paint and you've tried leaving it to off gas and have also tried activated bamboo charcoal, but none have worked, then I would recommend re-painting the crib with an eco-friendly, baby-safe paint.
The paint you choose has to be odorless and must not contain formaldehyde, lead or Volatile Organic Compounds (VOCs). I recommend Baby safe Crib Finish – I'm thankful to them to them for creating something so amazing and useful.
Let me warn you – painting a crib is not easy! Cribs are complicated. And there are a lot of difficult to access corners and small spaces. Before you start to paint, you'll need to scuff sand the entire crib with a special sanding sponge. This will allow the new paint to take a strong grip and will also remove a layer of the existing toxic paint.
Once you've painted the entire crib and it's well dried, the toxic smell completely fades away over a few days.
Non Toxic Mattresses – My Favorite Safe, Chemical Free Mattress
Babies spend 12-16 hours a day sleeping on a mattress and I can't begin to stress on how important it is that the mattress is eco-friendly and 100% safe for your baby. The Internet is full of horror stories when it comes to baby mattresses. Cases of SIDS (sudden infant death syndrome) have been linked to toxic mattresses, along with various other serious illnesses.
DIY – Make Your Existing Mattress Safe for Your Baby
If you've bought a mattress already and cannot afford a new one immediately, here's an idea – mattresses containing foam may produce toxic smells, so may mattresses that have vinyl covers. The easiest way to protect your baby from those fumes is to cover the mattress with food grade plastic. Once you do that, cover the plastic with soft cotton bed-sheets to avoid suffocation.
If you're ready to buy a non-toxic and organic baby crib mattress under $200, then have a look at the Lullaby Crib Mattress. I trust this brand and they don't charge you an arm and a leg unlike tens of non-toxic mattresses that cost way above $200.
Safest Baby Cribs Such As Solid Wood Cribs with Non Toxic Finish
Safest baby cribs are made of natural, organic and eco-friendly materials such as real wood. Additionally, they are also free of poisonous chemical substances which can be harmful for babies.
Eco cribs are a wonderful bed option that has been there for many years. Online, you will find safest baby cribs of all shapes and sizes – ones with built in storage, intelligently designed ones that can fit in small bedrooms and even ones that offer storage under the crib.
Non-Toxic Cribs Vs. Non-Toxic Cradle Vs. Non-Toxic Bassinet?
Actually a cradle, bassinet or a co-sleeper also offers a great bed solution for the baby but the downside is that a baby usually outgrows these in a few months while a convertible crib can serve the same purpose for several years.
Convertible Non-Toxic Baby Cribs
With all the wonderful convertible cribs available in the market today, we can do a one-time investment for our child's bed and have one of the safest baby crib that serves as an infant bed during the initial months and then transforms into a nice toddler bed and a day bed for the child's toddler years.
In fact, numerous cribs come with a provision of being transformed into a full-size bed that can be used for the child's teenage years as well.
Today, ­the market has a very wide variety of cribs to offer. There are beautiful cribs to suit our nursery's interior and enhance the look of our house with their classy finish. A large range of colors that most cribs support add on to the charm and increase the temptation to buy a safe baby crib that matches our nursery's décor right away.
However, remember that while the appearance and cost of a crib may seem as important factors to consider when looking to buy a new crib, in reality, it is the 'safety' part of a crib that we must really be looking out for.
So, what are some of the things that we can search for to be sure that we're going for a safe crib?
I used to have these factors ruling my decision-making while looking out to buy a safe baby crib.
But I was shocked to discover that the safety of a crib has much larger concerns than the ones that appear on the surface.
Crib Toxicity is a Serious Danger
Basically, the biggest danger to a crib is toxicity. Yes, toxicity!
Isn't it alarming to know that a piece of furniture that you intend to buy for your little one's safety can turn out to be highly poisonous and dangerous? I mean its not even food items that we're talking about but furniture, actual furniture that can be a source of toxins and mess up with the health and development of a baby!
Toxicity can be prevented completely only when the entire process of a crib's creation is well guarded. Only a selected number of Eco crib brands actually take the pain to ensure that the cribs they create are safe for the babies.
Majority of toxin-free and safest baby cribs are very expensive. But after a detailed research, I dug out a few safe and reasonably-priced alternatives. What's more, these are all designed in accordance with the US safety standards and are non-toxic.
Is IKEA Crib Non-Toxic?

Yes, IKEA produces non-toxic cribs, which abide by the safety regulations in place. Although the budget versions aren't Greenguard certified, IKEA has a transparent policy when it comes to the chemicals involved in the manufacturing process.

Are Metal Cribs Non-Toxic?

Not all metal cribs are non-toxic. Check the finish of the crib and make sure it's lead free and doesn't include other toxic chemicals.

Is Crib Safe For Newborn?

No. You should always invest in new cribs for your baby. Whether it's a hand down from your relatives or you find it in a secondhand store, you can never be sure of the wear level of used cribs.

Can Babies Hurt Themselves In The Crib?

No. Safest baby cribs are designed to keep your baby safe while sleeping or sitting in the crib. Make sure the mattress perfectly fits the crib without leaving gaps either side, where your baby can get his or her hands or legs stuck.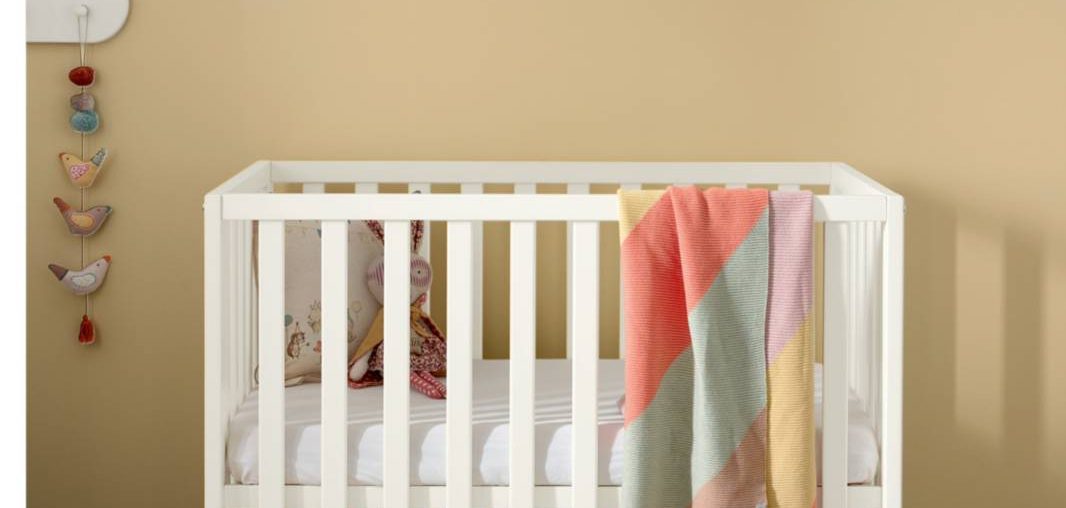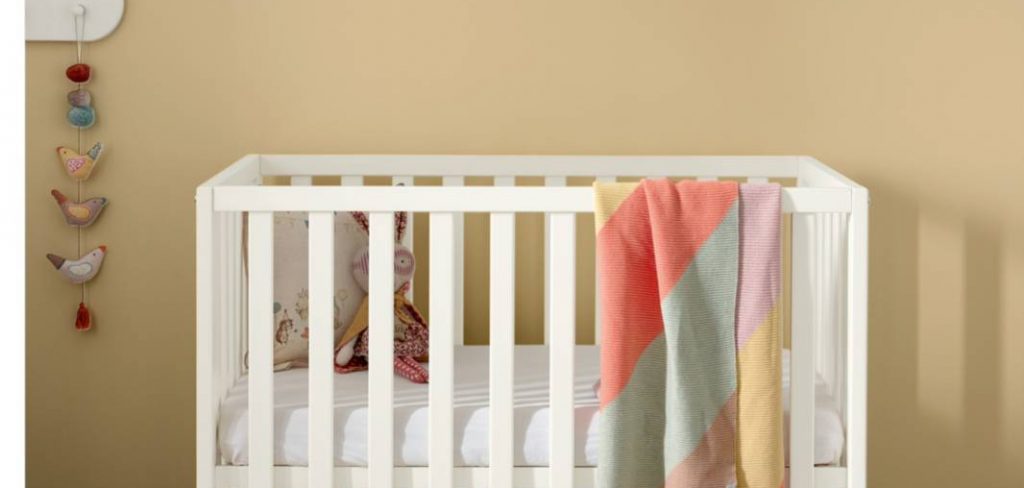 All the above safest baby cribs are JPMA certified to meet and exceed all safety standards set by the CPSC and ASTM. However, in order to give you a clear and transparent picture, I have also listed down all the possible disadvantages in each of the non-toxic cribs, so that you know exactly what you're opting for before making the final buying decision.
With a clear list of all the positives and negatives, I sincerely hope that my reviews will help you pick a safe, organic, chemical free, Eco-friendly and non-toxic crib for your little one. Once you've chosen the right safe baby crib, you want to look at the best baby sleep sacks for your baby to ensure uninterrupted sleep.