A good crib with storage can be the perfect solution for your baby's bed for years to come. It can give you comfort, safety. Question is how to find the one that's the best value for your money. Ideally, a well-chosen crib should be safe, sturdy and should have the ability to fit into your room without making it look congested. The best crib with changing table built-in comes with useful storage facility attached to the crib's body. This storage facility may include an accompanying dresser, a changing table and sometimes even an under crib storage feature like drawers.
But you might aspire to keep your nursery absolutely uncluttered despite all the baby goods. Additionally, if you're short on space, then a good crib that can easily fit into your nursery is not enough. You need a crib that can take up less space and also secretly enclose the majority of your belongings in its neat structure. One that can also give you the comfort of a great storage cupboard and a perfect changing table.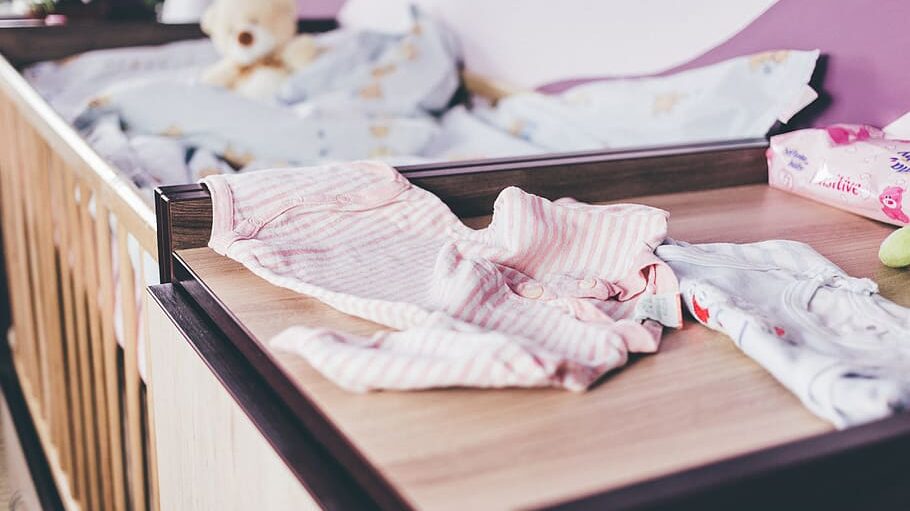 Thankfully, it is possible to find a crib of this kind in the market today. In fact, a crib with storage (or a multi-purpose crib) is quite popular these days. With some of the leading baby furniture brands in the scene, cribs with storage are available in numerous designs, sizes and prices.
To see which one would suit you best, read the following reviews about my three most favorite multi-purpose cribs and find out their true advantages and disadvantages. Read through to the bottom to get a good insight on these cribs with built-in storage so that you know exactly what you're going for, before making the final choice.
How to find the best Crib with Changing Table
There are certain things to look out for when you're shopping for a crib with changing table. It should include the following:
A mattress that can be adjusted to different heights
A firm, dense mattress that won't sag when your baby is lying on it
Bars or slats on the crib that aren't more than 2-3/8inches apart
Safety features to look for
Your baby will be high up when you're working with him/her, so the crib with changer you opt for must have the following safety features:
A strong, secure changing table, surrounded completely, by a 5cm/2 inch guardrail
A safety strap with buckle to keep your baby safe and secure
A concave pad on the changing table
Advantage of multiple mattress heights
Having a mattress with adjustable heights helps a lot when putting your baby down to sleep or taking him/her out of the crib. It all depends on your baby's age and abilities, as to which height the mattress should be.
Highest – new-born
Medium – when your baby can sit up
Lowest – toddlers able to stand up in the crib
Buy a crib with storage capacity large enough to hold everything you need when handling your baby. Nappies, nappy cream, and disposable wet wipes should be easily accessible to you. However, they should be kept out of your baby's reach, to avoid them ending up on the floor or in your baby's mouth, which will slow down the changing process significantly.
Best Cribs With Changing Table 2021
Stork Craft Portofino crib with built-in storage is made of high-quality solid wood and wood products which makes it exceedingly sustainable and non-toxic, and hence very safe for your little one's health and well being. It's available in multiple natural colors and finishes. This crib with changing table has ample storage provision and comes with draws and two back shelves. The changing table is detachable and can be used as a side table after converting the crib into a full-size bed.
Along with the cot bed, it includes a waterproof vinyl changing pad as standard, which is a perfect addition. Similar to the previous two options shortlisted, the Stork Craft comes with a toddler bed conversion kit which makes it convertible into a toddler bed, day bed, and eventually a full sized bed, thus growing with your child to meet his needs. The solid wood body is strong, and durable, while the design is elegant and elegant.
Colors Available
Espresso, White, Cherry, Dove-Brown
What I love about it:
This crib with built-in storage has a great storage facility with accompanying changing table, drawers and 2 back shelves
The changing table is detachable and can be used as a side table after converting the crib into a full-size bed. (However, while its still a crib, the table forms one of the sides and has to be kept with the crib)
It also includes a waterproof vinyl changing pad
This crib is made of solid wood and wood products
JPMA certified and compliant with all CPSC and ASTM safety standards
Easily converts into a toddler bed, day bed and full sized bed
Toddler Bed Conversion Kit is included (Bed rails are not included)
3 adjustable mattress levels
Elegant and strong body
All 4 stationary sides of the crib add to safety
Something to keep in mind:
Customers who are sensitive to certain smells can in some cases find the crib to have a strong odor but the manufacturer claims that this smell is harmless and will dissipate quickly.
Crib's wood is soft and can get scratches easily on rough handling
The raised sides of the crib's changing table add to safety and prevent the chances of a baby falling off the crib but the gaps on these sides can cause a baby's hands or legs to get caught if the baby is left without an adult's supervision.
No products found.
Athena Daphne Convertible Crib is an adorable mini crib which offers great storage facility. This crib with built-in storage has an attached dresser and changing table which includes three drawers and two back shelves. Additionally, the base of this crib also has two wide drawers. Every section of this piece is designed to give you maximum use of available space.
And if that's not enough, it is made of Non-toxic and sustainable pine wood. This makes it extremely eco-friendly, and in fact, it exceeds US safety regulations. Further, it grows with the baby and can be converted into a day bed and even a pre-teen bed as your child grows up. While being very easy to assemble, it has a sturdy body that glides easily. Being compact and very well designed, this cot bed with storage solves your bedding and storage problems with one unique solution.
Colors Available:
White and Cherry
What I love about it:
Great storage facility
Attached dresser and changing table which includes three drawers and two back shelves.
The base of this crib with built-in storage also has two wide drawers.
Maximum use of available space.
Eco-friendly and made using sustainable pine wood.
JPMA certified and meets & exceeds US federal safety regulations.
It is convertible from crib to day-bed and youth-bed.
Easy to assemble
A sturdy body which is easy to glide
A great pick for small nurseries and houses as it solves the bedding and storage problems all in one.
Looks cute and stylish
The changing table with storage can be detached and used as a side table when the crib is converted into a youth bed. The two wide drawers at the bottom stay as a part of the youth-bed and continue to provide ample storage space.
Something to keep in mind:
Non-adjustable mattress height levels. To adjust the mattress height, you'd have to use two mattresses for this crib.
The changing pad is not included and the changing table's small size (5″ x 15.5″) can make it a little tricky to find the right sized changing pad from other manufacturers apart from Athena.
Finding the perfect mattress for the youth-bed can also be a little challenging.
No products found.
---
This crib with changing table has everything you would want for your baby. Its mattress has four adjustable positions, and since it is easily convertible, will be ideal from the day you bring your new-born home, right up until toddlerhood. No harmful chemicals were used in the manufacture of this crib.
Parents who bought the Chemical-free Davinci Autumn, loved the fact that it came with clear instructions, making it easy to assemble. Another feature of this crib that many parents would find fantastic, is that it can be converted at a later stage, to a full size bed, nightstand, and bookcase.
---
The Best Classic Delta Abby is another great convertible crib with storage. A baby's safety was top priority when this crib was designed. So much so, that when put through all the necessary safety tests, it met or exceeded all government safety standards.
What I love about it:
A change table with a water-roof change pad
Two roomy drawers, as well as an open shelf to hold all the items you need
According to parents who purchased this crib, it is excellent quality, came with instructions reasonably easy to follow, and has loads of storage space.
---
Available in a range of colors, makes this crib ideal for any nursery. Being convertible from crib to a bed, it could very well be the only one you will ever need for your child. Not only is it made from the best possible materials, but it also meets or exceeds all safety standards that apply.
There were mixed feelings about this crib among parents who bought it. One lady struggled with the instructions, while another parent found them fairly easy to follow. One mom was unhappy about the drawer, saying that doesn't provide maximum storage space, since it doesn't go all the way to the back of the crib.
---
Best with Under-Crib Storage:
The change table has a waterproof changing pad and comes with a safety belt, to keep your baby secure. Two shelves and three drawers form part of the attached changing table, giving you plenty of space to store all the necessities. The mattress is sold separately. Assembly instructions are very easy to follow.
However, one mom felt that the change table would be too short by the time her baby reached the age of six months.
---
This crib with changer, made from strong pine wood, and with six stunning finishes to choose from, is a classic, sleek design that works perfectly in any nursery.
What I love about it:
Incredibly sturdy and a great buy
Well-constructed
A real bargain
Worth a 5-star rating
---
Dream On Me Casco 3 in 1 Mini Crib is a wonderful crib with built-in storage for small spaces because it is compact in design and has great storage capacity. Additionally, it is a lightweight sleigh cot bed and is portable and thus amenable to a more fluid lifestyle. The crib also comes with a changing table which is also lightweight, and this additional storage is a godsend. While you would have to spend individually on a crib, a dresser and a changing table, this mini crib combines the best of this world and provides a single solution with your child's sleeping needs.
What's more, this convertible cot turns into a day-bed and a twin sized bed, and has two adjustable mattress levels, and so can grow with your child as time goes by. It is made of solid sturdy material, is CPSC certified, and comes with a simple yet elegant and classic design, and essentially a great choice for smaller spaces, apartments and city dwelling.
Colors Available
Espresso, Natural, White, Black, Cherry
What I love about it:
This is a lightweight, portable crib that offers a great storage capacity
It comes with a changing table which includes a changing pad, a restraining strap for safety, three roomy drawers and two back shelves. A 1" mattress pad is also included with the crib.
The crib is convertible into a day-bed and a twin sized bed (optional bed rails sold separately)
adjustable bases with two mattress levels
A great choice for small spaces
Beautiful
Sturdy
Something to keep in mind:
The crib with built-in storage comes with a mattress pad which is much thinner than a mattress itself. So, you might like to order a suitable mattress separately when you're ordering the crib.
Despite being a mini crib, it may not fit through all the doorways so it is important to decide the best place for your crib before assembling it.
---
About Cribs with Built-in Storage
As you already know by now, cribs with built-in storage provide the facility of storing a baby's goods along with serving as a cozy infant-bed. They often also include a dresser and a changing table which can be later converted into a bedside table when the crib is converted into a full sized bed or a youth bed. All the options above have each of these features included as standard.
With one crib of this kind, you can easily cut down on various other shelves and cupboards in a room. Thus the room looks much more spacious and easy to tidy up.
It also helps to bring down the cost involved as a single multi-purpose crib is often more cost-effective than a crib and other pieces of furniture bought separately. With all these benefits in mind, cot beds with storage are an ideal solution for nursery furniture in apartments, smaller spaces, and for city living. While being versatile and convenient, they also come in chic and elegant designs that add to your child's nursery décor.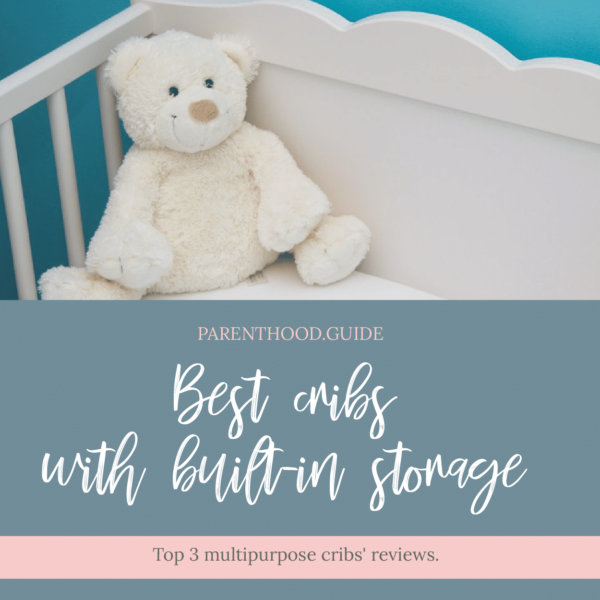 Of the top three picks, it's very hard to choose one, as they are almost equally matched. However, if I do have to pick one, it might be the Stork Craft Portofino. Simply for the quality of material and finish, and its beautiful curves. Although none of the others are in any way inferior. Hope the above gives you a good picture of the different features of each of the cot bed offers. Hope this helps you take that final decision on which is right for your little wonder.
However, a crib with built-in storage is designed to give more space to the room. Therefore, its size and weight is often monitored to not become too big and bulky. Its accompanying changing table, dresser and shelves are also designed to fit in a smaller area. So they are often smaller than the regular changing tables and dressers bought separately.
With cribs with storage, you enhance the overall functionality of a normal baby crib. Therefore you provide a complete bed, safety and storage solution. To read more about more crib options and other safe and non-toxic nursery solutions, head over to our non-toxic nursery guide