Best mini cribs are small cribs for small spaces that have the functionality of regular cribs but with dimensions scaled down to fit smaller spaces. Finding a nice baby bed is perhaps the most essential 'to-do' task before your little one arrives. Since it is the one piece of furniture in which your baby will spend most of her initial months, there's no doubt that you want to make this bed as safe and peaceful as possible. However, you might be worried about the space needed to accommodate your baby's bed if the size of your apartment or nursery is small.
You might even be searching for alternatives for a small baby crib to get something like a bassinet, a Moses basket or a small cradle that would occupy less space while ensuring full comfort to the baby. Initially, I was in just the same kind of fix. I loved the look and style of some cribs but wanted the same cribs in smaller sizes to get them to squeeze and fit into my bedroom, but without compromising on the frills and features.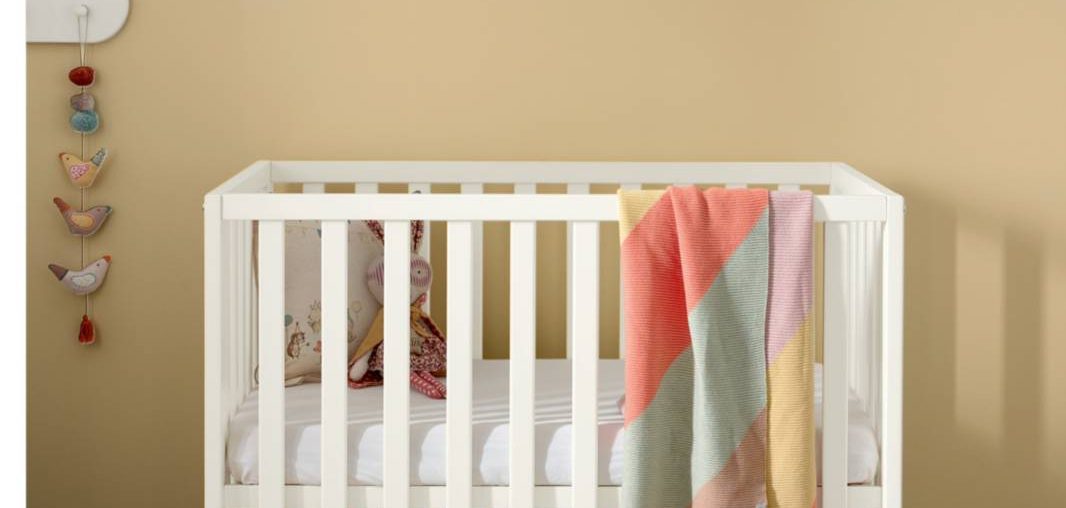 Unfortunately, I couldn't find any size options modifiable for any of the regular cribs on the market. However, on searching further, I found some small cribs for small spaces that were specifically designed for small spaces. Such cribs are popularly known as mini cribs, owing to their smaller sizes. What's more, they are excellent space savers and look really chic and cute.
Despite being smaller in size, these cribs for small spaces promise the same level of safety and comfort, and are manufactured from high quality materials.
After going through a lot of these small cribs, I shortlisted some of the best mini cribs which have the best possible features and minimum drawbacks. Read through my shortlist to get all the details about these awesome compact baby cribs for small spaces.
Short on space? Only have a small bedroom or corner for your baby's sleeping space? You don't have to sacrifice style or function and can still have one of the many small cribs for small spaces for your little one. Mini cribs are the perfect solution for small apartments or if you want your new bundle of joy to sleep in the same room with you.
You need a safe place to lay your baby down for naps and at bedtime so it makes sense to spend some time looking for the perfect crib for your space. Shopping for cribs for small spaces takes just a bit of care so check out this list of the best mini cribs to help you get started.
How to Choose the Best Mini Crib for Your Baby
A mini crib is a smaller version of the traditional crib you're used to seeing. These small baby cribs are ideal if you need something that will fit into a tight place inside your house, but they're also great for traveling or for keeping at a grandparent's or babysitter's house.
Many of these small cribs for small spaces are on wheels to make them easier to move and some of them fold flat for easy storage when they're not in use. With so many options available, it can be hard to make a decision regarding which one is best for you.
When you choose a mini crib, there are a few factors to keep in mind. The most important is the safety of the crib you decide on. If you're buying a mini crib brand new, you won't have to worry about this as much as if you're buying a used crib. It's vital to ensure that the mini crib meets the most current up-to-date safety standards, listed below.
No more than 2 ⅜-inches between the bars
Firm mattress that doesn't sag and fits snugly around the edges
No decorative cutouts on footboard or headboard
Avoid drop rails
Keep pillows, stuffed animals and large blankets out of the crib
Of course, style is something you want to consider when choosing from the many cribs for small spaces. The one you select should blend with the style and décor of the room you're placing it in. Most cribs are wood, but you can also find them in a variety of colors to pair with your other décor choices.
Mini cribs also come in several shapes, including the traditional square. Circular mini cribs for small spaces are trending these days as well and are easier to slide into tight spots. Researching your options before buying ensures that you get exactly the crib you want and need.
Best Mini Cribs For Small Spaces 2021
With four mattress positions, this mini crib will grow with your baby and can then be converted into a toddler bed and twin size bed as your baby turns into an older kid. The crib is made from quality New Zealand pinewood and without any chemicals.
What I love about it:
Grows with your baby from toddler to twin bed
Solid wood materials for durability
Chemical free
Easy to put together
Ideal for small bedrooms or for traveling
Something to keep in mind:
Doesn't come with a mattress, just a pad
Lower height than standard cribs
Must be assembled
With its handy wheels, this is one of best mini cribs for small spaces due to its maneuverability. It's a breeze to move around, making it ideal for small homes and bedrooms. It's Greenguard Gold certified so you know it's free of dangerous chemicals. There are three adjustable mattress positions so you can expect this crib to grow with your little one. The crib is compatible with standard sized mini crib mattresses and is easy to pair with your existing décor.
What I love about it:
Adjustable heights mean the crib grows with your baby
Chemical free
Wheels make the crib portable
Works with many design choices
Fits a standard mini crib mattress
Something to keep in mind:
Lower than average weight limit
No teething guard
Not stable in rocking mode
---
Best All Natural Mini Crib:
Greenguard Certified and made from chemical free materials, this all natural crib is both beautiful and small in size. Choose from washed white or a natural wood color with several feet colors available as well. Enjoy the option of converting the crib as your baby gets older. The rectangular shape makes it easy to place the mini crib in a corner of a small room.
What I love about it:
Color options make it easy to match to your décor
All natural materials
Two height options
Converts to a twin bed
Chemical free
Something to keep in mind:
Needs a larger mattress
Assembly issues
Not ideal for larger babies
---
For the ultimate in convenience, this crib features a place to store diapers and clothing as well as a safe ledge for changing your baby. It comes in several colors and can convert into a daybed as your baby grows. Adjust the height to one of three options for safety and comfort.
What I love about it:
Safety strap on changing table
Drawers and shelves for storage
Several available colors
Made of quality pinewood
Adjustable mattress
Something to keep in mind:
Difficult to put together
May need a smaller mattress
Small drawers
---
Best with Simple and Classic Design:
This is a great choice if you want a stunning design that looks great in small bedrooms. The color is easy to match with your décor and the crib is Greenguard Certified. Use the four mattress positions for easy adjustments and enjoy the chemical free design. Easily one of the best small cribs for small spaces.
What I love about it:
Chemical free
Made from quality pinewood
Adjustable mattress positions
Converts to larger sizes
Matches the Autumn dresser
Something to keep in mind:
Can be difficult to assemble
Screws can loosen
Mattress is thin
---
This affordable mini crib is constructed of high quality pinewood and features compact dimensions and a snugly fitting mattress. It's available in several colors to match your space and can be converted to a larger bed as your child grows. The crib meets all current safety standards and is ideal for corner spaces.
What I love about it:
Affordable price.
High quality and durable materials.
Ideal for co-sharing bedrooms.
Many colors to choose from.
Converts to a larger size.
Something to keep in mind:
An additional frame needed to convert the bed.
Slats further apart than other cribs for small spaces.
Difficult to assemble.
Note:
The crib's instructions say that it requires a mattress not more than 2" thick. However, a 3" mattress works fine with it too.
---
This crib is the ideal choice for traveling or storing at a relative's home for a sleepover with baby. It has wheels that make it easy to move and folds flat for easy storage when not in use. It's available in several colors and has two mattress heights so it grows with your little one.
What I love about it:
Two mattress heights
Fold flat for storage
Meets or exceeds all safety standards
Comes with a 1 ½-inch mattress
Several color options
Something to keep in mind:
Paints may chip off
No teeth guard
Emits paint smell
There are so many options for nursery cribs for small spaces available today. Depending on your requirements and preferences choose between a mini crib, a regular crib with lots of storage, or maybe even a co-sleeper crib that's attached to parents' bed.
If you live in an apartment, small house or a nursery with limited space, find a baby-bed that ensures safety and comfort but occupies minimum space. This is where a baby crib for small spaces (known as a mini crib) comes into the picture.
A mini crib is a baby cot bed with the same design as a regular crib, but with smaller dimensions. It cuts down on all the unnecessary embellishments to save space and give you the pure functionality of a nice baby-bed. The main purpose of a mini crib is to save space so that a baby's room doesn't look over-packed with things.
If you want to buy an extra crib for grand parents' place for occasional visits, then a small baby crib is a great option. You can also carry along on holidays or outings as it can double up as a portable crib (though a travel cot is more ideal for this in my opinion).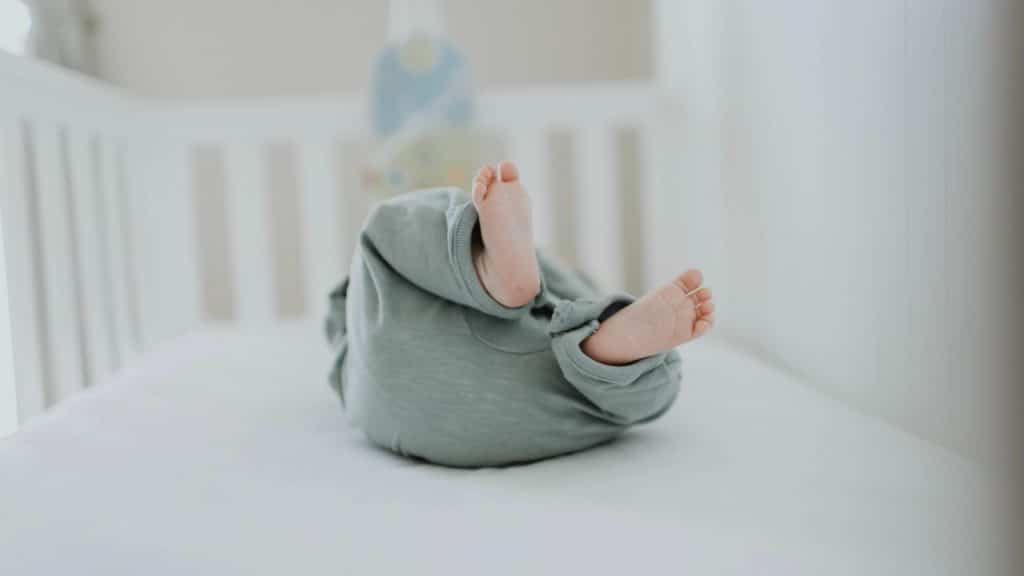 Why Mini Cribs After all?
Why does anyone ever opt for a regular, standard sized crib when there's an option of buying small baby cribs for small spaces? One with almost all crib features available and leaving more space in baby's nursery.
This is because of a couple of reasons. A good mini crib performs just like standard crib. However a baby is likely to outgrow a mini crib sooner than a standard sized crib. This means that the small baby crib can go out of use sooner, especially in case of fast-growing babies or babies who are bigger in size.
The best solution to this problem would be opting for a convertible mini crib so that the baby can be comfortably transitioned into a twin-sized bed as soon as she outgrows the mini crib. In fact, a twin-sized bed also takes up less space than a full-sized bed. This can solve most of your space shortage problems for years to come.
Before I end this section about cribs for small spaces, let me also introduce you to a type of cribs that offers a special feature known as under crib storage.
This feature enables you to save lots of space by making use of the vacant area lying empty under a crib and utilizing it for storing things like bed-sheets, baby clothes, etc. This means that you can easily cut down on extra storage shelves and tables and save space by using the otherwise unused area of your crib, without occupying any extra space.
And if you're okay with buying a slightly bigger crib that saves space by enclosing a changing table and a dresser within its body, then you must check out the cribs with storage section. These cribs are slightly bigger than mini cribs but they offer fantastic space-saving features which might suit your choice and fit your nursery. So they're definitely worth a look.
As you can see, a quality mini crib can be a great addition to your baby's nursery, especially if it's very small or you live in a tiny apartment. Small baby cribs for small spaces also great for traveling. No matter which mini crib you choose, be sure you have a great quality non-toxic crib mattress to go with it. Be sure to follow safety regulations when using your mini crib and get ready to enjoy the convenience of a smaller than average crib.