Summer's the perfect time to have fun, make memories and enjoy some water fun with your little ones. But you don't want to expose your children to harmful toxins like BPA, as these are found in some inflatable plastic pools. So we've done the research for you to find the best kiddie pool this summer, and why you should choose hard plastic kiddie pools over a cheap plastic pool. Here you'll find how to choose the best non-toxic kiddie pool and which materials you should avoid.
One of the biggest toxins to look out for in kids pools is PVC, often simply called 'Vinyl' on labels. PVC is a known toxin which can expose your children to phthalates which have endocrine-disrupting properties, as well as lead and other carcinogenic contaminants.
It's enough to make you want to keep your kids inside all summer, but wait – there are some great non-toxic kiddie pools out there.
Without further ado, here's our guide to the best kiddie pools for your family so that you can have fun splashing around without worrying about the effects on your little ones' health. Here's a shortlist of the Top Non-toxic Backyard Kiddie Pools out there.
What Are Non-Toxic Kiddie Pools
Non-toxic kiddie pools are free from harmful and dangerous chemicals such as polyvinylchloride (pVC), or other chemicals such as isophorone. Isophorone can cause skin cancer in your little one. Also, non-toxic kiddie pools don't contain any phthalates. Use PVC-free versions to make sure your little bundle of joy is protected from the risk of exposure to harmful chemicals.
Hard Plastic Kiddie Pools Vs. Inflatable Plastic Pools
Choosing the best kiddie pool for your little ones depends on your storage capabilities, transportability, and ease of access. A portable and temporary kiddie pool is a useful and affordable solution. But there is the safety issue you must consider. Hard plastic kiddie pools are stronger compared to inflatable versions. If you account for safety, longevity, and price, hard plastic pools are ahead of the game.
Consider the pros and cons of plastic and inflatable plastic kiddie pools accounting for how you will use them. Plastic kiddie pools are sturdier, stronger, and can be used anywhere. A group of children can play together in different sizes of hard plastic pools. They're affordable and not very deep. Your kids can easily climb in and out of them.
Plastic kiddie pools are difficult to carry and transport. Because of the hard plastic, they might easily crack if moved too much. You'll also need a lot of storage room. Also, strong sunlight can make the plastic brittle and crack.
On the other hand, inflatable plastic kiddie pools are easy to carry and store. You can transport plastic inflatable pools in your car and the designs are attractive to kids.
On the downside, inflatable pools require an air pump and they're very fragile. Inflatable pools can tear up if the floor surface isn't plain. They are also often made of soft plastic, which may leach chemicals over time, that may be harmful to your little one's health.
Best Kiddie Pools 2021: Safest Non-toxic Inflatable & Hard Plastic Kiddie Pools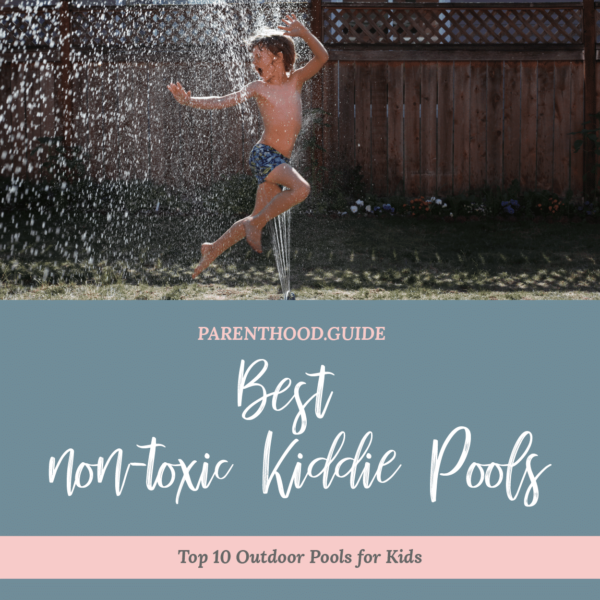 This cute pool and sandbox combo will look great in your garden and bring hours of sensory play and water fun for your children. Hard plastic is a much better choice than soft inflatable pools and this one made from Hard Density Polyethylene (HDPE – resine code #2) is a brilliant choice for a non toxic kiddie pool. This hard plastic swimming pool for kids is easy to put together and the pool is just the right depth for splashing! The umbrella's a handy addition, providing shade and ensuring you stay protected from the sun all day. This is one of the best non-toxic hard plastic pools available.
What I love about it:
This non-toxic baby pool contains non-leaching HDPE plastic
For sand and water fun
Plastic Pool doubles up as sandbox lid
Umbrella for bonus sun protection
Cute appealing design
Best Hard Plastic Kiddie Pool:
Unlike the above pool, this one is a non-inflatable kiddie pool, which I like. I'm always a bit on the fence with inflatable plastic, even when it claims to be non-toxic. On the other hand, this pool is a high density hard plastic kiddie pool, which is relatively a much safer and trust-able non-leaching plastic.
This hard plastic pool is large, circular, looks lovely, and can be set up in no time. Gladly, there is no need for an electric pump or any gadgets as there is not inflation. Moreover, in addition to toddlers and children, it is also safe for your furry friend, such as a large dog to splash about it.
What I love about it:
Great non-toxic baby pool for young children.
Free of inflation, as long as the water can be set up.
Easy to install, and folds easy for storage. It can be folded into a backpack to carry to the beach or elsewhere.
High-density non-toxic PVC plastic, single-layer bottom.
Something to keep in mind:
Hard plastic kiddie pool, but still PVC
---
Now, this plastic baby pool is non-toxic and really is ingenious, doubling up as both a picnic blanket and a portable kiddie paddling pool. Just flip it over and fill it with water with the portable bucket included. But most importantly for your child's health, this kid pool has TPU, which is both phthalate and BPA-free. It's also environmentally friendly and durable. So you can pass it on or recycle it when you no longer need it. However, this pool's probably best kiddie pool for the beach, as you need to dig out a shallow hole underneath the mat for the water to stay in the pool. This is another one of the best non-toxic kiddie pools out there.
What I love about it:
Multipurpose – use it as a beach mat or a kiddie pool!
PVC free pool and BPA free kiddie pool
Durable and eco-friendly non-toxic baby pool
the plastic pool includes bucket for sand or water play
This kids pool folds up small into its own portable bag
---
If you're looking for a kiddie pool, the Intex pool is a great choice because you avoid inflatable plastic kiddie pools, which releases endocrine-disrupting phthalates and toxic gases when exposed to heat. However, do keep in mind that this pool is not a non-toxic option, but has been included as it uses a much better grade of PVC than many other options, and so it's toxicity decreases significantly. The reason for this pool being added to this list is because I couldn't find a truly non-toxic alternative with this convenient design, but want to inform those parents who might like this simple convenient design, of a better grade option than some traditional nasties.
Intex pool is big enough for a couple of toddlers to play together or a parent and child. It is easily set up and packed away with a drain release for convenience. It's a good option if you want to take it round to the grandparents for the day or away on vacation with you as it packs up small and is really portable.
What I love about it:
Better grade of plastic (not your regular inflatable pool)
The paddling pool has foam covered horizontal bars for comfort and safety
48″ x 48″ x 12″ Size
Something to keep in mind:
Contains PVC, even though it might be a better grade
Not truly non-toxic kiddie pool
---
Enjoy a cool summer afternoon with the kids in the backyard in this cool and educational splash pad. With vehicle pattern design on the sprinkler, toddlers learn happily and easily in the sun, enhancing the fun of learning. This non-slip pad is safe for kids and prevents children from slipping.
Additionally, an inflated border near the rim of the splash pad increases grip and safety. The best part is that these water toys are both BPA and phthalates free, non-toxic PVC (but unfortunately still PVC and not PP) to ensure children's safe play.
What I love about it:
The water toys are both BPA and phthalates free, made with environmentally friendly materials.
Durable Outdoor Water Play Toys – Thickened non-toxic PVC material is 30% thicker than others. This avoids bursting during use.
BPA Free Phthalate-free PVC material
Non-slip textures prevent children from slipping and a wavy line near the rim of the splash pad increases grip and safety.
Big Splash Mat and Easy to Set Up – 60"dia x 4″ Splash pad allows 2 to 3 kids to play inside, and has enough space. Just plug it to a garden hose or tubing.
Warranty and Service – Backed with 1-year guarantee.
Something to keep in mind:
Though the pool is BPA and phthalate-free, please keep in mind that the non-slip textures are PVC, and not PP, HDPE or LDPE, which are even better.
---
This is a lovely and fun non-toxic inflatable kids pool, and the best part is that it's also completely non-toxic. You'll have peace of mind knowing that the pool is made of ultra-strong thermal polymerization PVC, stitched with world-class technology. Additionally, it comes with fully streamlined design. Rigorous testing is made in accordance with international standards. It's a great backyard kiddie pool.
And with so many extra features like an a water slide, ring toss, water sprayer attaches to garden hose and inflatable cushion on pool floor for extra comfort. . It's big enough for a few children to play together and just the right height for toddlers to play without being too deep.
This lovely spacious family inflatable swimming pool can hold up to 2 adults plus 3-5 kids to enjoy a splashing pool party in the backyard. Additionally, this non-toxic inflatable pool is 50% thicker than most in the market, reducing the risk of punctures ensuring a lengthy life span. What's more, it is made with Naphthalene-free and Lead Free, BPA-free material (CPSIA , CPC and ASTM certificates) for safety. It comes with a super soft cushion between the ground and kids, which increases protection.
What I love about it:
Spacious non-toxic pool.
Durable &Long Life Span.
Made of safe & non-toxic materials. Naphthalene-free, Lead-free, BPA-free kiddie pool(CPSIA , CPC and ASTM certificates).
Quick and Easy to set up and inflate.
Sturdy &Stable: 3 individual air chambers each with double intake and free flow exhaust valve which can withstand weight while preventing air or water leakage.
Something to keep in mind:
Some customers complain of leaks
---
This lovely non-toxic kiddie pool and sprinkler is made of soft and heavy duty PVC which is BPA free and phthalate free. This 68″ Diameter water-filled sprinkler pad can bring endless happiness for your toddlers. They're sure to enjoy the sea world theme. Included are some colorful and cute marine animals. Children and pets will love to play in the splash mat and spray. Perfect for birthday parties or celebrations in the lawn, backyard, garden or yard.
The splash pad sprinkler is made of thick, environmental, non-toxic, and durable BPA-free material & CPC certified. 
What I love about it:
68" Large Kids Splash Pad
Durable & Safe
Made of non-toxic and durable BPA-free material & CPC certified. 
Easy to Set Up and Store.
Adjustable Water Spray Height
Something to keep in mind:
The sprinkler is slightly smaller than appears.
Even though it claims to be BPA free and phthalate free, please keep in mind that it is still made with PVC (a material which I do not vouch for) and not a better grade plastic such as PP.
---
This is a great family-size pool. Sable inflatable kiddie pool holds up to two adults plus four kids. Enjoy a splashing pool party in the backyard. What's great about it is that it is completely lead and phthalate free, and made using a high quality non-leaching plastic.
What I love about it:
Safe & durable: JONYJ non-toxic inflatable pool is made with Phthalate and lead free
60% thicker material than most in the market, reducing the risk of punctures and ensuring a long service life.
The kids pool can be inflated in 3-4 minute by electric pump (not included). Additionally, it has two water valves, which double the drainage speed.
Strong and stable structure. This paddling pool has three individual air chambers and so can withstand extra weight while preventing air leakage
Vertical Drainpipe: 90° vertical drainpipe can easily facilitate outflow of water. So tidying up is quite simple.
Something to keep in mind:
Electric pump does not come included and must be purchased separately.
---
So now you've got an overview of kids swimming pools, you need some toys to play with in it! Or if the weather isn't great for swimming, just fill it with balls and let them jump right in. The problem is that most toys are also made from soft PVC plastic and carry the same risks. But this set of 200 BPA-free, phthalate free balls is a fantastic option and will provide your kids with limitless fun. They'll brighten up your kiddie pool and invite your children to play, and they're sturdy enough to stand up to stomping, throwing and even chewing(!) Alternatively, if you have a large pool, you could also get a value pack of 1000 balls.
What I love about it:
Great non-toxic pool toy
6 bright colors
Crush-proof for years of pool play
Contain no BPA or phthalates
---
This life jacket for kids is tested, and it is Coast Guard Approved. It is a type V and III floating device that can be worn inside and near the water. It's a great accessory to have in a large kiddie pool, just for peace of mind, and can also be used on boats and at water parks. It is durable, colorful, playful and attractive. Most importantly it fits snugly and provides maximum protection. This life jacket comes with safety buckle snaps in the back and an adjustable strap and is suitable for children between 30- 50 pounds.
What I love about it:
Fits snugly
Cost-efficient
Provides maximum security
Something to keep in mind:
---
Another great accessory to have on hand, though you might not need it for a home kiddie pool is a coast guard approved toddler life jacket. Made of durable material, this toddler and kids' life jacket allows for added security with a quick-release buckle over the entry zipper. Additionally, it has a convenient grab-handle. It has a buoyancy level of 7lbs and is Coast Guard Approved. The jacket's floating feature keeps the baby in a calm, face-up position. This product comes in a variety of sizes so it's great for children with varying weights
What I love about it:
Very safe
Comfortable and fits well
Something to keep in mind:
Expensive, but worth the investment
Materials and Chemicals to Avoid While Choosing Kiddie Pools
When choosing the best kiddie pool for your little one, avoid pools made of PVC or BPA plastics. These materials can expose your child to harmful chemicals and phthalates. PVC is a famous poison plastic because of the increased level of toxins involved in its production process and disposal techniques. It's toxic not only to your children but also negatively impacts the environment with endocrine-disrupting phthalates.
Avoid PVC materials as the phthalates increase when the material is exposed to heat. Also, avoid recyclable PVC, which is usually found in inflatable pools. Don't use chlorine in your kid's pool because it's harmful to your little ones. Keep the water clean using a pool cover, regularly refill the pool, and make sure your children are clean before they enter the pool.
Tips to Choose the Best Non-Toxic Kiddie Pools
Due to BPA (bisphenol-A), phthalates, and PVC, parents are reducing the amount of plastic toys and accessories in their households, including kiddie pools. Studies have connected PVC, BPA, and phthalates to endocrine problems, cancer, and reproductive issues. Children, especially, are vulnerable to chemical exposure.
According to Healthy Child, Healthy World, safe choices are plastics marked with the resin codes 2, 4 and 5. #2 stands for HDPE or high-density polyethylene, #4 stands for LDPE or low density polyethylene, and #5, which stands for PP or polypropylene. Avoid codes 1, 3, 6, and 7. Code #1 is polyethylene terephthalate, #3 is PVC or polyvinyl chloride, #6 is polystyrene, and #7 is PC or polycarbonate.
Are Kiddie Pools Safe?

Yes, kiddie pools are safe if you choose non-toxic versions. Choose pools made of safe materials and don't use chlorine or chlorine-based solutions to keep the pool clean.

Are Inflatable Pools Toxic?

Inflatable pools made of safe materials are non-toxic. Check the label of the product to review the composition of the materials.

How Do You Keep a Kiddie Pool Clean Without Chemicals?

You can keep a kiddie pool clean without using chemicals by regularly changing the water. Also, consider a pool cover and make sure your kids are clean before entering the water. Don't use toxic sunscreen and use organic bathing suits.

What Kind of Plastic Are Kiddie Pools Made Of?

Kiddie pools are generally made of non-toxic plastics. You can check the codes of the plastic composition of the pools' materials to ensure they're non-toxic.
By being mindful in your purchase of the best plastic kiddie pool and avoiding the nastier plastics, you'll protect your children from cancer as well as reproductive and endocrine problems. These toxins even have the potential to lower IQ! So remember to check out the resin labels.
However, that doesn't mean you can't indulge in some water play in a kids swimming pool to cool down and splash around with your little ones. Aim for kid and baby pools that have the #2, #4 or #5 labels (HDPE, LDPE and PP respectively). These are the safer plastics. Avoid PVC and anything that isn't BPA-free – these chemicals can leach into your child's sensitive skin. Look for a PVC-free BPA-free pool.
Grab one of these fun, safe non-toxic kiddie pools and you'll be all set to relax and make some fantastic memories this summer with your children – ones that will live on for years with no unwanted consequences for your family's health! To choose the best kiddie pool, go for any of the hard plastic kiddie pools from the above shortlist.
Once you've chosen the best kiddie pool for your child to safely splash about in, make sure you protect you baby's sensitive skin in the hot sun with a safe organic sunscreen. Or if you wish to play indoors, then check out these great non-toxic play mats.