Whether you and your baby travel a lot, or you work from home and need a safe space for your baby, a play yard is your go-to solution. As much as you want to keep an eye on your baby, it's impossible to watch over them 24/7. Occasionally, you need time to yourself to unwind or relax. Also called a playpen or travel crib, the best baby play yard is a great piece of baby gear for all new parents.
Today's designs come in a variety of sizes, styles, features, and accessories. Read on to find out all you need to know about the best baby play yards 2021, which keep your baby safe while he/she plays or takes a nap.
Do You Need a Baby Play Yard?
A play yard creates a safe area for your baby to play in while you take care of your errands around the house. With a portable travel crib, you can rest assured that your baby is happy wherever you go. Playpens are multi-purpose and can turn into a baby gate or a secondary changing station.
How Long Can You Use a Baby Play Yard or Travel Crib?
Play yards are meant for babies who are less than 35 inches tall and can't climb out of the playpen. Also, play yards come with a weight capacity limit. Some allow you to use the play yard until your baby weighs 30 pounds but not less than 15 pounds.
Importance of Choosing Non-Toxic Play Materials
Flame retardants such as HBCTD, UBC, TBC, TDCPP, and TCPP are carcinogens, development toxins, and hormone disruptors. Always check if your chosen play yard comprises flame retardant chemicals and if it's BPA free.
Best Baby Play Yards & Travel Cribs 2021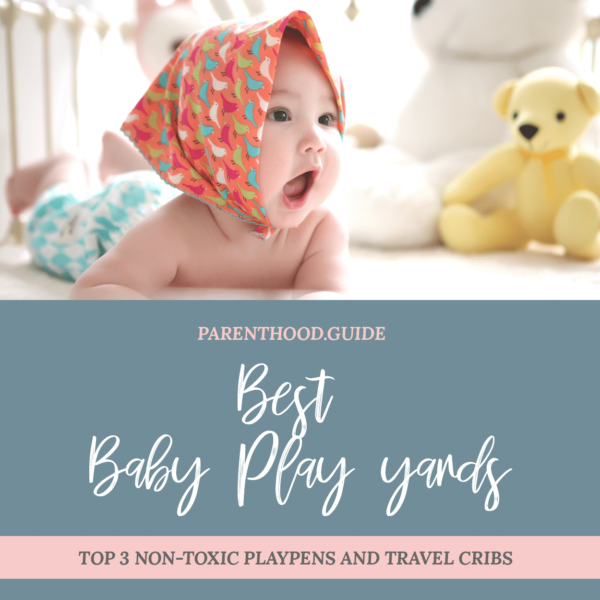 The Guava Lotus Travel Crib is an ultra-light play yard, which folds up into an easy-to-carry backpack case. This GreenGuard Gold certified product is free of phthalates, heavy metals, lead, and BPA free. It delivers top-quality airflow thanks to the mesh. The side zipper door allows you to lay down your baby and cuddle him/her to sleep.
The product comes with a comfortable mattress with a thick pad and soft foam made for newborns or infants. You can easily set up the crib in 15 seconds.
What I love about it:
It's lightweight.
The product is safe for your baby's health.
Something to keep in mind:
Additional Features:
Weighs 13 pounds packed.
Dimensions are 42 x 32 x 25 inches (L x W x H).
The BabyBjorn Travel Crib Light is a super-practical play yard, which opens with a simple sweeping movement. This travel crib is one of the best baby play yards made of non-toxic materials and safe for your baby to play or sleep in. The crib is easy to clean as you can throw the fabric and mat in the washer. The mat's built-in base plate ensures that the play yard rests firmly on the floor.
What I love about it:
Made of top-quality materials.
Safe and solid.
Something to keep in mind:
The play yard doesn't convert into a bassinet.
Additional Features:
Made for up to 3 years old babies.
The product weighs 13 pounds.
---
The 4moms Breeze GO is really easy to use, with one hand you can pop this baby playard into position. Just one push down opens it up and another closes it down. The whole thing fits into its own carry bag ready to take with you. A nice cushioned mattress forms the base and it is water-resistant and easy to clean. Your baby can see out easily through the mesh sides.
What I love about it:
Can be opened with one hand
Mesh sides for ventilation
Easy to use design
Mattress folds for transportation
Something to keep in mind:
It has a plain and utilitarian look
---
The Babyseater Portable Playard has a great price and has all the features required from the best baby play yard. It's a sturdy 6-sided playpen that unfolds like a camping chair. There is plenty of room inside for several babies to play together. A zippered doorway allows babies and smaller children to get in and out when open, or kept safely inside when closed. Lightweight and easy to carry around, it's a portable playpen ideal for taking to the beach or park.
What I love about it:
Large area playard
Lining is machine washable
Strong mesh on sides
Carrying handle
Something to keep in mind:
The base mat is not cushioned
---
Made with a steel frame, the Milliard Playpen is well built. If you're looking for the best baby play yard to last many years, this is the one to choose. It has 5 safety buckles to ensure that the frame won't accidentally fold down. This is a large playard boasting a 16.25 square foot space. Folding it down to pack it away takes just a few moments and it comes with a useful carry bag.
What I love about it:
Foam padded steel frame
Large 6-side playpen
Colorful base mat
Water resistant mat
Something to keep in mind:
Mat has almost no cushioning
---
A very lightweight play yard, the Summer Pop 'n Play is only 12 lbs so it's great for portability. It comes with its own travel bag and strap which is ideal for carrying. The lining for the base is brightly colored but it offers no cushioning. This baby playard has a canopy for shielding little ones from the sun, it isn't included and is sold separately. Look at the Summer Pop 'n Play SE Hex Playard, 6-Sided, Sweet Life Edition from summer infant for a very similar product.
What I love about it:
Weighs only 12lbs
Spacious hexagonal shape
Easy to pop up and fold down
Something to keep in mind:
Some users added extra padding to crossbars
---
This Regalo Portable Playard is one of the most popular playpens around. It has a robust steel frame that slightly raises the base from the ground. The lining is wipeable nylon and is water-resistant for outdoor use. Setting up takes just seconds and can be locked into place using a foot pedal. It's spacious enough for two babies. See also the Regalo My Play Deluxe Extra Large Portable Play Yard.
What I love about it:
Popular model and make
Extra safety catches
Carry bag included
Popular model with parents
Space for more than one child to play
---
The Baby Delight Go With Me Eclipse weighs only 12lbs and comes with a carry bag so it's very easy to take on day trips. The base is water-resistant for easy cleaning and the whole playpen is assembled in seconds. At 49 inches wide, this playard is a little smaller than some of the others, but not by much. A canopy is included that attaches to shield your baby from the sun. Perfect for camping trips.
What I love about it:
Very lightweight to carry
Canopy included
Safe locking system
Brightly colored base mat
Something to keep in mind:
Mesh is less robust than others
---
The Play-away Portable Playard Deluxe comes with useful added extras. The canopy is dome-shaped and it covers the whole of the top with no gaps. This canopy can be half removed for partial shade, or completely removed when not needed. Sides roll down individually to shield from the wind. A pocket with a clear side is perfect for holding a tablet showing cartoons. This playpen folds down into a travel bag for easy transportation and pops up in seconds when assembled.
What I love about it:
Canopy has SPF 50 protection
Easy to assemble with one hand
Lockable catches for safety
Ideal for outdoor trips
---
The Joovy Room Portable play yard offers your baby 10.5 square feet of space to nap or play around in. It's a simple play yard with clean lines and a minimalist design. The play yard's side comprise mesh, which delivers top-quality ventilation. It's one of the best baby play yards available and includes two wheels, which make it easy to move around.
Additionally, it is made for babies up to 35 inches tall and comes with a 2-year warranty. Thanks to its shape, you can easily install or store the product.
What I love about it:
Spacious, and you can use it for multiple babies.
It's solid and strong.
It's made of safe materials and it's BPA free.
The product offers excellent ventilation.
It comes with a 2-year warranty.
Something to keep in mind:
Minor design flaw- there is a ridge/lump down the middle.
Additional Features:
The product's dimensions are 39.80 x 31.00 x 39.80 inches (W x L x H).
What is the Difference Between Play Yards and Playpens?
Play yards and playpens are very similar in design and function. Playards are the modern equivalent of a playpen and usually come with an attached base. The best baby play yard is easy and quick to fold away. Playards sometimes come with a bassinet and can be used as a travel crib.
What do I Need to Look for or Avoid in a Play Yard or Playpen?
When choosing the best baby play yard, look for one that is the right size for you. Some are compact and others are larger and ideal for more than one baby. The sides should always measure more than 20 inches high so that a baby can't climb out.
A play yard that is easy to open up and fold down makes life with a baby simpler. If you have to spend a lot of time assembling the playpen you are less likely to use it regularly.
Ensure that you can see your baby easily from all sides. Mesh walls are great for this. Baby can also see out easily through the mesh.
If you plan on taking your play yard out on trips, a lightweight model makes carrying it easier. The best baby play yard has a cushioned base for comfort – you can also use the playpen as a travel crib.
Safety Tips for Play Yards and Playpens
Never leave your baby unattended even in a baby play yard
Make sure the playpen has a locking system to keep it sturdy when in use
Check the safety certificate and look for non-toxic materials
Make sure any mesh material has holes less than ¼ inch wide
Check the instructions for proper use of the playpen
Set up the play yard on a level surface
Place the baby playpen away from heat sources or draughts
When used outside, ensure your baby is protected from the UV rays of the sun
My Experience with Play Yards
Play yards are essential when your baby starts to move around and explore. I found I used mine most when my little treasure was content to play independently giving me time to get on with some chores nearby. All the toys stayed within easy reach too – nothing rolled away during play. When visiting family or places that weren't baby-safe, a playpen helped with my peace of mind.
Are Playpens and Play Yards Good for Babies?

Yes, playpens and play yards are excellent for babies. Your little bundle of joy can safely play in the playpen or play yard and fall asleep without risking SIDS.

What Age Is A Playpen for?

A playpen is excellent for babies who are between 4 and 10 months old. At the age of 4 months, babies can learn that the playpen is safe. During their growth, babies start learning how to play with toys and they're able to crawl.

Can Babies Sleep in a Play Yard?

Yes, babies can sleep in a play yard. The surface of the play yard is sturdy and reduces the risk of SIDS.

Does a Baby Need a Play Yard?

Yes, a baby needs a play yard for safety reasons. Your baby can safely play in the play yard and fall asleep when he or she is tired without risking any harm.

How to Anchor a Baby Play Yard to Keep It from Moving?

Baby play yards usually come with rubber feet installed on the bottom of the panels to keep the play yards from moving. The rubber accessories prevent your little one from moving the entire play yard across the floor.
A play yard is an excellent addition to your baby products collection. It helps by addressing many needs and making your traveling with a baby easier. The best baby play yards are multi functional, safe, and portable.
Before choosing the best play yard or travel crib, consider your baby's height, the playpen's material composition, and structural features.
Playpens have different weight limits and you shouldn't use them when your baby reaches that limit. Play yards are portable but some are easier to travel with compared to others. Also, some play yards come with accessories such as toys or soothing systems so your baby can relax.
Looking for some more great safe baby gear for you and baby? Read our shortlist of the best cribs with built-in storage, baby walkers, and strollers. Or if you're new to the world of organic, non-toxic and chemical free baby products and want to learn more, then I recommend that you start here.