With baby safety gates at the top of your stairway, you can go about your day without worrying about the safety of your young child. Choose child gates with a robust build that can withstand the barging and pulling from your little one. The best top of stairs baby gate for stairs & doorways keeps your child safe and don't come loose over time.
As a busy parent with a little one, you are going to have your hands full most of the time and a stairway gate with one-handed operation allows you to make life at home easier. Choosing stair gates with flexible widths allows you to use it on different room openings and doorways.
What Type of Top of Stairs Baby Gate Do I Choose?
When I started hunting for the best baby gates for my turbo explorer, I discovered that there are several types of baby gates, each with its own pros and cons. There are gates with different materials like plastic, metal or wooden baby gates.
The other key factor distinguishing different gates is the mounting style. If like me, you're looking for a top of stairs baby gate, a wall-mounted option is your best bet.
If you're using the gate on a flat surface with a smooth floor and want something easy to remove and put back, a pressure-mounted baby gate is your best bet.
1. Hardware-Mounted Baby Gates
Hardware-mounted baby safety gates are securely attached into the frame of the walls. There's a bracket that's installed into either a door frame or the frame behind a wall to secure the gate in place. Make sure you don't screw mount into the drywall or plaster as it won't be strong. Hardware-mounted styles are the best baby gates for stairs, because when installed properly the risk of the gates disengaging is very low.
2. Pressure-Mounted Baby Gate
Pressure-mounted baby gates use an expandable spring system to lock the gate into place. These baby safety gates squeeze between two walls or surfaces, creating pressure to hold it in place. There are usually rubber pieces on both sides that secure the gate in place and protect the wall surface. These baby gates are best suited for areas that are level and flat, like doorways or as room dividers.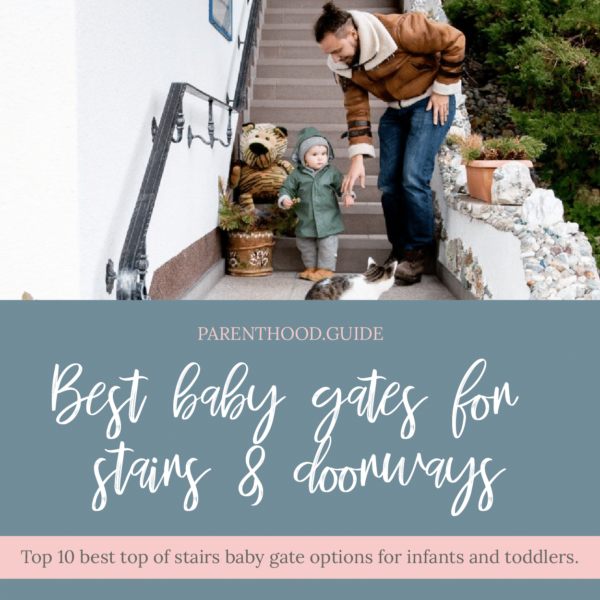 Baby Baby Gates for Stairs & Doorways 2021
When looking for the best baby gate for stairs or doorways, make sure the dimensions of the gate match or fit your opening. As a guideline, the average door height is 6 feet 8 inches, and the most common width for a doorway is 32 inches. If your not able to measure yours, use these dimensions as a guideline when selecting your gate. When in doubt, double check by measuring your doorway or staircase opening so you know exactly what size you need for a secure fit.
We've shortlisted 9 of the best baby gates for stairs and doorways that are safe, secure and the best in their individual categories.
This stairs baby gate is also suitable for use on hallways and doors. The product is true to size, ensuring you purchase a perfect fit for the top of the stairway. It is made from non-toxic material, and the durability ensures it serves you for a long time. The silver blend on the metal ensures this stair baby gate blends with your home's interior design.
This gate fits areas between 26.5 to 40 inches, and because it is it is 30.5 inches high, your child will be safe from tripping and falling down the stairs. Whether you use this gate at the top or bottom of your staircase, the indexed sizing system ensures you have an easy time fitting it. The preset index position ensures that installation is a piece of cake. You are guaranteed to get a perfect vertical fit.
What I love about it:
Sleek aluminum design
Integrated tuning system for a perfect vertical fit
Preset index positions
Something to keep in mind:
Installation can be difficult
This is a BPA free stair gate with a removable swing top. It is one of the safest and best stair gates for the top of stairs as it comes with a red/green lock indicator. You will be notified by a green light when the gate is properly locked. The one-release handle makes it hard for your kids to open the gate, ensuring their safety.
The installation of this gate requires you to drill holes into the wall so that they stand firm. This Evenflo top of stairs baby gate is of standard width, and it was modelled with safety and convenience in mind. This is a bracket-based baby gate that is ergonomically designed to ensure easy installation and removal. It fits a wide variety of openings and the baby proofing ensures your child won't be able to run it down.
What I love about it:
Screwed into the wall to ensure it holds firm
Easy to fit
Ergonomically designed
Something to keep in mind:
Leaves marks on your wall
---
This top of stairs baby gate with pet door fits spaces between 29 to 39 inches. It is a 30-inch tall pressure mounted baby gate top of stairs that is extra wide to ensure it fits the space you have in mind. Being a top of stairs baby gate no drill, it will be gentle on your walls. You will require no tools to install this gate, besides the installation process is simple and straightforward.
This is a baby gate for the top of stairs that comes with a 6-inch extension kit that guarantees flexibility. It can be used on the bottom of the stairs as well as the gate swings both ways. The all steel design ensures it is a durable product that will last you for a long time. The safety lock features have been made complex to ensure your child is unable to unlatch the gate.
What I love about it:
Pressure mounted design
Comes with an extension unit
Has safety lock features
Something to keep in mind:
---
Best Wide Stair Baby Gate:
This is an extra tall top of stairs baby gate that prevents your child from falling down the stairs. The one-hand operation latch ensures your child is unable to unlatch the gate. It comes with a swing control hinge that ensures the gate opens only one way. This safety-first baby gate top of stairs product is flexible with a wide variety of doorways you can use it on.
The package has a manual that shows you how to install the baby gate at top of stairs. The childproof safety locking system is easy for parents to use but difficult for children to handle. It has no step over the threshold, ensuring your child does not trip when crossing over to the other side.
What I love about it:
Comes with swing control hinge
The package comes with all hardware necessary for installation
Something to keep in mind:
Cannot withstand violet breaching attempts
---
Best Non-Toxic Baby Gate:
This wall mounted baby gate for the top of stairs with antique oak finish. It is a hardware mounted gate with a four-point installation. The package comes with templates that ensure you get precise measurements when fitting it. The unique comfort grip and the one hand release makes it both functional and aesthetic.
This is a stylish and sleek stairway gate that blends with your home's interior décor. It is suitable for children between six months and two years. This is one of the best baby gates for top of stairs with a bannister that also has a locking mechanism to ensure the gate is well secured. This product holds up wonderfully, and it gives you value for your money.
What I love about it:
Stylish and sleek
Antique oak finish
Something to keep in mind:
You require tools for installation
---
This is an auto-close baby gate top of stairs that is made from durable metal. It is a pressure mounted gate that comes with optical hardware mounts. It is designed with a bottom bar to ensure it can stay firm even when your child hangs onto it. The dual locking system ensures your child is secure.
There is a removable door stopper that allows the gate door to open just one way. The installation of this gate does not leave marks on your wall. You can childproof your home with style with this multi-use tall baby gate. It is guaranteed to accommodate most door openings due to its versatile design.
What I love about it:
Extra secure mounting
Auto-close feature
Something to keep in mind:
Not convenient for high traffic areas
---
Best Retractable Baby Gate:
This is one of the best safety gates that ensures easy opening and closing. The extra wide baby gate has pressure mount, so you can firmly fit this gate wherever you need it. You can use skirting boards to mount this gate for a firm anchor. The mental and cloth construction ensures you can wash the cloth when it gets dirty. This product comes completely assembled and ready to use.
The installation of this retractable baby gate requires no tools. In addition, these stair gates give you peace of mind as they ensure baby safety. Moreover, their lightweight nature makes them portable and easy to store. Also, you can use this retractable gate even on out of square walls. The package comes with rubber bumpers to ensure no damage is done on your wall. This is a 27-inch tall stairway gate that fits 38 to 60-inch wide spaces.
This is a baby safety gate that is sturdy and durable. The neutral finishing makes this mounted stair gate blends with your home's interior décor. In case you are renting and you don't want to leave marks on the wall, this safety baby gate for the top of stairs ensures your wall remains unmarked. It is easy to put together, and it offers protection from the trip hazard.
What I love about it:
Suitable for large door frames
The mesh is washable
Comes with instruction manual
Something to keep in mind:
It is not suitable for high-traffic areas
---
Best Pressure Mounted Baby Gate:
This is a safety first baby gate top of stairs no wall shuts firmly with a simple push. The pressure fit ensures it holds firmly to ensure your baby's safety. This is one of the safest baby gates that is built to last. It also comes with a user manual that has easy to follow instruction. The crisp white finish ensures that the gate blends well with your home's interior design.
This a baby gate for the top of stairs with railing swings in and out to ensure you can use it in hallways as well. The heavy-duty steel construction ensures you purchase a durable product with your money. The hold open feature ensures you enjoy convenience as you can hold the gate open for multiple pass-throughs. The gate is easily secured in places since the instructions in the user manual are easy to follow.
What I love about it:
Superior quality
Innovative design
Built to last
Triple lock system
Something to keep in mind:
---
Best Baby Gates for Bottom of Stairs:
This baby gate for the bottom of stairs with only one wall is suitable for high traffic areas. It's best to fit it at the top or bottom of the stairs so that your child doesn't trip and fall. Additionally, it is a high-quality gate that opens both ways, allowing you to use it at room openings. Therefore, this is a baby gate for the bottom of stairs with railing, allowing your child to anchor themselves without the gate swinging open.
The gate will not open over a staircase, protecting the children from trip hazards.
What I love about it:
Does not open over a stairway
Long lasting
Something to keep in mind:
Latch pin tends to break off fast
You want a baby gate that is going to keep your child safe. Make sure the baby gate is cerified by a relevant authority and the materials it is made of are natural, chemical-free and non-toxic.
When purchasing something that is designed for safety, look for a product that is certified by the US Consumer Product Safety Commission (CPSC) and Juvenile Products Manufacturers Association (JPMA). JPMA sets standards for all gates that they certify, so you know that the safety gate for stairs that you are getting is safe. Their standards say that the gate must be no less than 22 inches tall, and the distance between the bottom of the gate and the floor must be less than 2 inches. This requirement decreases the risk of your child's head getting stuck under the gate.
Parents who also have pets need to take them into consideration when choosing the best baby gate. If you have small pets that you don't want to keep out of the area, choose child gates that have a small pet door that allows them to move in and out freely. The pet door is usually too small for children to fit through.
Big dogs, on the other hand, cannot fit through these, and so you will have to manually let them in and out of the room. Also make sure the gate is strong enough to not fall over. A good option for pet owners is to choose a hardware-mounted gate instead of a pressure mounted one. These tend to be more sturdy.
Also, cats and dogs can jump high if they desire, so look for an extra-tall gate if you can. These factors are important to keep your baby and your pet safe. Additionally, don't go for a wooden gate if you have a teething puppy. Puppies love to chew, and your new wooden gate (and coffee table or console) will be a delicious snack.
How to Pick the Right Baby Gate for You
Here are some considerations to make before making your final purchase.
Where Do You Want to Put the Gate?
Swing open gates are perfect for the living room, but you want to make sure you pick a gate designed specifically for the top of the stairs if that's where it will be located. Pressure-mounted gates are not ideal to use against a wooden railing or banisters.
Is The Gate Sturdy?
Toddlers are incredibly strong for their size and will often try to push and pull the gate or try to climb over it. Choose a sturdy gate that can take some serious action.
Is The Locking Mechanism Childproof?
Most locks are tricky for kids under two-years-old, but make sure the lock is tricky for older toddlers but easy for parents to use. Toddlers are very smart, and locks that require two motions at once, like twisting and lifting, are a better bet.
Can You Open It With One Hand?
Parents need to learn to do everything one-handed. If you have your baby in arms, make sure you can still maneuver and open the gate easily.
Will It Fit Your Doorway?
Measure your doorway and make sure the gate will fit the width of your door frame. Try to pick a gate that offers a wide range of measurements. For example, if your doorway measures 35-inches, get a gate that works for gates that are between 31 and 38 inches.
Can they Pinch Baby's Fingers?
Little fingers can fir through the tiniest gaps. Make sure you buy a gate that doesn't have complex visible mechanisms that your child might get their fingers stuck in. These may be alright for pets, but not safe for babies.
Consider getting a flexible baby gate that can be tucked away and put back in case you are hosting guests. A stairway gate with optional stop bracket guarantees your child's safety as it won't unexpectedly open over the stairs. All the above options outlined are great in my opinion, and you can't go wrong with any one of them.
Next make sure you choose the best low emission baby monitor for your baby's safety, and browse other reviews in the Non-Toxic Nursery Category.