Your toddler's learning process is so important, but we all know what they really want is to just play. That's where the best learning tablet for toddlers comes in. They're great for kids to develop and have fun all in one go. But with technology being so advanced these days, it's hard to find the most suitable tablet.
With my first child, I was completely anti-technology for her first 3 years. I wouldn't turn the TV on or show her a single video or game on my phone or iPad. This was especially tough on an eleven hour flight journey. I read that it is not really beneficial for their development at that stage, and preferred to err on the side of safety, than damage her developing eyesight.
After a few good years, and a second child in tow, I see now that while my heart was in the right place, I might have been slightly harsh on technology. After all, it is such an unavoidable and important aspect of their lives as they grow up.
Why We Should Embrace Technology
Things are a lot different than when we were toddlers. With technology playing a bigger part in the lives of our young ones, it's increasingly common to entertain them with tech as much as normal toys such as dolls and teddy bears. But are they watching or playing things that can actually build their thinking ability and problem solving skills?
This is where the best toddler learning tablets come in. They're great for kids to develop and have fun all in one go. And with kids surrounded by phones and tablets all the time, it's great to know that there is technology out there that's kid-friendly and helps them learn while they play. But with technology being so advanced these days, it's hard to find the best learning tablet for toddlers.
You might be on a budget, or maybe you're just not very clued in on technology, but that's fine. We're here to help you choose. You're looking for a tablet that has great games that help them practice their knowledge, a good battery life (think of those long car journeys) and entertaining. Yet, you want it to have suitable watching content for your toddler, like some of their favorite shows or Disney movies.
Take a look below at the tablets that we think your little one will love. These are the best learning tablets for toddlers right now, all of which have great parental controls.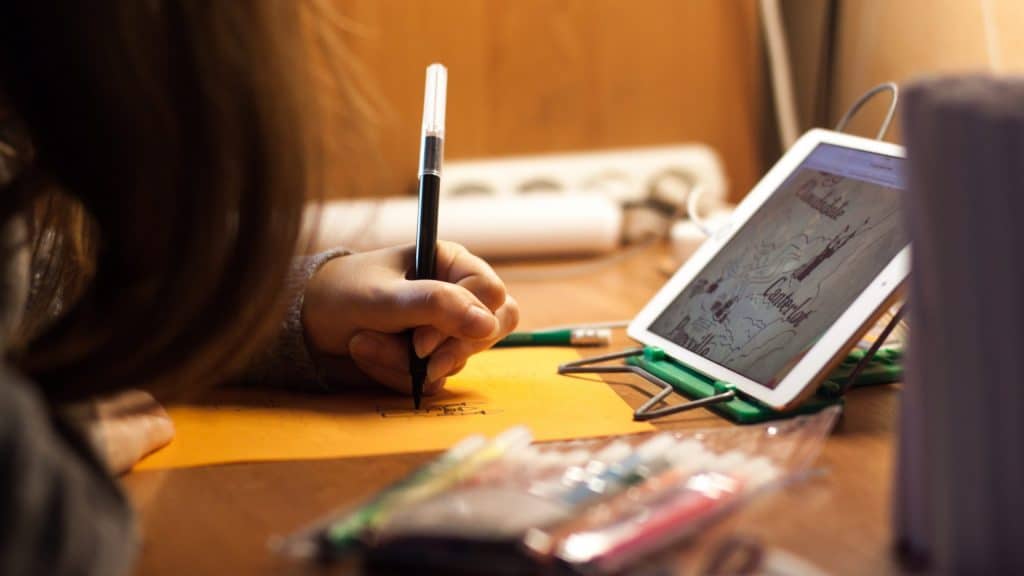 Best Learning Tablet for Toddlers in 2021
Amazon have been gracing us with popular new gadgets for a while now. They've modernized households with their famous 'Alexa', allowing us to stay seated while we play music and stop using light switches. But their range of tablets are a little more simple. The Amazon Fire tablets are a popular choice for those who want something cheaper than the likes of Apple but still have everything you need. So its great that they all come in a kids edition!
What I love about it:
The Amazon Fire 10 HD Kids Edition tablet sees them through from ages 3 to 12, comes with a protective case in either blue or pink, has a fab battery life of 11 hours and an HD screen resolution.
You'll even get a year of access to it's dedicated Prime for Kids service, where they can download video content to watch offline, which is the perfect addition for keeping them entertained on long journeys or days out.
You've also got 32GB of memory to play with – more than enough for a toddler!
Something to keep in mind:
The Kids Edition is the same size as the normal Amazon Fire 10 HD. This may sound like a pro rather than a con but this does mean that it might be a little too big for some younger toddlers.
As this is the latest Amazon Fire tablet software, the price is a little high in comparison to the older versions or lesser known brands. This is something to keep in mind, but also remember that if you don't need a tablet as big or with as much memory, but you still love the Fire, you can always buy an earlier version (such as the 7 or 8) to save a bit of money.
Leapfrog are a great brand for kids technology, with a range of learning tablets for different ages so that you can see them through at a young age and continued through to school age.
Their tablets are Android-based technology specifically for the younger generation, and are a great brand to get on board with as they also provide learning toys for all ages, own-brand apps and reading systems.
The LeapPad Platinum Tablet is suited for kids aged 3-9 and is perfect for playing and learning.
What I love about it:
The LeapPad Platinum is the perfect size for smaller hands with a 7" multi-touch screen. With the Platinum, you get exclusive access to Leapfrog games and apps, which includes the range of kid-favorite Andriod apps that are educator-approved (bonus!).
Leapfrog assure us that your kids won't come across any in-app purchases or harmful ads, which is great to know for any parent. They'll even have the freedom to explore the internet on a web-safe, age-appropriate browser where you can add and save URLs for their school learning!
This tablet is Leapfrog's best yet, with the highest-res screen of all their tablets, best durability and a 12 month warranty.
Something to keep in mind:
You can buy covers for Leapfrog tablets but unlike Amazon Fire, it doesn't come with one, which would be a big bonus for younger kids with a habit of throwing their toys. Yes, this happens.
The apps, while great fun and perfect for learning, are sold separately at an extra cost.
You also only have 8GB of memory to play with which is minimal compared to the likes of an Amazon Fire, and just 5 hours of battery life, which will see you through most car journeys but not a whole day of play.
---
It would be a true challenge to find a parent who has not heard of Fisher-Price. Having provided us with a varied range of kids toys for babies and toddlers since the 1930's, they're a trusted brand to go to when it comes to new playtime toys for your mini-me. And they certainly haven't failed to move with the times, as they have their Fun 2 Learn Smart Tablet now up for grabs for your toddlers.
What I love about it:
This tablet from Fisher-Price is a much cheaper price point compared to most, and it isn't even their cheapest option, yet still has 6 different learning modes complete with games, music and more.
There's also a bilingual element of learning where your toddler can learn numbers in Spanish!
There's a certain amount of personalization to the tablet, such as choosing a desktop background, which is not only great fun for a young child but introduces them to the more fun part of technology. It doesn't come with a case but has a durable yet lightweight design, making it a good pick for the best learning tablet for toddlers.
Something to keep in mind:
While they've clearly introduced technology to their collection of toys, this is a much more basic tablet and is far more suitable for earlier development.
Running on AA batteries, you might even call it a bit old-fashioned.
Unlike more modern tablets, the content on this one isn't nearly as varied – It's really designed for learning and nothing more, with no TV/streaming content, meaning your little one may grow tired of the technology quickly.
With a more modern tablet that has streaming platforms for kids and learning software for different age groups, you'll find it'll last them into school age, which is likely not the case with Fisher-Price. So despite the cheaper price, you may want to question if it's worth it, or if a more 'real' tablet is better for the modern toddlers of today.
---
No products found.
Dragon Touch is definitely a lesser-known brand, but their technology products are high quality and innovative, with a selection of cameras, tablets and baby monitors – there's something for all parents.
The Dragon Touch Y88X Plus is their modern kids-only tablet which features content for your toddler to watch, play and learn from.
What I love about it:
This is a great tablet for kids if you don't mind spending a bit extra for something less basic.
There's free Disney content included on the tablet ready for your kids to watch, along with 10 e-books and 3 educational gaming apps pre-installed.
There's no need to buy a case for this tablet as it comes with a durable silicone case to protect it during playtime!
With 16GB of memory, you have enough to download content from Kidoz Playground. This is a pre-installed software where you'll find plenty of kid-friendly content such as videos and games.
Plus it has excellent and easy parental controls.
Something to keep in mind:
This tablet has excellent content and is bound to keep your kids occupied for at least a full day. But it seems to be more aimed at entertainment and play rather than learning.
The Disney features are a great asset. But if you want something to help them learn specific topics for school, then this may not be for you.
No products found.
There are so many options for the best learning tablet for toddlers when buying your toddler kid-friendly technology.
The Amazon Fire Kids Edition is by far the more expensive option. But it's something that can cater to almost any age and last them through some of their school years. This is a huge bonus in any kids' toy, especially an educational one.
There are cheaper options but you have to consider what you want to get out of the tablet. If you only need something for your toddler to enjoy for a couple of years, then a cheaper option such as the Fisher-Price learning tablet may work just fine for you. Or, if you're happy to spend a bit more for something higher in quality but don't want to give your kids something that seems too close to a 'real' tablet then you can go for something in-between!
All-in-all the best learning tablet for toddlers is a good investment for kids' learning and makes a great gift for birthday or Christmas. Just make sure you look out for all of the essentials; these are things like excellent parental controls, age-appropriate content. You may want extras such as good battery-life, memory or specific apps. Either way, the above options are a great place to start!