Babies are little explorers who will get their hands on almost everything to quench their curiosity and this calls for extra supervision by parents. To keep them occupied and prevent them from causing a mess, wooden baby activity tables are heaven-sent. The best baby activity table will engage your toddler right off the bat and they will start learning from a tender age which is good for their development both mentally and physically.
As they get to understand the world around them while they are busy playing with their toys it provides an opportunity for parents to do other things. This double benefit of a toddler activity table is a win-win. Here's our shortlist of the best non-toxic and wooden activity tables for babies and toddlers.
What is a Baby Activity Table?
A baby activity table is a fun center comprising of different toys that are either made from non-toxic picks and wooden materials. They are designed in a way that they will interest a toddler's eye with features such as bright colors, sounds, music, buttons and various objects. Activity tables can be used for toddlers as young as 4 months which come with a seat while others are adjustable and can be used for infants who are yet to stand or walk. To spice up the fun for infants the best baby activity tables come with shapes, letters and even play fun songs such as baby shark doo, doo.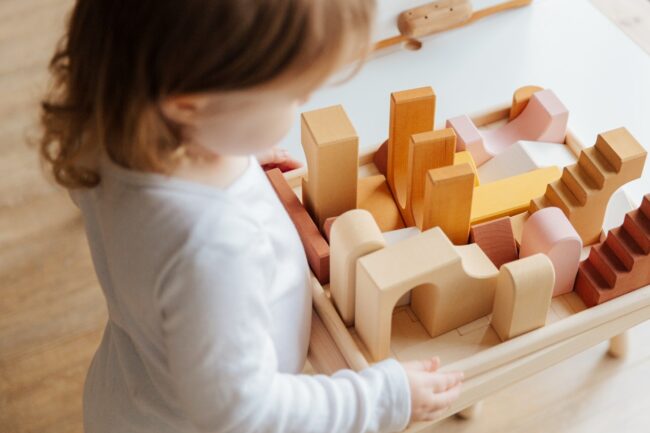 Why You Need a Baby Activity Table?
At that early age is when your baby is developing and it is key to get the best out of their infant days. Babies need to have their fair share of fun which is difficult to exactly give them what they want thus the need for choosing the best baby activity table. As a parent, a baby activity table comes in handy by taking your baby's attention thus giving you the much-needed break that you crave for. Last but not least having a baby activity table will help boost your child's physical and intellectual development as well as keep them entertained.
Different Kinds of Activity Tables
To cater to the preference of millions of babies there are different types of activity tables. The majority of them are electronic with lights, sounds and interactive toys while others are classic and they are made with wood including the toys.
Though the classic ones are not battery powered they can still capture the attention with problem-solving and motor activities. Some activity tables come with built-in chairs or walkers and others come with detachable legs which can be converted into floor play mode. The latter is suitable for babies who can sit on their own but they can't stand up due to toppling over.
The Best Baby Activity Table 2021
This wooden activity table is great for toddlers between the ages of 1 year to 5 years. It is designed with laid-back colors thus when added to your living space it is not a dead giveaway that there is a child around and it is also quite heavy so as not to topple over.
What I love about it:
Has a wide array of activities
Does not require batteries
Something to keep in mind:
Difficult to assemble
Expensive
Not suitable for kids under 1 year old
This baby activity table wooden is made from wood making it the best non-toxic activity table. It is loaded with lots of educational features which will help your child to develop skills as well as have lots of fun. Not only is this wooden activity table environmentally friendly, but it is also safe, simple and made of high quality.
What I love about it:
Zero batteries required
Provides lots of fun
Safe
Something to keep in mind:
---
This award-winning best baby activity table has a multifunctional musical instrument that is designed to encourage audio recognition, exploration and musical development. It features a variety of colors that helps to promote hand-eye coordination as they play their amateur music with the xylophone.
What I love about it:
Multiple modes of play
Sturdy
Safe on your baby
Something to keep in mind:
Out of tune
Has a small table area
---
This activity table for 1 year old babies is equipped with early learning toys with a multifunctional 5 in 1 wooden cube triangle. Some of the learning features include flipping alphabet blocks, number blocks with pictures, an abacus, clock and sliding fish on each of the four sides.
What I love about it:
Very sturdy
Makes learning fun
Something to keep in mind:
Small to some babies
Pricey
---
This classic activity table comes with 7 sides of fun, bright colors, a multi-functional design and there is no assembly required. Made with high-quality wood, it will bring more than fun to your kid and at a reasonable budget.
What I love about it:
High quality
Sturdy and durable
Something to keep in mind:
---
To start on with your little one you should try this simple, multicolored and beautiful activity table from Melisa & Doug Activity table. Though it lacks the flashy lights and sounds I promise it will keep your baby busy with its different hands-on activities.
What I love about it:
Very durable and sturdy, making it one of the best baby activity tables.
Great value for money
Easy to use
Something to keep in mind:
---
This activity table with storage makes it easy for your kid to understand the modes of transport such as trains, cars and an engine. It comes with three durable red plastic storage bins that allow for the storage of the whole set with ease.
What I love about it:
Easy to assemble
Offers great storage
Something to keep in mind:
Some toy pieces are small
The table can arrive with blemishes
---
Best Baby Activity Table for Water Play:
This water activity table is created behind the idea that kids love to play with water and it comes with 1 water cup and five characters that squirt water. This is one of the best baby activity tables, and helps kids to learn the 'put and take' skills because it turns the spinner thus powering the 'lazy river'. Not only is this water activity table of the right height but it also helps them have a good splashing time.
What I love about it:
Easy to assemble
Perfect height
Something to keep in mind:
The Ferris wheel does not click in and can pop out easily
---
No products found.
This best baby activity table is a great multi-activity option that features fun and learning for your young tot. With different 8 activities to choose from it offers lots of fun time for your baby. Kiddery Toys Activity Cube Wooden Center is great for parents as well since they can play with their young ones too.
What I love about it:
Easy to move and is also medium-sized
Something to keep in mind:
The bead maze is unstable
Shape blocks pose a choking hazard
No products found.
---
Best BPA-Free Hard Plastic:
This activity center table can be used as a floor play toy as well as an activity table. It features 6 fun learning activities, a pretend toy phone, a music button that plays different sounds and music and an interactive nursery rhyme book. The little tikes activity table is a runner up option to the Vtech Magic table and it will not disappoint.
What I love about it:
Bilingual
Easy to assemble
Something to keep in mind:
Not sturdy
Requires the use of batteries
---
Hahaland 2 in 1 Kids Table & Easel is among the best toddler activity table because it can be transformed into an Easel which can be used to improve creativity. It has an ergonomic design with a toddler kids table and chair that will help to cultivate your child's correct sitting posture. It also comes with a Lego activity table to give your baby the best entertainment.
What I love about it:
Sturdy
High quality
Long-lasting
Something to keep in mind:
---
How to Pick the Best Baby Activity Table?
When picking an activity table for your baby, all you have to consider is what features would you want your child to learn from their early learning stage. Below are tips to consider on how to the best baby activity table for your little one.
Size of the table. Size is an important factor to put into consideration how much size you have at home or the size of your baby. The more space you have at home the larger the table you will require and vice versa is true. Depending on the size of your child both the height and size of the activity table should be comparable which will serve best for safety and usability.
Recommended ages. Activity tables have their recommended ages and some are better for younger infants due to their types of activities. For maximum usability, it is worth picking a table that your child will use at their current age.
Available activities. More fun for your baby means more activities. The more the activities the better for your child because they will be occupied.
Music. Music is great for babies since it captures their attention, some parents prefer to have tables that do not play any music while others prefer the ones that play a few tones to get their babies dancing.
Ease of cleaning. Babies are delicate and it is important to get a table that can be easily cleaned alongside the present toys.
Sturdiness. You do not want to spend your money on a table that will break after days, look for a firm table that can withstand the weight of your child.
Cost. It is important to stick to your budget and you get a table that is worth the value of your hard-earned money.
FAQs About Activity Tables
What age are activity tables for?

They are mainly used for toddlers who are about 1 to 3 years of age though some can be used for older children.

Are activity tables good for babies?

The best baby activity table will not only help attract your child's attention but will help boost their independence. Also, they enable your child to put their motor skills and dexterity to test which is brilliant for them.

Which activity table is best for babies?

This will depend on your needs, preference and situation. The best toddler activity table for your baby is the one that will serve them perfectly.

Why should I choose a wooden or non-toxic option?

Safety first! Babies are delicate and the above options will not cause any harm to them.
Seeing your little angel with an ear-to-ear smile as they play is priceless and also relieving to you. Activity tables have numerous benefits to the development of your baby which will shape their future life. The market is flooded with different options of activity tables and choosing the best baby activity table can be a tricky undertaking.
With this in mind, you should know the activity table that will be best for your little one and family and make a final decision. I hope this article has shed light on baby activity tables. And whether you're looking for a baby play mat, walker, play gym, exersaucer or an activity table, go for a natural, non-toxic and chemical free option.