My shock when I saw just how much my stomach grew during pregnancy was massive, just the size of my stomach. How much can skin stretch? The pregnant body is amazing. Yet this incredible elasticity comes with a price for many; stretch marks, the pink or even red "tiger stripes" that show up on your stomach and maybe breasts as the skin tries to keep up with the baby's growth. Thankfully, oils, lotions and the best stretch mark creams for pregnancy can help with preventing and minimizing stretch marks during pregnancy. And in this article, we look at some of the best stretch mark prevention creams during pregnancy.
Although being pregnant is exciting, there is one downside; the inevitable, unsightly before and after pregnancy stretch marks that most women develop during their pregnancy. The great thing though, is that there are many ways on how to prevent stretch marks during pregnancy.
There are times when your body swells rapidly, such as during pregnancy or weight gain, when your skin stretches more than it should. This is when pregnancy stretch marks develop, leaving rippled, streaky blemishes on the skin which most people find unattractive. This is when it's time to learn how to get rid of pregnancy stretch marks!
Who will get Stretch marks?
Women are more prone to having stretch marks after pregnancy. Obesity in both men and women is also sometimes the cause of these skin blemishes. Some children too, develop stretch marks when they are going through puberty, if their bodies grow too quickly. Stretchmarks can also be hereditary.
Do stretch mark creams really work?
According to the experts, while stretch mark creams do help to reduce the appearance of these skin blemishes, they will not make them disappear completely. Treatments only work on the outer layer of skin but cannot cure the part of the blemish that sits in the middle layer.
Therefore, those using these best cream for stretch marks regularly, will notice a bit of reduction and general improvement of the marks. The experts agree however, that these creams are effective if users start applying them before the blemishes appear.
Different types of stretch mark prevention products
There is a wide variety of topical products available on the market today, for use as a treatment for healing or the prevention of stretch marks. These include oils, body butter, stretch mark lotions, and creams – all of which contain ingredients to moisturize and nourish the skin.
All you must do is decide on the best stretch mark prevention cream during pregnancy, that will suit your needs best,
What to look for when choosing a pregnancy stretch mark cream
There is a limit to the amount of stretching the human skin can withstand. When you're pregnant your skin is stretched to way beyond these limits, resulting in red or purple stretch marks. Although the color does disappear eventually, the scars on the skin are left behind. A best stretch mark prevention cream during pregnancy product will help a lot to fade these blemishes.
To ensure that you know how to prevent pregnancy stretch marks, make sure that the product you choose contains ingredients like the following, that moisturize, increase elasticity, and improve metabolism:
A range of natural oils
Vitamin C and E
Glycolic acid
Coenzyme Q10
Lanolin
Amino Acids
Collagen and Elastin
STEER CLEAR of creams that contain the following, as they are not the best prevention cream during pregnancy!
Retinoids, which could result in congenital malformations of your unborn baby, and
Synthetic substances such as toluene, mineral oils, parabens, sulfates, flavors, and products containing petroleum. These can also be damaging to your baby's health.
Reviews of the Best Stretch Mark Cream for Pregnancy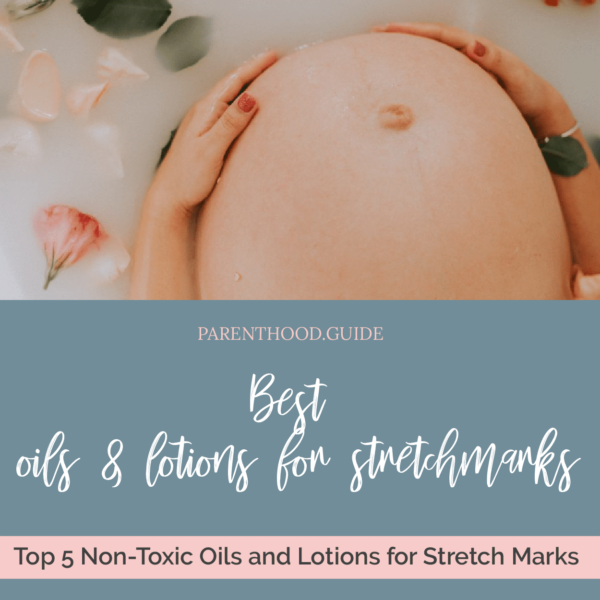 This luxurious oil blend is by far the best stretch mark prevention cream for pregnancy that I've tried. Worth every penny, I would recommend it in a heartbeat. this pregnancy stretch marks oil saved and protected my skin and stomach like no other.
This is the best oil for stretch marks and was made famous by Victoria Bekham, who swore by it during all 3 of her pregnancies (who better to take advice about protecting your skin from). Used in spas, it does double duty as a very effective stretch mark fighter. It's deeply hydrating, contains plant collagen to help replenish your skin, and has a lovely, but not overpowering aroma-therapeutic scent. As a bonus, you can still use it as massage oil after your baby is born (if you have any of it leftover, that is).
What I love about it:
Absorbs easily into skin
Lightly scented for those who can't handle strong scents during pregnancy
Very effective.
Something to keep in mind:
Made from fine oils and naturally occurring compounds.
Contains almond oil.
Best Moisturizing Pregnancy Stretch Marks Lotion:
Cocoa butter has long been prized as a moisturizer and stretch mark reducer. This product puts it into an easy stick form, so you can apply it exactly to the spots you need. No more messy hands. This stretch mark prevention cream is one of the best creams for stretch marks, and made my life so much easier when I was on the go. No worrying about a bottle leaking in my purse or suitcase.
What I love about it:
Very moisturizing
Easy to apply
Inexpensive
Packaging is 100% recyclable
Something to keep in mind:
Not all-natural and organic
Additional Specs:
Mixes cocoa butter with vegetable oil for smoother application.
Contains silicone
---
Best Non-toxic Oil for Stretch Marks:
Bump Gloss pregnancy oil is non-toxic, vegan, and chock-full of organic ingredients. It smells like lavender, absorbs like a dream, and the bottle has a pump for easy application. I felt very confident using this one, knowing that it was a safe choice.
What I love about it:
Safe and wholesome
Incredibly nourishing
Lovely fragrance
Something to keep in mind:
Additional Specs:
Made entirely from natural oils, with Vitamin E
Allergy warning: nut oils are present
---
No products found.
As mentioned earlier, cocoa butter pregnancy cream is one of the best ingredients you can use for stretch marks. This stuff is the real deal, pumped up with Vitamin E, collagen, and elastin to help your skin replenish and maintain its elasticity. Like the Bump Gloss Stretch Mark Oil, it smells like lavender.
What I love about it:
Has the moisturizing properties of cocoa butter
Has lots of skin-friendly ingredients
Very affordable.
Something to keep in mind:
Very thick
Slightly greasy
Can be difficult to apply
Additional Specs:
Not all-natural
contains dimethicone
No products found.
---
Best All Natural Pregnancy Stretch Marks Oil:
Here's another all-natural herbal pregnancy stretch marks oil for the environmentally concerned. Not only is it safe and gentle, but it smells amazing, with orange, neroli, and chamomile. I felt like a herb garden, but in a good way! This oil is vegan, cruelty-free, and it works.
What I love about it:
All-natural
Applies cleanly
Earth-friendly
Smells great
Something to keep in mind:
Not as many scientifically proven ingredients
Additional Specs:
Free of parabens, phthalates, and petroleum products
Gluten-free
---
Best Stretch Mark Belly Butter:
This unscented pregnancy lotion, crammed full of natural ingredients, is designed specially to give moms all the relief and comfort they need before, during and after their pregnancy. With ingredients like jojoba and Shea butter, cocoa, and vitamin E, Burt's Bees Mama Bee Belly Butter could very well be the best stretch mark cream for pregnancy.
What I love about it:
Contains no petroleum, SLS, parabens or phthalates
Will not irritate the skin
Helps to restore skin after your baby is born
Something to keep in mind:
There were mixed reactions from consumers about this pregnancy cream. Most users loved the cream, stating that it kept their skin soft and beautifully hydrated and is the best lotion for stretch marks. Some said that they saw a significant difference in their stretch marks after using the pregnancy cream.
One customer thought that the cream had been watered down, but another customer countered this remark by saying that it was simply the new packaging that made the product seem different.
---
Made with ingredients like Shea and cocoa butter, and avocado, this product helped to reduce stretch marks in no less than 93% of users in just two months! The women and men who use Best Organic Cream, say that it's the best stretch mark removal cream that they've used to remove unsightly scars and stretch marks.
What I love about it:
Great for use on all types of skin before, during and after pregnancy
A wonderful stretch mark treatment for use by those who have lost a lot of weight
Prevents scars and stretch marks from developing
Something to keep in mind:
According to most people who used this product, it's the best stretch mark prevention cream during pregnancy. They were amazed at the results they had seen after using it for just a short while. One lady said that she started using it early in her pregnancy and was thrilled when she saw her doctor in her 34th week, and he commented on the fact that she had almost no stretch marks!
---
The unscented, paraben-free, hypoallergenic formula of this cream makes it a simple but effective treatment for relieving itchy skin and improving its elasticity. 15 Natural oils and extracts are used in the manufacture of this product, with essential fatty acids and antioxidants added to it as well, to make it even more effective.
Additional Spec:
When used early in your pregnancy, it will prevent stretch marks from developing
Keeps skin elastic, resilient and moisturized
Something to keep in mind:
Consumers love it that the product is unscented. They also loved the fact that it really did what it claimed to do and prevented unsightly stretch marks from developing. One lady was worried about inheriting stretch marks from her mom and was amazed when she developed none after using this product. For her, it was the best stretch mark prevention cream.
---
Best Lightweight Stretch Mark Oil:
This is the one to go for if you are looking for a product that's been tried and tested by experts, who give the assurance that it is safe and gentle for both you and your baby. Cruelty-free and verified by EWG, Pipette Belly Oil is made with all those ingredients that are essential for a well-moisturized, beautiful skin throughout your pregnancy.
Additional Spec:
Hypoallergenic and fragrance-free
Rapidly absorbed by the skin
Soothes tight, itchy skin and keeps it soft and flexible
Something to keep in mind:
Customers had different opinions about this cream. Most of them loved the way it made their skin look and feel. However, while some raved about the fact that it stopped the itching on their skin, one user said that it made her skin itchier!
---
This is the ideal gift for any new mom! The set contains Belly Butter, Beeswax Lip Balm, as well as Leg and Foot Cream – all those things that help make a new mom feel really special.
Additional Spec:
Blend of cocoa, jojoba, and Shea butter to nourish the tummy before, during and after pregnancy
Beeswax, peppermint oil and Vitamin E to keep lips soft and moisturized
Specially developed foot cream to soothe those tired, aching foot and legs muscles associated with pregnancy
Something to keep in mind:
Most users simply loved the results after using the contents of Burt's Bees Mama Bee Gift Set, saying that it is one of the best stretch mark creams for pregnancy available. Unfortunately, though, there were others who were disappointed, not with the product itself, but with the distributors, who sent them incomplete gift sets!
---
Best Intensive Treatment:
This cream does everything the manufacturers claim it can, including tightening and toning tummy skin, and fading all blemishes and stretch marks caused by pregnancy. Mommy Knows Best even helps to fade scars you might have had before your pregnancy!
Additional Spec:
Clinically proven to ensure its ability to reduce the size and color of stretch marks
100% Retinol-free
Contains a range of organic, natural ingredients proven to make the tummy skin smooth, supple, and well-toned
Something to keep in mind:
Most users of Mommy Knows Best are thrilled with the results they had after using the product. While most consumers are women, there was even one man who tried the product when he discovered stretch marks on various areas of his body after losing a large amount of weight.
To say that he was impressed with the results is an understatement – he says he knows that it's the best stretch mark cream for pregnancy but recommends it highly to other men as well!
How to Minimize Stretch Marks
All mothers are beautiful, but it can take some time to get used to the changes in your body.
I was stressed enough after my daughter was born without having one more thing to worry about. Being a mother has made me feel more comfortable in my skin than ever before, and avoiding stretch marks has helped even more. While I would gladly wear a thousand stretch marks for my child, it's nice not to have to. Knowing that I chose the safest and best stretch mark cream for pregnancy makes me feel confident about my decisions.
Do the best you can for both you as a mama by using the best stretch mark cream for pregnancy available on the market. Choosing a non-toxic and safe cream is a great way to keep your baby safe during your pregnancy, and your skin looking and feeling absolutely beautiful!