Choosing the best balance bike is an essential toy for today's kids. Learning how to use one of these bikes helps toddlers build muscle, steer, prevent their own injury and react with their surroundings. Without noticing it, they master a bunch of everyday skills. But along with all that, toddlers have fun and burn off some of their boundless energy. When the time comes, the transition to a two-wheeler pedal bicycle is seamless too. Riding a bike is learnt in stages – balance and steering first, then pedaling and braking later. And buying the best wooden balance bike for toddler means it can be used from a young age, perfect for little ones who are keen to get mobile.
Wooden Tricycle or Balance Bike for Toddlers?
A wooden tricycle or a 3 wheel scooter offers a toddler more stability. But is that a good thing? While they might be fun for a little while, kids grow out of scoot-along trikes quicker. So the best balance bikes, on the other hand, keep a child interested for longer, and more motor skills are mastered than with a wooden tricycle.
But why a wooden balance bike? Sustainable wood is more environmentally responsible. Wood can be refurbished easily. So you can hand down your balance bike to younger kids. The parts are more biodegradable too, and of course, the designs are much more appealing.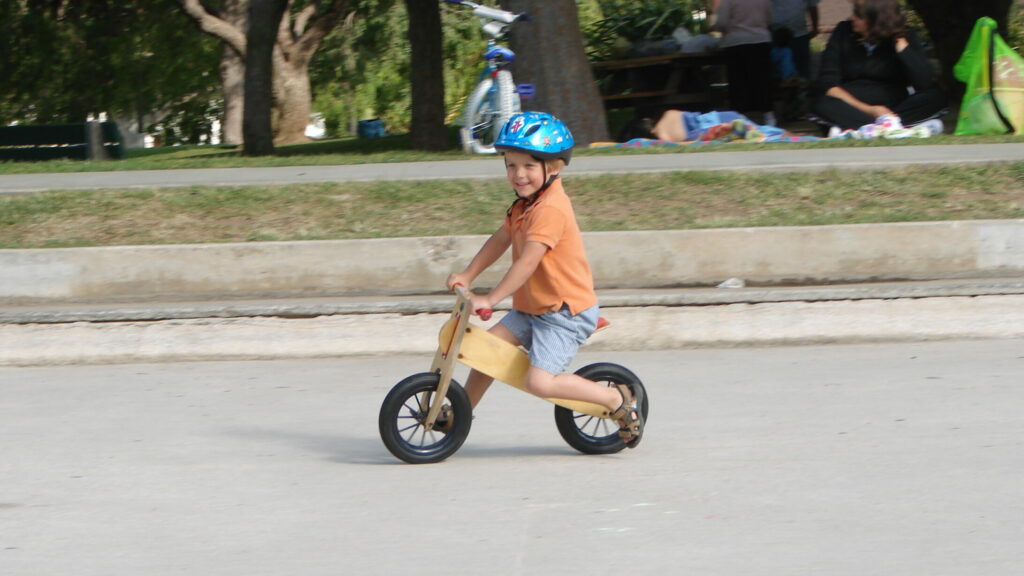 What To Consider When Choosing The Best Wooden Balance Bike
When it comes to buying the right wooden tricycle or balance bike for your child, keep these points in mind. First of all, choose the correct size. Although it's tempting to buy a bigger wooden kids bike so they can grow into it, if it's too large they won't be able to use it for a while. So look at the adjustability of the seat. Next there's the tires – some are air-filled which are more shock absorbent, but they can get punctures. How comfortable are the hand grips for your child and do you need a light-weight or heavy bike?
Find the answers to these questions in our shortlist of the 5 best wooden balance bikes:
Top 5 Best Balance Bikes 2021 (Wooden and Natural Picks)
No products found.
Made from birch with a padded seat and rubber tires, the Prince Lionheart wooden balance bike has been designed for comfort. Thanks to the 12-inch spoke wheels and air-filled tires the ride is gentle over any ground. These tires can be replaced and new parts can be purchased for the bike so it's not a throw-away toy, but punctures can occur. Built to last, it's a little heavier than expected at 10 pounds, important if it needs to be carried for long.
What I love about it:
For 2-5 years
Seat height is adjustable
Hand grips are rubber
Simple to assemble
No products found.
Kinderfeets Balance Bikes are constructed from bamboo – a material stronger than oak but not as heavy. Its lightweight frame makes it easier for younger children to use, and carrying around it is effortless. This simply designed wooden kids bike has puncture-proof tires and an adjustable, padded seat. Moving the saddle is straightforward and the height can range from 33 cm to 41 cm. The biggest plus is the lower step-through frame, so getting on and off the bike is a breeze for little legs.
What I love about it:
Handlebars with a soft grip
Foot rests when cruising
Airless EVA tires
---
A Hape Scoot Around Ride On is a great alternative to a wooden tricycle if you think your youngster needs a little more stability. With 4 rubber wheels and a large seat, it's easy to use both indoors and outdoors. The cute design makes this toddlers' bike irresistible. The pros include the smaller size – it's perfect for younger kids and can be easily stored. It's well-built and sturdy. On the downside, there is no adjustability and taller children can sometimes kick the rear wheels when scooting.
What I love about it:
For 1 to 3 years
Four wheel stability
Sturdy construction
---
Little ones can get creative with a Kinderfeets Chalkboard wooden balance bike. A chalkboard finish has been applied to the frame so kids can draw their own custom design on the sides. None of the best wooden balance bike features have been left out – a lower step-through frame, foot rests and a padded saddle are included. And punctures are a thing of the past with airless tires. Ideal for 2 years plus, this is a 12 to 13-inch bike, the seat can be adjusted to suit.
What I love about it:
The frame is a chalkboard
Ergonomically designed
Made from birch wood
---
No products found.
A little easier on the wallet than some balance bikes, the Diggin Active Skuut is a good option to a wooden tricycle. Made from robust birch wood, this bike has air-filled tires for a more comfortable ride. The seat can be adjusted up and down in height as your child grows. The downsides are that the handle bars cannot take too much impact before they break – but it's not a problem for gentler users. The seat doesn't come with padding either.
What I love about it:
Replaceable, air-filled tires
For children 2 to 5 years
Steering restricted for safety
Diggin plants a tree for every bike sold
No products found.
When weighing up the pros and cons of a wooden tricycle versus a wooden balance bike, it's got to be the balance bike every time. They will grow in confidence as they figure out how to use it and you'll be bursting with pride.
Your youngster can go at their own pace, keeping their feet on the ground as much or as little as they want. And when the time comes to step up to a pedal bike, you can hand the balance bike down to a younger sibling – these bikes are built to last for years.
Once you've settled on the balancing bike of your child's dreams, browse other essential gear for children, such as baby swings, walkers or baby play mats.