As a parent of one and another on the way, I don't have time to overthink every purchase. But some things are more important than others, such as the best high chair for small spaces. When it comes to my little ones' health and safety, I want good, bottom-line information to point me directly to my best options. Additionally, as time permits, I share this information with you lovely folks. Below are the top five best space saver highchairs on the market currently available that meet two simple criteria; they're all good high chairs for small spaces, and they are not harmful to your baby's health, a.k.a they are the best non-toxic high chairs.
The first few make it possible to scoot your mushed-pea-eater right up next to you at the table, if that's what you're after. Additionally, there are a couple solid budget-friendly high chairs in the list, as well as plenty of form, functionality, and flash at the high end.
Best High Chair for Small Spaces 2021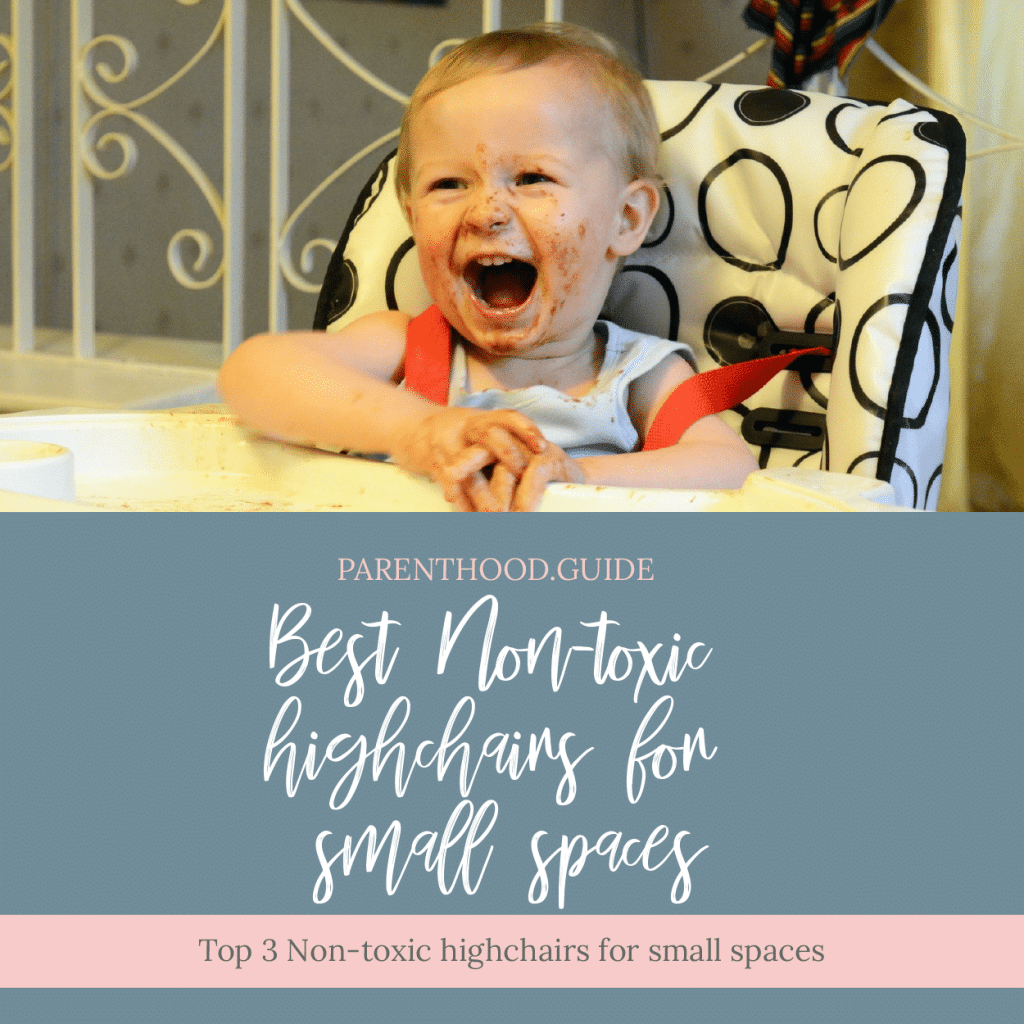 Best Luxury High Chair for Small Spaces:
No products found.
If you're looking for a piece of furniture with shiny, stylish, and customizable design (including an optional "Snakeskin Black" seat cover!), this is your highchair. While the others (such as fisher price or cost considerably less, they aren't non-toxic. Additionally, if bling is your thing, they're no match for this cheeky little number. Overall, this is one of the best high chairs for small spaces that money can buy.
What I love about it:
Non-toxic materials and components
Easy to clean, removable parts
Adjustable seat positions
Space saver high chair can be used with tray or at table
Something to keep in mind:
Requires additional "Starter Kit" (from around $100)
Additional Specs:
BPA Free seats available in many colors
FDA food grade plastic and stainless steel construction
Complies with CPSIA and ASTM standards
No products found.
Best Non-Toxic High Chair:
The Tripp Trapp's attractive, ergonomic design and durable construction establish it as a quality choice. Moreover, JPMA certification and the available 7-year extended warranty instill further confidence in Stokke's commitment to delivering a reliable space saver high chair. So this is another great option, and my personal favorite.
What I love about it:
Stable and comfortable design
Made of non-toxic, natural beech wood
Adjusts to fit infant sizes to adults
Accommodates child seated at dining table–no tray required
Something to keep in mind:
5 point harness strap design may be uncomfortable or difficult to adjust
Additional Specs:
BPA Free
Seat and footplates adjust for height and depth
Optional baby seat available for added support
---
Best Budget Wooden High Chair:
With a couple caveats, this non-toxic highchair could be the best high chair for small spaces, especially if you prioritize function over form. Unfortunately, the finish has been reported to be thin and sometimes wear off, and the soft rubber wood may scratch or dent easily. But underneath these cosmetic details is one of the best space saver highchairs with a 5-year standard warranty.
What I love about it:
JPMA Certified
Tray and cloth cushion seat included
Adjustable seat and footplates (1-inch increments) with recline position
Designed to promote good posture and prevent fatigue
Anti-microbial "Infant Insert" available for increased comfort and style
Something to keep in mind:
Tray design can make cleanup difficult
Additional Specs:
Natural wood or mahogany colors available
Supports up to 250 lbs.
Plant-based lacquer finish
1.5° tip-resistant seating angle
These are the top picks for the best high chair for small spaces currently out there. However, do keep in mind that a few extra dollars spread out over the life of the space saver high chair (and sometimes, as with my family, the lives of multiple kids) may be money well spent.
It's important to invest in quality when it comes to the products your little ones use every day. Select only germ-resistant, environmentally safe non-toxic highchairs, bassinets, carriers, and other accessories for your baby that will last for years to come.