Choosing the best non-toxic baby wipes that are right for you and your baby can be tough. For starters, selecting the best eco-friendly and all-natural organic baby wipe brand that has fewer ingredients is always a step in the right direction. It's important to understand that harmful ingredients are present in many of the best baby wipes to preserve or add fragrance. Often, these powerful preservatives and sensitive fragrances do more harm than good.
What's more is that the names for these toxic ingredients are usually masked within other ingredients, making them hard to pin-point. Sometimes, manufacturing and labeling loopholes are used to hide these ingredients. That's why we're going to go over some of the best natural baby wipes for your baby's bottom that do the least harm and do a good clean up job as well. All the options discussed in this article are non-toxic and safe for your baby's sensitive skin.
How "Clean" are Baby Wipes these Days?
It really depends on the type and brand. In one sense, the best baby wipes are "clean" in that no matter what's in them, they'll do the job of cleaning your baby's bottom. In another sense, how "clean" they are can almost be attributed to how long they last. Brands that have fewer listed ingredients will not last as long as those with more ingredients, such as preservatives.
However, due to recent buzz over some brands causing rashes, cuts, and or irritation, many brands have chosen the cleaner, all-natural path with fewer added preservatives, fragrant perfumes, etc. The bottom line is that most baby wipes are clean. Some of the safest baby wipes may cause reactions and irritations, but generally speaking most are not-toxic.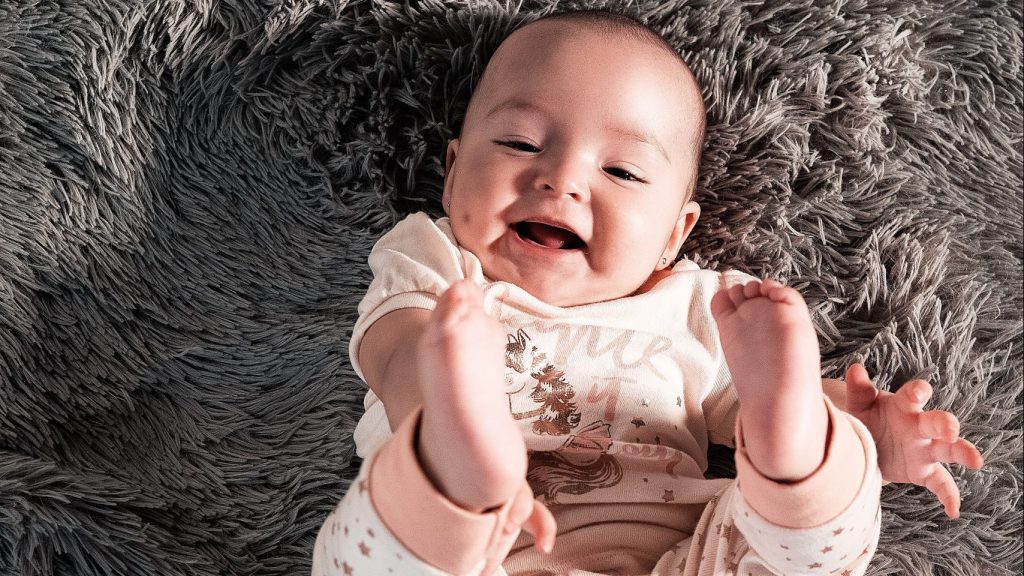 Are Disposable Wipes Safe?
Again, some of them are, some of them are not. It also depends on your baby's individual sensitivities because every child is different, and may react differently. Always read the ingredients label to see what's inside. If your baby's skin condition is not that sensitive and they don't have any known allergies, then most disposable baby wipes will be fine for your baby! However, if you know that your baby has sensitive skin that can be irritable and is prone to rashes, etc., then looking for safe baby wipes ingredients would be a more prudent solution for your baby's needs.
Best Baby Wipes Ingredients
As many organic baby wipes for baby brands contain different ingredients for different unique selling purposes, it can be hard to make a decision regarding what's best for your child. Sometimes an ingredient will be slyly labelled as a "fragrance." The problem here is that the consumer is unaware as to what chemical agents make up that particular "fragrance." That being said, we must avoid any brand that simply has the word "fragrance" listed on their ingredients label.
The reality is that many of the best baby wipes contain ingredients that could irritate or harm your baby's skin, so this means choosing the lesser of available evils. Take a look below at some of the least concerning, questionable, and most concerning toxic baby wipe ingredients out there today.
Best Natural Baby Wipes Ingredients that are Beneficial or of Low Concern
A lot of the safest baby wipes contain fruit extracts that have certain natural features that are soothing for your baby's skin. Cucumber and grapefruit seed extract are just two examples. Additionally, any ingredient that comes from a naturally occurring plant is beneficial and should not cause any worry at all. Some of these ingredients are, but are not limited to:
Aloe vera leaf juice
Glycerin (made from soybean, coconut, or palm oils)
Chamomile
Licorice root extract
Potassium sorbate is another non-toxic preservative found in many food and skin care products. Baby wipes currently use it as an alternative to the highly toxic and worrisome paraben-based preservatives.
Best Baby Wipes Ingredients to Think About
On the topic of sorbates, there are two in particular that you will see listed on many baby wipes products: potassium sorbate and or sodium sorbate. Sodium sorbate is not necessarily a toxic or carcinogenic agent on its own, but in larger doses can become harmful. What does this mean for your baby's bum? Well, due to the fact that large doses of this added preservative could be carcinogenic, this ingredient is something that more concerned parents might want to shy away from.
Any hint of cancer or carcinogenic ingredients can be an immediate turn off for some consumers, and who can blame them. However, it's important to note that sorbates are soluble in water, which actually makes up most of the wipe, so all the sorbate does is act to preserve whatever water is in the package so that mold doesn't occur.
Harmful Ingredients to Avoid in Baby Wipes
Parabens are the utmost harmful ingredient present in some brands of baby wipes. Parabens are harmful because they're not a natural preservative, they're a chemical one! In some cases, paraben exposure has been linked to breast cancer. Also avoid Phenoxyethanol as it must not be inhaled, swallowed, or absorbed through skin. It is known to cause blistering and can be irritable, especially for infants!
As mentioned before, fragrances or any ingredient label that lists a "fragrance" should really be avoided. While the option to have scented baby wipes is nice, it really isn't necessary and should be sidestepped for your baby's sake. It goes without saying that any alcohols, sulfates, and or formaldehydes should also be avoided like the plague!
So Then, What Should You Look For?
Any natural ingredient like aloe vera or a fruit extract are going to cause the least (if any) harm for your baby. Some people may think that glycerin is scary, but it's really just a vegetable concentrate, and should only scare you as much as vinegar does (vinegar is another vegetable-sourced fermented product).
That being said, in the best non-toxic baby wipes, you should also look out for sorbates, benzoates, and or phenoxyethanol as they are probably going to appear on most baby wipes: it's just a matter of choosing a product that has the least amount of these preservatives. What's more is that you should be cautious when reading each ingredient as many harmful agents could be hidden as a suffix at the end of a lengthy word. For example: methylparaben containing "paraben."
Best Non-Toxic Baby Wipes 2021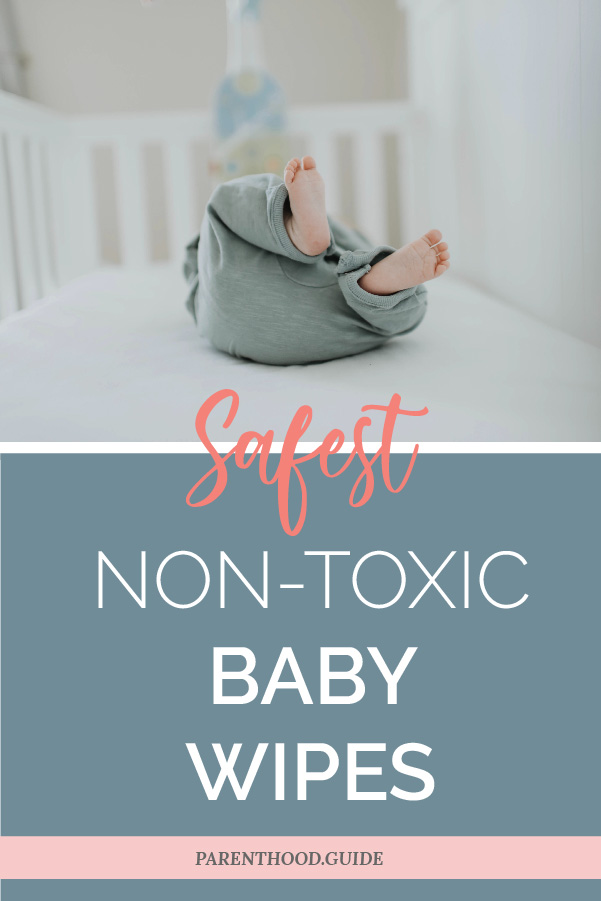 Ingredients: Water (99.9%), Citrus Grandis (grapefruit) seed extract*, Sapindus trifoliatus (Soapberry) fruit extract. *May contain traces of Benzalkonium Chloride.
Made in: Drogheda, Ireland.
Quite simply, water wipes contain just water, fruit, and soap-berry extract. These are some of the best natural wipes perfect for the paranoid parent as the ingredients are next to nothing. This is the least of the baby wipes to worry about in terms of it causing harm to your infant. These are some of the best natural baby wipes that will do the dirty without chemicals and without leaving a mark or a scent, and are completely safe for your child's bottom, hands, and face.
On the negative side of things, some consumers have noted that this new soap-berry product does in fact give off a strange scent. Additionally, you could get a bad package here and there in which some of the wipes have gone brown – usually due to molding because of the lack of preservatives in these wipes.
Ingredients: Purified Water, Vegetable Glycerin, Aloe Barbadensis (Organic Aloe Vera) Leaf, Tocopherol (Vitamin E), Potassium Sorbate, Sodium Benzoate, Citric Acid, Calendula Extract, Polysorbate 20, Chamomile Flower Extract, Lavandula augustifolia (Lavender) oil, Citrus Sinensis (Sweet Orange) oil.
Made in: Designed and tested in USA, but made in China.
What's great about these organic baby wipes is that they use sustainable and hardy bamboo grass stalks instead of using a more common tree-pulp. This makes for a durable wipe that mom and dad can use to clean up other messes. Additionally, the natural plant-based ingredients like calendula, chamomile, and organic aloe vera give these natural wipes a soft and comfortable texture that's quite heavenly!
Like other scented baby wipes, Bum Boosa Bamboo Baby Wipes is no exception. Many consumers have noted that this variety of Bum Boosa packs a strong scent. The packaging is known to be a little fussy as well as individual sheets can be difficult to pull up and out.
---
Ingredients: Aqua, Aloe Barbadensis Leaf Juice, Betaine, Caprylyl/Capryl Glucoside, Levulinic Acid, Sodium Levulinate, Glycerin, Potassium Sorbate, Sodium Citrate, Cananga Odorata Flower Oil.
Made in: Co Armagh, Northern Ireland.
I really like these Jackson Reece baby wipes. These organic baby wipes are preservative free. These are some of the best natural wet wipes as they're free of any plastic, polyester, alcohol, and any other possible hypoallergenic ingredients. Thus,, they are best baby wipes for sensitive skin. For cautious parents who wish to be more sustainable, they're also 100% biodegradable!
What I didn't like about these non-chemical wipes is that Jackson Reece's wipes include a "fragrance" that they've disguised as being aroma-therapeutic. The lightly scented fragrance comes from Ylang Ylang oil and is known to be delicate on your baby's skin. Like Water Wipes, sometimes you can get a bad batch of these biodegradable baby wipes that has gone dry or moldy due to fewer chemical preservatives.
---
Ingredients: Purified Water, Lauryl Glucoside, Glyceryl Oleate Citrate, Olea Europaea (Olive) Oil*, Nutri-Soothe Complex [Vegetable Glycerin, Hydrolyzed Oat Protein, Calendula (Calendula Officinalis) Flower Extract*, Anthemis Nobilis (Chamomile) Flower Extract*, Spiraea Ulmaria (Meadowsweet) Flower Extract*, Nasturtium Officinale (Watercress) Flower/ Leaf Extract*, Pueraria Lobata (Kudzu) Root Extract*], Avena Sativa (Oat) Kernel Extract, Phenoxyethanol, Potassium Sorbate, Citric Acid, Natural Fragrance
*Certified Organic Ingredients.
Made in: USA.
Babo Botanicals is great because they indicate which ingredients are certified organic so that the consumer has a better idea of exactly what they're about to purchase. 100% natural and biodegradable fiber makes up the cloth of these biodegradable baby wipes, something other wipe brands might not mention. What's also great is that this product is a 3-in-1, it's not just for bottoms!
One thing I didn't like about these biodegradable baby wipes is their sneaky way of listing ingredients. Sure, they've listed all of their ingredients, organic and not, but the one thing that go to me was that the very last ingredient is "Natural Fragrance," which as we all should know, leaves a lot open to the imagination.
---
Ingredients: Water (Aqua), Glycerin, Chamomilla Recutita (Matricaria) Flower Extract, Cucumis Sativus (Cucumber) Fruit Extract, Glycyrrhiza Glabra (Licorice) Root Extract, Punica Granatum Juice Extract, Decyl Glucoside, Citric Acid, Caprylyl Glycol, Trisodium Ethylenediamine Disuccinate, Ethylhexylglycerin, Sodium Benzoate.
Made in: China.
These hypoallergenic, plant-based wipes are one of the best organic baby wipes out there. The Honest Company Baby Wipes have been skin-tested and contain apparently more than 99% water. They are some of the safest baby wipes and are great for gentle skin. These baby wipes are also made without chemicals such as alcohol, parabens, chlorine, or fragrances, so that's alright in my books!
One of the downsides to these particular hypoallergenic baby wipes is that Honest has sneakily changed their formula along with their marketing structure. Their packaging has changed as well. Some consumers have noted thinner wipes that are overloaded with soapy ingredients. This makes for a soggier baby's bottom.
---
Ingredients: Aqua, sodium citrate, sodium benzoate, potassium sorbate, glycerin, sodium cocoamphoacetate, chamomilla recutita (matricaria) flower extract, citric acid. Cellulose fiber makes 100% of the wipe material.
Made in: Canada.
Awarded by the Parent Tested Parent Approved (PTPA) seal of approval, these wipes are free of any harsh chemical! Additionally, their practices follow EWG (Environmental Working Group) verified criteria, which makes Attitude a brand you can count on as the best baby wipes for sensitive skin. These chemical-free baby wipes are also biodegradable and compostable, so that takes less of the worry away from you in terms of where to dispose of them.
Some consumers have reported that the packaging of these biodegradable baby wipes can be a little faulty. It can sometimes be difficult to pull one individual sheet out at a time, leaving you with a bundle of wipes instead of just one. However, careful package opening procedures can thwart this small manufacturing defect.
---
Ingredients: Caprylhydroxamic Acid, Dicaprylyl Carbonate, Organic Glycerin, Glyceryl Oleate, Lauryl Glucoside, Olus Oil, Organic Aloe Barbadensis (Aloe Vera), Organic Argania Spinosa (Argan) Oil, Organic Echinacea Angustifolia (Echinacea), Organic Plantago Major (Plantian) Extract, Polyglyceryl-2-Dipolyhydroxystearate, Glyceryl Caprylate.
Made in: USA
These could possibly be my favorite chemical free baby wipes on this list. Made Of baby wipes contain baby-friendly and gently ingredients. Organic aloe vera reduces contamination risks, and as if all this goodness wasn't enough, they also have NSF Organic Standard certification.
Additionally, it's reassuring to know that as a company, Made Of is very transparent about all ingredients they use right on their website (heck, it's even in their product name!). This gives me peace of mind that I, as a parent looking for the best organic baby wipes truly appreciate.
Ingredients: Plant-based Eco-fiber, 100% hydro-pure water…anything else there Bloom Baby?
Made in: USA.
If you're tired of certain wipes leaving a slick or sticky residue on your baby's bottom, these chemical free baby wipes are great. All these Bloom Baby wipes leave is complete softness! They have no real smell and have thick, bouncy cloths that are ideal for almost any messy situation. Many consumers also claimed to have moved over to Bloom Baby as the best organic baby wipes because other more common brands caused rashes and irritation. If a lot of people are moving to Bloom Baby to prevent irritation, that's telling you something.
One of the most troubling things about Bloom Baby is that they're current website is down. I only listed the two ingredients as mentioned on Amazon's page because it's nearly impossible to find background information about the company. No website + no ingredients = big problem!
---
Ingredients: 99.9% water, 01.% Citrus Extract.
Made in: USA.
These all natural baby wipes are almost identical to other products we've reviewed here such as Jackson Reece and Water Wipes. Bets and Emy also boast having over 99% water content in the wipe-formula they use. Citrus extract makes up the other 1%. What's in the cloth itself? Nobody knows!
It's crucial that you check the expiry date before purchasing these chemical free baby wipes that are made up of 99% water. A few purchasers have bought packages of Bets and Emy only to go home and open up a dried out pack of wipes. While these are some of the best non-toxic and organic baby wipes, even the best diaper wipes are occasionally not very buoyant, or wet. So proceed with caution when buying.
---
Somewhat Safe Organic Baby Wipes
While these brands are practically safe, they do contain some red flags to watch out for and hence did not make the cut for the best non-toxic baby wipes. Here are just a few of the moderately safest non toxic and organic baby wipes that didn't quite meet every criteria for the best diaper wipes:
Earth's Best:
This product, while it does offer up a sudsier wipe, contains alkyl polyglycoside which has not yet been tested.
Seventh Generation:
These wipes were a huge hit for many parents, but care givers worry about the addition of one sneaky ingredient. This ingredient was another not-yet-tested chemical called sodium hydroxymethylglycinate. However, do note that Seventh Generation has recently removed this semi-toxin. Now, the only worrisome thing about this brand is that they use sodium benzoate as a preservative.
BabyGanics:
Similar to Seventh Generation, these wipes contain sodium benzoate which will help prolong the wipes effectiveness.
Avoid Huggies, Pampers, and Kirkland wipes at all cost! Why? Parabens. The former two big names use several types of parabens as a preservative. Huggies in particular are getting away with using DMDM hydantoin, a type of formaldehyde. Do remember that formaldehyde is most commonly used in the preservation of dead bodies. So why on earth is it found in baby wipes?!
While Kirkland brand used to have a bad rap, they recently took away some harmful lubricating agents and preservatives such as PEG (polyethylene glycol) chemicals and propylene glycol. However, they still include questionable preservatives like phenoxyethanol and sodium benzoate.
Beware of brands that claim to be "eco" friendly or hide certain ingredients within other buzz words like "fragrance" or "organic" (without being certified).
Naty Eco Wipes are a perfect example of this borderline-scam. They may say that they're "100% eco," but in reality synthetic ingredients saturate these wipes.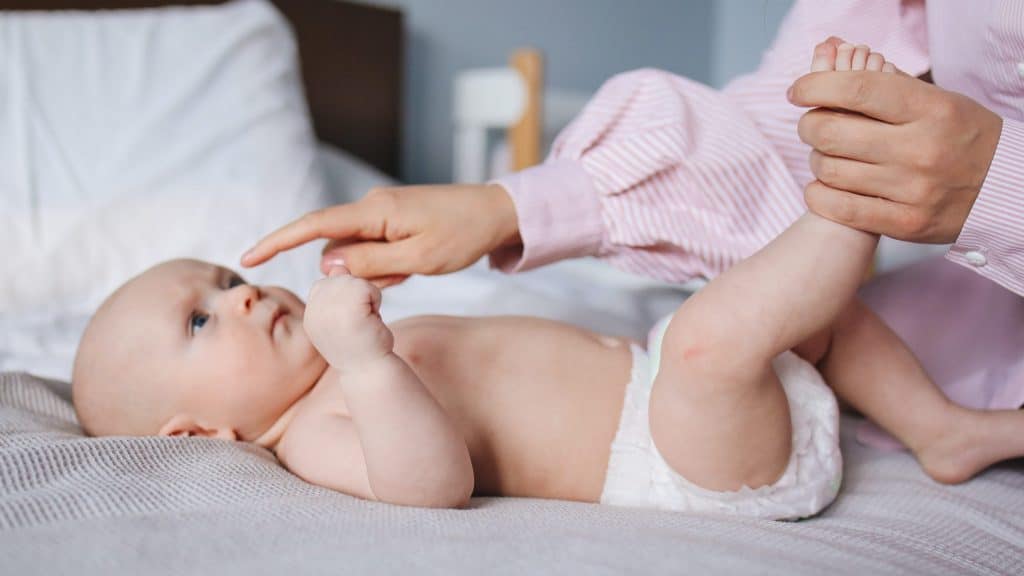 We all know that many brands use a little bit of sodium benzoate or phenoxyethanol to preserve the juiciness of each wipe. Burt's Bees Baby Bee Wipes are no exception.
While Huggies comes and goes on the sneaky radar, their Natural Care Baby Wipes still raise some suspicion. Not only has phenoxyethanol, but also cocamidopropyl betaine is present in this product. This ingredient is often used in soaps and shampoos, and is linked to allergic dermatitis.
Quite surprisingly, there's a lot left to the imagination when considering which product to buy. One of the most frustrating things with finding the best non-toxic baby wipes is that many brands fail to list what's in the wipe cloth itself.
Granted, many, if not all of the different brands that we went over are taking positive measures to reduce added preservatives, fragrances, and other hidden skin-damaging chemicals. It's important that parents and caregivers move away from baby wipes containing toxic chemicals. This is because they are prone to give rashes, cause irritation, and can even promote cancer growth. So keep those chemicals away from our baby's bottoms!
If you're pregnant and expecting a baby soon, them make sure you read our pregnancy guides which include great tips for back pain and insomnia with the lowdown on non-toxic pregnancy gear like pregnancy support belts, best non-toxic nursing bras and the best and safest stretchmarks oils for pregnancy and post-partum.
If you're new to organic and non-toxic baby products and want to know more about it for the safety and well being of your child, then I recommend you start here.