Pregnancy is a beautiful experience. Every mother knows that wonderful feeling of carrying a precious life into the world. Most moms also know that physical pain during their pregnancy can be excruciating. Every woman has a different experience, even from pregnancy to pregnancy, and there are plenty of things that can provide some relief, especially if you're still working and need to be on your feet a lot. it is especially important to choose a great maternity support belt to help you through this time.
If you're pregnant and suffering from back and abdominal pain, finding the right maternity belt is a great option to help give you some relief and make those last few months a little easier.
Best Under Belly & Lower Back Belly Support Band
One of the most important parts of a healthy pregnancy is making sure your back and abdomen are well supported. The best pregnancy support belt will help you find relief when you are starting to feel some strain on your lower back.
It's a life saver for many women and helps them get through some of those painful months.
Best Pregnancy Support Belt 2021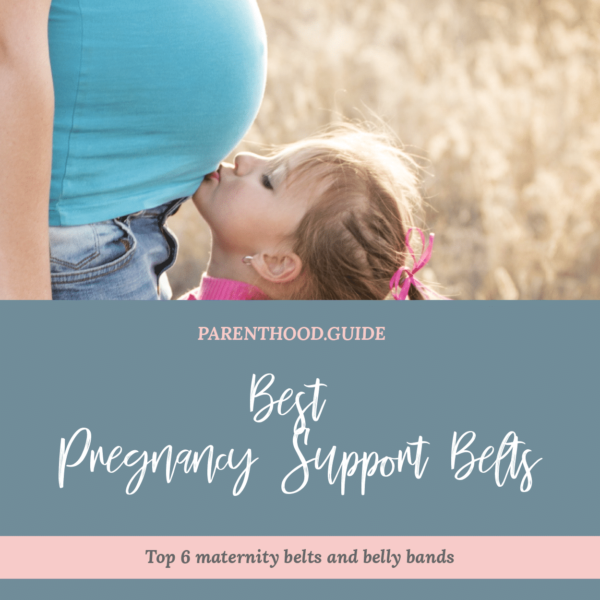 Strong Support Pregnancy Belt:
What I love about it:
The best maternity support belt I found is the Gabrialla Elastic Maternity Support Belt. I love the fact that this greatly improves ligament pain, and allows you to continue healthy exercises during your pregnancy. If you have back or pelvic pain, this is extremely helpful, especially if you have to stand or walk a lot. I also love that it comes in several colors and sizes.
Something to keep in mind:
There are couple of things to keep in mind, though. The stretch adjustable flaps have a Velcro side that is bigger than the soft side so the Velcro snags other things besides the soft side and can get ripped quickly. Some women also found that it only works until about their eighth month when it would no longer fit.
Additional Features:
The best pregnancy support belt designed specifically for women carrying multiples or for women with pre-existing lower back pain
Comes high recommended from obstetricians and is effective in reducing lower back pain plus it supports the uterus
Made of four stays for extra support and a soft foam with a cotton lining fabric plus breathable latex free elastic that provides extra comfort for daily wear
Medium Support Pregnancy Belt:
What I love about it:
Another one of the best pregnancy support belts is the Baby Belly Band. My favorite part of the Baby Belly Band is that it is made of soft and flexible fabric that is easy to care for and is machine washable. It can also grow with you during your pregnancy thanks to its Velcro compatibility on all its surfaces. It's great for multiple pregnancies and comes with add-ons that are another level of help in reducing pain.
Something to keep in mind:
Something to keep in mind is that some people find the material too flexible and it does not give them enough support. It also does not come with an instruction booklet on how best to position the belt. Also, some women with multiple pregnancies find it too small for them. The Velcro sometimes stops sticking and the belt itself tends to roll up.
Additional Features:
The Baby Belly Band is made of 100% Neoprene that is soft, durable and machine washable
It is an all in one support system that helps relieve hernia, hip and lower back pain
Comes with additional support bands that are sold separately that help with for shoulder and groin support
Sizes: It comes in Petite to Goddess Plus sizes
---
Comfortable Support Belly Band:
What I love about it:
The Mini Cradle is a great maternity band. What I love about the Mini Cradle are the great closures and how secure and smooth the fit is. It really lies flat and comfortably on your body, so it's wonderful not to be adding any more bulkiness to your body at this point. You can actually forget you have it on; it's that comfortable.
Something to keep in mind:
You do have to watch out for the lack of adjustment options of the belt. There are three settings and if you don't fit into one of those ranges, it won't work for you. Some women found that in order to have it relieve back pain, they had to have it really tight, which then caused pain in their mid-section. So it's not ideal for every woman's back pain issues.
Additional Features:
Helps to lift and support to ease back and abdominal pain that can be felt when you are pregnant
Lifts the weight from the pelvis area to improve your circulation which reduces leg and ankle swelling
Comes with three sets of hook and eye closures to fit snugly on your skin
Lies flat and comfortably on your skin and is not bulky under clothing
---
Best Under & Over Belly Support Band for Posture & Back Pain
Some of the best pregnancy support belts not only support your belly and lifts up your stomach but also have an adjustable belt across your upper stomach for some extra security. These belts give pregnant women a greater sense of belly support and relief from back pain.
What I love about it:
This is one of the best pregnancy support belts that I love and it helps a lot of women work through lower back pain by supporting the abdominal and lumbar areas. It has four elastic side panels that provide support and compression and also allows aeration. The best part of the belt is that it is adjustable so it can grow with you as you move farther along in your pregnancy.
Something to keep in mind:
The only thing to look out for with the Neotech Maternity Belt is that when you sit down, it tends to dig into your stomach, which could be uncomfortable. Some customers complained of it cutting off their circulation when sitting down. If you have a desk job, this is probably not a product that will work for you.
Additional Features:
Comes with an instruction booklet to help you figure out how to put it on
It's made of a multi-layered laminate and a cotton/nylon elastic lining that adds compression and ventilation
Comes with an abdominal lift attachment that provides lift without unnecessary pressure and holds the belt in place and keeps it from rolling.
---
Best V2 Pregnancy Support Belt
A V2 support belt is clinically proven to be a convenient and effective compression therapy for a variety of issues. Not only does it help to relieve pressure, but it help to prevent too much swelling of your vulvar veins. The V2 supporter belt is also adjustable so you can choose just the right amount of compression that you need.
What I love about it:
The Prenatal Cradle PLUS by It's You Babe uses the life and support of the Prenatal Cradle and combines with the compression V2 Supporter is the Best V2 Support Belt. The Prenatal Cradle PLUS is made with soft, flexible flannel backed elastics that help to support your baby off of the pelvic cradle and support the entire tummy. It also uses adjustable compression therapy to help that feeling of "everything is going to fall out". It also helps improve your posture while helping to relieve many pains associated with pregnancy.
Something to keep in mind:
One thing to keep in mind about the Prenatal Cradle Plus is that it is slightly difficult to put on. It does not completely open up so you will need to put it on like a shirt. This can be hard, depending on how far along you are, and also how well-endowed you may be.
Additional Features:
It actually improves your posture as it eases any pain that you have during pregnancy
Your circulation is improved, and swelling is reduced in ankles and legs
You can wearing it when you need to use the bathroom
If you wear it in the morning when you get up, it helps to stop your vulvar veins from swelling
The V2 portion can be removed if you just want the cradle support
Best Pregnancy Support Belt For Cover Up:
When back support is not a big issue for a mom-to-be, but extending her wardrobe is the main concern, a maternity belt for cover up is a great option. They are a great addition to your wardrobe, and come in tons of color choices. These belts help you wear your pre-pregnancy clothes for a few more weeks or even months. These work like magic on your favorite jeans, when you don't want to start wearing those maternity pants quite yet.
What I love about it:
The best belt for cover up in my opinion is the Bellaband. The Bellaband is a brilliant product, with a seamless band that was created to hold up your pants while they are unbuttoned. The Bellaband is a great way to continue wearing your pre-pregnancy clothes and put off wearing maternity clothes. You can either wear full length to cover your stomach or folded in half for extra support. It also comes in different colors to coordinate with your wardrobe.
Something to keep in mind:
On the downside, finding the correct size for you can be a challenge even by using the chart provided by the company. Some customers complained of a smell when they first got it and required several washings before it was wearable. Others had issues with their pants coming down while wearing the product and the zipper digging into their stomach from the pressure of the band.
Additional Features:
Bellabands are made of 84% Nylon and 16% Cotton
They are imported and machine washable
They are a great option to extend the use of your regular clothes letting you wear your pants unzipped while having the stretchy maternity band in place
You can wear it the regular full length or folded over for extra hold
Body Pillows that Help with Back and Abdominal Pain Management
If you're having lots of back and abdominal pain, maternity belts are a great option to get the support you need so you can focus once again on your health and the beauty of your pregnancy.
Depending on where your pain is concentrated, you can find the best pregnancy support belt that's right for you to help you through the final months.
Don't worry, pregnancy is completely worth all the pain you are going through right now, and who knows, you might even want to do it again.