There are a plethora of decisions you need to make when expecting your bundle of joy, and the most obvious one is how to cover their cute little bum. After all, babies will need to use several diapers daily for at least two years, and this may not be a small investment for any parent. Enter organic cloth diapers.
When I first became a mom, I could see the appeal of using cloth diapers, but didn't know where to start. Some of you may not consider cloth diapering at all. Or you may not have seen anyone do it other than your grandma. Well, the good news is cloth diapering can be way more comfortable than you think and is a great way to reduce your babies' exposure to harmful chemicals as well as protect the environment.
Here is a complete guide on cloth diapering to help you decide on the best organic cloth diapering products for your baby.
Organic Cloth Diapers vs. Disposable Diapers
Are you adding an extra member into your family? And you are trying to figure out whether to use disposable diapers or to go for the cloth diapers? You need to understand the difference to come up with a knowledgeable choice that suits you best.
Organic cloth diapering will be a cheaper option; the disposables will cost you at least $2000 before the baby is potty trained, and $3000 for the best organic disposable diapers. However, the cloth diapers will cost you around $400 and relieve you of the repetitive stress over budgeting since you can use them on multiple children.
Cloth diapers are more environmentally friendly than disposables; however, cloth diapers require a lot of water and electricity to keep them clean. When you choose the cloth diapering system, you eliminate greenhouse gases associated with the production and distribution of disposables. You may want to consider organic cotton and unbleached cotton diapers with less environmental impacts.
Disposable diapers may contain some nasty chemicals, and if you are the kind of parent concerned with the thought of exposing your baby to toxins, then you might want to go for the organic cloth diapers for better baby skin. Besides, babies who wear cloth diapers potty trains quickly than those using disposables.
Cloth diapers are also cuter than the disposables in terms of color patterns and texture, especially when the baby dresses in diapers only.
Different Types of Cloth Diapers
Once you have decided to go for organic cloth diapers, the next thing is to decide on which model you will use.
Flats are single-layered square fabrics that you can fold in various ways.
Prefolds are folded into three sections, and you can wrap them around your baby and fasten them with stereotypical pins.
Contours are already shaped but will still require pins for closure.
Fitted are shaped to fit around baby's tush and have elastic leg holes. This translates into fewer leaks (Phew!).They're easier to use than flats and contoured cloth diapers, and come with built-in snaps or Velcro fasteners.
Pocket diapers have various sections where you can insert an absorbent pad with fleece cloth material to help your baby stay dry even when she wets.
The all-in-ones contain a set of porous layers and a waterproof outer cover, thus pricier than other types.
All in-twos come with detachable inserts, and you can use the shell for more than one diaper change.
Hybrids feature a removable inner lining and a waterproof shell while the sleeve diapers are similar to pockets with an opening at both ends.
Best Organic Cloth Diapers 2021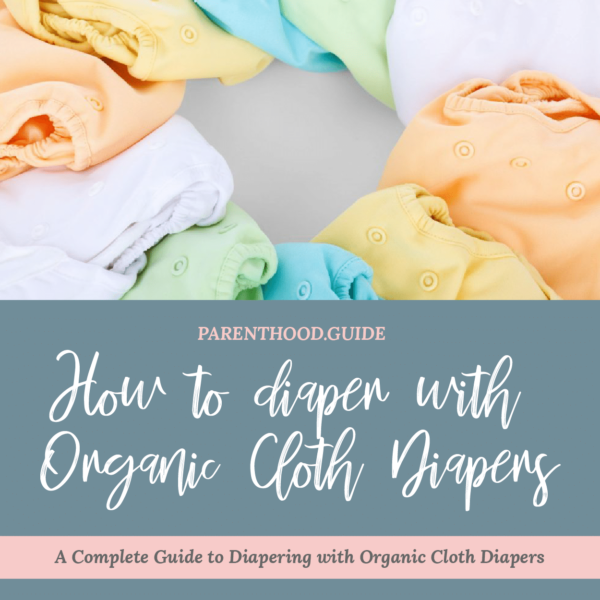 Best Pre-fold Cloth Diapers:
This internet's best-selling pre-fold cloth diaper has earned it's place for good reason. OsoCozy Prefolds Unbleached Cloth Diapers are one of the the softest, most absorbent and durable natural diapers for infants. Size 1 fits infants from 7-15 lbs and are generally used with diaper covers or plastic pants. Each measures 12 x 16" prior to washing, and will shrink down approximately 5-10%.
Made of pure, 100% unbleached Indian cotton in a lint-free thick gauze weave, for superior softness and strength. Additionally, the middle panel has eight layers of absorbency and outer panels have four layers, offering plenty of absorbency and durability. Wash and dry these unbleached diapers 2-3 times prior to use to remove natural cotton oils and ensure optimal feel and absorbency.
Easy to care for, simply toss soiled cloth diapers into the wash then machine or line dry. When not using as cloth diapers, they also work great as polishing rags, burp cloths and for other natural home and baby care needs.
Pre-fold cloth diapers are an inexpensive, easy to launder cloth diapering system. Pre-folds are used with waterproof diaper covers. Pins or other diaper fasteners are optional.
What I love about it:
00% Cotton organic cloth diapers
Soft & Lint-free
Most Complete Line of Prefold Diapers Anywhere
Organic Prefolds that are GOTS certified 100% organic cotton
Also available in a Bamboo/Organic Cotton Blend
Something to keep in mind:
Each measures 12 x 16" prior to washing, and will shrink down approximately 5-10%.
Wash and dry these unbleached diapers 2-3 times prior to use to remove natural cotton oils and ensure optimal feel and absorbency.
Cloth diapering has never been so easy. BumGenius One-Size Organic Cloth Diapers feature a butterfly closure system to provide a comfortable, trim fit. This simple design makes cloth diapering as easy as using disposables. The familiar design makes bumGenius one-size cloth diapers perfect for care providers who might be resistant to cloth diapering (including day cares).
All bumGenius One-Size Cloth Diapers include a small, lightweight insert for newborns and a larger one-size insert for your growing baby. When your baby outgrows the newborn insert, it works as an overnight booster or as extra absorbency for heavy wetters. The soft, waterproof outer fabric keeps the diaper trim on your newborn and toddler. Soft, suede inner fabric gently wicks moisture away from your baby's skin. Super stretchy, gentle leg and back elastic with rolled out casings keeps the "cargo" in and are soft on baby's sensitive skin. It has a unique covered slot opening that keeps baby protected from moisture.
BumGenius One-Size Cloth Diapers fit most babies from 7 to 35+ pounds. Three snap-downs on the front of the diaper allow you to easily adjust the size of the diaper as your baby grows. For newborns, fold down the insert stopper for an extra-small rise.
What I love about it:
Patented leak-proof outer cover and stretch-to-fit sides for a custom shape and fit.
Easy to use durable snap closures help keep diapers on older babies.
Patented covered lining opening protects baby from moisture. Soft lining wicks moisture away from baby.
Diapers are bundled with two inserts: a newborn insert for newborns and a one-size insert for your older baby.
Patented 3 x 3 snap system adjusts to fit babies 7-35+ pounds and gentle leg elastic prevents leakage.
---
Best All-in-one Cloth Diaper:
Bambino Mio's award-winning Miosolo is a simple, stylish and super soft all-in-one cloth diaper which is as easy to use as a disposable if required. The diaper is one size, meaning it will grow with your baby from birth to potty training.
The Miosolo all-in-one diaper has a range of unique features including a pull-out tab system which makes removing the core from inside the diaper as simple as possible – this improves laundry performance and speeds up drying time -and a tuck-in pocket which makes the diaper easier to stuff and is perfect to insert a booster pad to maximize absorbency.
What I love about it:
Stylish, super soft all-in-one organic cloth diapers. The diaper is one size. So it will grow with baby from birth to potty training.
The size of the diaper can be changed using the adjustable snaps and hook and loop fastenings to suit the shape of your little one.
Concealed super absorbent core and stay-dry inner layer keep moisture away from your baby's delicate skin.
Super soft fabric, providing a soft and comfortable diaper for your baby's bottom.
Stretchy water resistant outer fabric.
Available in a range of funky designs.
Something to keep in mind:
Washing at higher temperatures and frequent tumble drying can result in premature deterioration of your diapers.
---
Best Hybrid Cloth Diaper:
It's a top quality diapering system that combines the most modern textiles in cloth diapering with the old-school concept of a waterproof diaper cover that's reusable between washes.
The reusable Snap Cloth Diaper Shell is adjustable to fit babies from 8 to 30 lbs. This diaper closure is easy to master, very similar to the traditional disposable diaper. There are so many options of absorbency when using the hybrid cloth diapering system. Pair the stylish GroVia Snap Shell with any combination of snap-in Soaker Pads, economical Prefold cloth diapers, or eco-friendly disposable BioSoakers to create a simple, yet flexible, modern green diapering system that anybody can change and everybody will love.
Manufactured with safe non-toxic materials. Healthier for baby, less diaper rash while making less waste in our landfills, save hundreds of dollars each year, and no dioxins. These organic cloth diapers are fairly and conscientiously made in China.
What I love about it:
Adjustable fitted cover
Can easily add absorbency.
Machine washable.
Made of Safe Materials. Inner Body: 100% Polyester Mesh. Outer: 100% Water Resistant Polyester TPU. No Dioxins
Outstanding Hybrid Cloth Diaper Shells
Fits 8 to 30 lbs.
Less waste in our landfills
less diaper rash
Easy to Use
Something to keep in mind:
Inner Body: 100% Polyester Mesh. Outer: 100% Water Resistant Polyester TPU. While they are still safer plastics and high quality polyester, do keep in mind that these are not natural or organic materials.
---
Best Leak-Proof Cloth Diaper:
Rumparooz Cloth Diaper Snap by Kanga Care is a one diaper solution with four sizes. So it fits most babies from 6-35+ lbs (birth to potty training). Kanga Care brand cloth diapers are uniquely designed with the patented leak protection technology of dual inner gussets to keep the messiest of messes locked in.
The Rumparooz are a pocket diaper system. Each diaper comes with a set of absorbent pads that are customizable for 6 absorbency settings. The Rumparooz organic cloth diapers are available in a many vibrant color and fashion forward prints.
What I love about it:
Patented double inner gusset leak technology
Snap closure
Hypoallergenic
Something to keep in mind:
The newborn size should be used with the contoured newborn insert that comes with each diaper.
---
Best Organic Cloth Diaper for Small Babies:
The Lil Joey is another newborn diaper designed by Kanga Care to fit from approximately 4-12 lbs. It also features the patented double inner gusset leak protection design, exclusive to Kanga Care brand diapers. The inside of each diaper is designed with two gentle inner gussets, a double barrier that protects against accidents.
The Lil Joey also features a snap down front for sensitive cord care during those first precious days. Essentially it is one of the simplest cloth diaper systems on the market. Additionally, the Lil Joey is an All in One diaper with the core being 4 layers of sewn in microfiber with an exterior waterproof polyester TPU that comes in a variety of fun colors and fashionable prints.
What I love about it:
Snap down front for sensitive cord care
Patented dual inner gusset technology
Hypo-allergenic, no pill micro chamois inner
Sewn in 4 layers microfiber
Snap closure
Something to keep in mind:
These organic cloth diapers fit babies from 4-12 pounds in weight
---
Best Diaper for Chunky Babies:
Smart Bottoms is great brand using safe and natural materials as much as possible, with babies' sensitive skin in mind. They believe that behind every cloth diapering parent there's a story – one of why they chose to go against the majority. Why they chose the healthier, more environmentally friendly, cost-saving option. Organic cloth diapers of today are like no other, and Smart Bottoms provides the easy, healthy way to keep your baby clean and secure.
What I love about it:
Adjustable – With 4 rise settings, these diapers can be used from birth until potty. This all-in-one style diaper feature all of the absorbency your child will need. The attached insert may also be folded to provide more absorbency where your baby needs it the most.
Organic cotton – 100% certified organic cotton interior and a waterproof outer layer. These diapers are third-party tested to exceed CPSC standards, offering superior absorbency without additional bulk in a durable and water-resistant reusable diaper.
Quick dry – Uniquely designed to wash easier and dry faster than most other all-in-one style diapers on the market.
Prevent leaks – This all-in-one diaper has wide elastic around the legs and across the back to decrease the chance of red marks as well as preventing leaks. Highest-quality USA-made elastic on diapers so they can be tumble dried without losing their elasticity.
Made in the USA – Smart Bottoms is a small business proudly owned and operated 100% in the US with fabrics and cut and sew operations sourced from North American factories and mills.
Something to keep in mind:
While this is a great choice for medium and chunky babies, the elastic and design might not the an ideal choice for smaller babies.
Essential Cloth Diapering Accessories
Most organic cloth diapers will require inserts or absorbents, for nighttime or as the baby grows. You will also need liners used on top of the diaper and lying next to the babies' skin to prevent cloth diaper rashes. Travel wet bags are essential to hold wet diapers during a journey, and the dry bags are handy for storing wipes, change diapers, or spray.
The cloth diaper sprayer makes it easy to clean up stinky messes and can help in extending the diaper's shelf life. You might also need a diaper cloth pail and liner to store soiled ones until you have a considerable load of washing. You also need a cloth diaper detergent depending on the type of your diaper fabric, and cloth wipes to clean your baby. When using pre-folds or flats, you need snappers or pins for a more secure fit.
FAQs About Cloth Diapering
Organic cloth diapering is an easy and straightforward process, and here are some basics to help you through.
Why you need organic cloth diapers?

They are fashionable and of good material to ensure waste ends up in the right place. Besides, they provide maximum comfort by facilitating better airflow. Generally, cloth diapers are versatile, reusable, Eco-friendly, cheaper, safer, comfortable to put on and take off, and more adjustable with a more secure fit to keep messes contained.

How many do you need?

The age of the baby determines the number since newborns need more than toddlers. Newborns tend to poop a lot; thus, you'll probably be using around 20 to 24 in a day. For toddlers, they stay for about three hours; therefore, you need about 12 to 16 until the potty train.

How to use organic cloth diapers on the go?

You can still use cloth diapering while traveling, but ensure that you carry along a high-quality wet bag. Include a changing pad for a smooth change in public places, diaper totes, and organic disposable wipes. Pack around four to five organic cloth diapers and two to three covers if you are not using all in ones.

What diaper creams can be used with cloth diapers?

You need to be extra careful with your diaper creams since some may cause buildups. Avoid microcrystalline wax, candelilla, and panthenol based products which may repel with the diapers fabrics. Some cream examples include Balm baby diaper balm, CJ's butter Shea butter balm, and Cortizone 10, among others.

How to wash organic cloth diapers?

If soiled, use diaper spray to remove poop; secondly, soak in water to eliminate stains before washing. Speed wash using cold water and detergent then run another wash using hot water, soap, and a small amount of baking soda to improve cleaning. Do more rinsing with the maximum water setting for your machine.

What are cloth diapering and washing services?

If the idea of handling cloth diapers doesn't appeal to you, you may opt to use diapering services. Their job is to pick up the dirty diapers and give you clean ones to help ease the laundry burden. You might also rent out cloth diapers, from the washing service providers instead of buying.
Diapering has evolved tremendously in recent years, and you have numerous options to consider. The above organic cloth diapering guide will help you make an informative decision as to what best suits your baby.
Note that organic cloth diapers are now much better options from what our mothers used. They come with with fancy and colorful prints and moderate absorption. On top of this, they are Eco-friendly and chemical-free. It isn't necessary to stick to one brand of cloth diapers try out various types to enjoy maximum benefits for different stages.
Remember to use the right cloth diaper creams, wipes, and detergents, also choose one with several layers for better absorption and change them once they are wet or messy. Read on for some more useful nursery basics like the best cribs attached to bed and non-toxic play mats.
If you're pregnant and expecting a baby soon, them make sure you read our pregnancy guides which include great tips for back pain and insomnia with the lowdown on non-toxic pregnancy gear like pregnancy support belts, best non-toxic nursing bras and the best and safest stretchmarks oils for pregnancy and post-partum. If you're new to organic and non-toxic baby products and want to know more about it for the safety and well being of your child, then I recommend you start here.