The closeness with your baby means that they begin to familiarize themselves with your scent, voice, and other characteristics. Therefore, you probably want to baby wear and take your baby everywhere and have him close to you at all times. But taking your baby everywhere is not a walk in the park. As time passes, they start to gain weight and become heavier to carry around. More over you want to wrap your baby in something that's safe for baby's sensitive skin. This is where the best baby carriers come in handy. Choose an organic baby backpack for infant or toddler, and you won't regret it.
There are several brands of baby carriers in the market, but not all of them are right for you. They may not be comfortable for your body type or for your baby. They might contain materials that leach toxic chemicals gradually on to baby's skin.
When choosing the best organic baby carrier, make sure you go for a non-toxic baby carrier that's free of BPA, Phthalates and flame retardants. The more natural the fabric and finishes, the better. You might also want to consider factors like the size and weight of your child.
Carrying a baby using a carrier takes care of challenges like weight. Baby carriers and wraps evenly distribute the weight of your baby, hence protecting your hips from the dangers of excess weight. They, therefore, make carrying your baby around effortless and comfortable for both you and the baby.
What to Look for in an Organic Baby Carrier?
Materials
The material from which the baby carrier is manufactured influences such factors as the comfort and durability of the product. Most organic baby carriers are made from cotton, which is a good choice because it is soft and breathable, hence is safe for your child. It is also lightweight and effortless for the wearer to move around with. Also, organic cotton is easy to wash and machine-friendly. This makes it more convenient than other materials on the market. Organic baby carriers are all natural and chemical free. Avoid materials that contain phthalates as this is unsafe and not eco-friendly.
Positioning
This refers to the positions in which you can carry your baby using the carrier. Most products, as you will see in the reviews below, feature four positions (Front, back, and the sides). When choosing the best organic baby carrier, make sure that it is designed for multi-position. Otherwise, it won't be comfortable. In this post, we came across one that supports up to 6 positions, which you will see below.
Head Support
Head support is very important, especially for newborn babies. Try a baby carrier with padded neck support for extra comfort and safety.
Safety and Comfort
When choosing the best baby carrier, consider one that is comfortable for both the baby and the wearer. Elements like neck support, lightweight material, padded shoulder straps, and stretchy fabric play a great role in the comfort element. When it comes to safety, consider the material used and the design of the product. Also, consider an all natural baby carrier that is chemical free.
Longevity
This refers to how long-lasting the product is. A product's longevity is influenced by its material and design. Consider a product that is built to last you more than a couple of years.
Ring slings
This is a long piece of fabric with two rings at one end. To wear this carrier, you have to thread the free end of the fabric through one of the rings, then tuck it underneath the second ring. The fit can be adjusted to fit the wearer and the baby's body.
Infant wraps
Wraps are the most traditional of baby carriers. They feature a long piece of fabric that is wrapped around your body and that of your baby, then tied to create a cosy space for the baby. How they are toed depends on the brand. Infant wraps are suitable for babies who are below four months old.
Soft-structured carriers
These carriers come with padded straps for the shoulders and thick waistbands that are also padded and fastened around the waist. They feature a panel, which is the fabric where the baby sits. The panel is adjustable using the straps. This is the most common type of baby carrier in the market today.
Best Baby Carrier 2021 (Organic and Non-toxic Picks)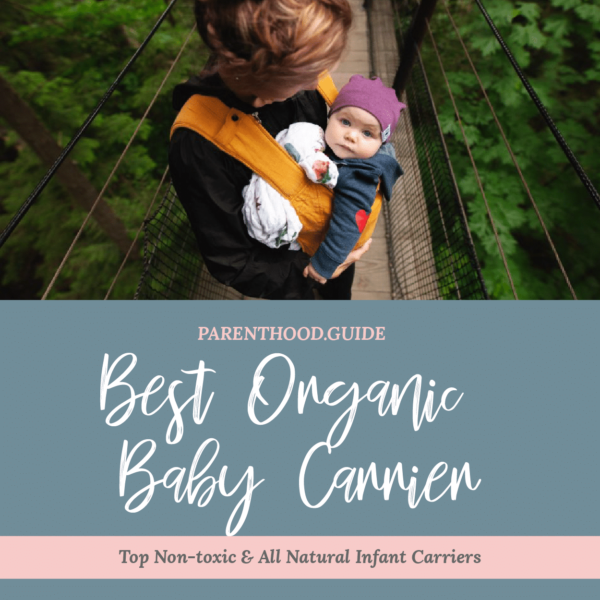 Top 4 Best Baby Carriers for Newborns
This baby wrap is designed for infants who are less than three months old. The baby wrap is made from non-toxic, soft, stretchy, and long-lasting material. The stretchy fabric allows it to grow as your baby grows. Hence, it can support kids between 8 and 33 pounds. For added comfort, this baby wrap is designed in such a way that it distributes the baby evenly. It is, therefore, comfortable for both the mother and child. Additionally, the Moby Evolution Baby Wrap is warm, safe, and stylish. The baby carrier is also quite easy to use.
What I love about it:
Lightweight baby wrap.
The baby wrap adjusts to the weight of your baby as he grows.
Made from soft, long-lasting, and non-toxic material.
It is comfortable for both the child and the mother.
Stylish baby wrap.
Something to keep in mind:
There are a few complaints about the product being too soft.
This baby wrap is constructed from 100% natural cotton fabric. It is designed to make the babies feel like they are back in the womb. Unlike other products in the market, this baby wrap does not have strings or belts for support but a single sling, which is quite functional. The wrap can be used to carry your infant in more than one position. Also, it is made from stretchy material that grows with your baby.
What I love about it:
Quite comfortable for both the mother and child.
Perfect for breastfeeding.
Made from pure cotton that can stretch up to 35 pounds.
It supports more than a few positions of carriage.
Something to keep in mind:
The comfort feature could be better
---
You no longer have to worry about dimensions when looking for the best organic baby carrier for your newborn. This product is for babies under are below four months old. It is manufactured from a stretchy and comfortable material. The cotton and spandex fabric also allow the wrap to retain its original shape, even after prolonged use. The fabric is easy to clean as it is washing-machine safe. Also, it features a perfect weight distribution element, which increases the levels of comfort and safety for both the mother and infant.
What I love about it:
Made from a combination of cotton (95%) and spandex, which is strong and breathable.
Comfortable for both the mother and infant.
Made with stretchy material that can support kids of different weights.
It can be used as a privacy shield for nursing moms.
Something to keep in mind:
It may not be as comfortable for less than two-week-old babies.
Tends to get hot.
---
No products found.
This German baby wrap is made of pure cotton. It is designed with the comfort of the mother and baby in mind. It is also one of the most durable products of its kind in the market. This is because its slings have a double hemline. The slings also provide a supportive embrace to the neck and back of the baby. For easy tying, the slings of this baby wrap have tapered ends. Also, it is quite elastic, hence great for multiple babies with varying weights.
What I love about it:
It is super comfortable for both baby and mother.
Made from long-lasting and elastic fabric.
Easy to use.
Something to keep in mind:
It only comes in a single size.
No products found.
Top 5 Best for 4 Month-Olds and Above
This is a multi-position baby carrier. This means that you can wear baby on the front, side, or back, depending on what works for mother and baby. Ergobaby organic baby carrier is for babies between 4 and 48 months of age. Additionally, the ergo baby organic baby carrier has an extra-padded waist belt and shoulder straps for more comfort. This becomes a privacy shield during breastfeeding. And to top it off, this baby carrier has additional features like zipped pockets. These can hold essentials for the baby. Additionally the fabric is machine washable. This is by far the most popular pick for the best baby carrier.
What I love about it:
Quite comfortable.
Can be used as a privacy shield for breastfeeding.
Comes with zipped pockets for storing baby essentials.
Made from strong and long-lasting machine-washable cotton fabric.
Something to keep in mind:
It is hard to use.
It is quite costly.
---
This is a comfortable baby carrier that has an ergonomic design. It is for children between 0-36 months. For this reason, it is a size-adaptable product. This feature is beneficial to both the wearer and the baby in question. The carrier is lightweight, breathable, and machine-washer friendly. It has more than one position and has a wide seat region for children of different ages. However, the maximum weight limit is 30 lbs.
What I love about it:
More than one position.
Features a wide seat region for kids of different ages.
Made from lightweight, long-lasting and breathable material.
Quite comfortable.
Something to keep in mind:
---
This is one of the most versatile baby carriers in the market. It has four carrying positions, which are all quite comfortable. This baby carrier can be used by young and growing kids. This means that it can handle up to 35 lbs worth of baby weight. It is also constructed with strong and soft fabric that adds to the comfort element of the baby carrier. The Beco brand offers a variety of sizes to choose from. Each of these products features adjustable straps and superior padding for added safety.
What I love about it:
Highly secure.
Made from durable and sturdy fabric.
Stylish design.
More than one position.
Something to keep in mind:
It is not as lightweight as the other products in this write-up.
---
One of the most impressive features of this product is that, unlike the rest, it can be used in six positions. It is made from organic cotton, which is both durable and comfortable. The baby carrier offers comfort even when used hands-free. Additionally, it has adjustable side panels that allow for position adjustments for added safety and comfort. Moreover, it is lightweight, soft, and quite stylish. Lastly, its balance elements are also quite attractive.
What I love about it:
Features six positions of use.
Made from durable yet stylish fabric.
Designed with comfort and security in mind.
Something to keep in mind:
---
With this baby carrier, you can carry your kid either from the front, sides, or back. The design is great and each position is very comfortable. The baby carrier is is airy and contains lightweight cotton that's easily machine washable. Padded shoulders straps increase levels of comfort. Additionally, an adjustable neck support pillow supports the weight of your baby. Lastly, it is for babies from 0 to 36 months and features a weight distribution element.
What I love about it:
Padded for added comfort.
Made from breathable and quite long-lasting fabric.
Designed in such a way that it evenly distributes the weight of the baby for added comfort and safety.
Something to keep in mind:
It is not comfortable when used by petite parents.
When choosing the best organic baby carrier, make sure you avoid carriers that contain phthalates and BPA. These chemicals are harmful for both baby and wearer. This is because they tend to cause chemical poisoning. That's why each of the products on this review is 100% free from these harmful chemicals. So you're sure to find something that you will like, and you can effortlessly keep your baby close to you at any time you want. If you're expecting twins, then make sure you check out our reviews of the best twin baby carriers out there.
If you're looking for other great non-toxic and safe baby products, make sure to check out our reviews of some of the best strollers and car seats. Or head over to out baby gear guides to find safe and non-toxic stroller, car seats and much more.