Preparing for the arrival of twins can be overwhelming. There's a lot of equipment needed with one baby, but with two little bundles of joy on the way, do you really need twice as much stuff or do you just need to shop smart? The best bassinet for twins will be cleverly designed to take up less room than two standard cribs.
Babies tend to sleep in bassinets from birth to around 3 months old. Bassinets are smaller and easier to move around the home. They can be positioned closer to mom too so both parent and baby are happier. Twin bassinets are a great purchase – they let the two babies get close together helping them settle at nap time. Some come with extra features such as storage pockets and changing tables and others convert into a play yard.
To help pick out the best bassinet for twins, we've taken a look at the pros, cons, benefits and drawbacks of the most popular products.
Why Is A Twin Bassinet Needed?
Twin bassinets are more compact than two separate bassinets taking up less room and enabling both babies to be close to mom. As bassinets are small, babies feel more cocooned inside and make an easier transition from the womb. Bassinets are easy to move around the home and they are transportable for easy traveling.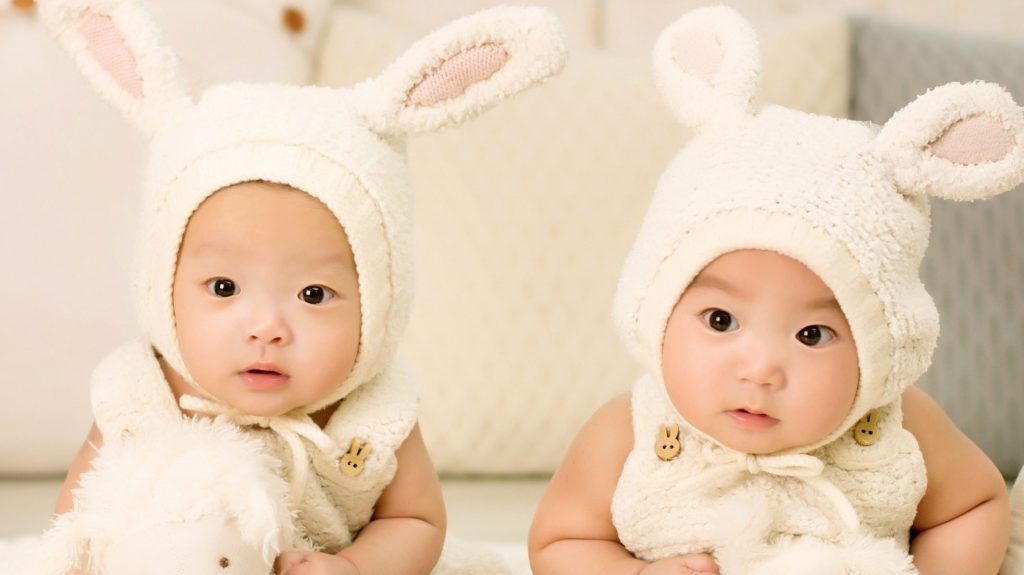 Reviews of the Best Bassinet For Twins in 2021
This bassinet has a simple, practical design with a unique Z-shaped frame. The mesh divider in the Simmons Kids by the Bed City Sleeper allows twins to see each other while remaining in separate sleeping spaces. Made with mesh sides too, air flows freely around this interior.
The Z-shaped frame means you can tuck the bassinet close to your bed and the 5 height adjustments ensures you can set the perfect position to watch over your little ones. Wheels enable easy movement of the bassinet around the room. Made from 100% non-toxic materials.
What I love about it:
Z-frame feet slide underneath a bed or sofa
Water resistant mattresses included
Pockets to store handy items
Something to keep in mind:
The divider cannot be removed
This bassinet doesn't fold down
The Baby Trend Twin Nursery Center has lots of features that make caring for twins easier. The two independent bassinets can be used on their own as stand-alone rockers or clipped side by side on the center. Each has a canopy and carrying handle. A flip-up changing table is available on one side and an organizer for diapers can be stored underneath.
A small drawback of this nursery center is that the bassinets must be removed to make use of the changing table and organizer. To keep the little ones entertained, each bassinet comes with a light and sound musical toy and a night light. There are two large wheels underneath to move the center around with ease and it all packs away for travel. Overall, this is possibly the best bassinet for twins.
What I love about it:
Mesh sides for a free flow of air
Strong, quality materials used
Play yard area to keep babies safe
Bassinets for up to 15 lbs.
Coverings are removable for washing
Something to keep in mind:
Each baby sleeps in a completely separate bassinet
---
The Joovy Room Nursery Center is an addition accessory for the extra-large Room² playard. This playard is a lot bigger than most others on the market offering a perfect play area for twins. With 10 square feet of space, there's plenty of room for two babies. The bassinet holds babies up to 15lbs in weight and has a zipped divider that can be removed. It's a simple yet affective design that includes a baby changing area as well.
The play yard has a low base with mesh sides providing lots of ventilation and the material allows the babies to see out too. As well as being a safe play pen, the Joovy Room² can be used as a travel crib. You will get many months of use from this playard thanks to its generous size, making it another great pick for the best bassinet for twins.
What I love about it:
Nursery center is purchased separately to the playard
Playard is 50% larger than standard versions
Joovy provides a 2-year warranty
Easy to fold up for storage or transportation
Can be used as a travel crib as the twins grow
---
The Baby Trend Go Lite Twins Nursery center provides lots of functionality. It's very similar to the Baby Trend Twin Nursery Center by Circle Tech but is lighter in weight by 3 lbs and it's easier to assemble. There are two separate bassinets with rockers, canopies and a carry handle that can be removed from the nursery center. Mesh sides ensure an easy flow of air.
The play yard has been manufactured from aluminum making it strong and light. A built-in flip-away changing table is a handy addition and the organizer is clipped to the front of the frame providing compartments for diapers and wipes. Two musical toys attach to the frame to pacify little ones when they need a lullaby. The whole thing packs away into a carry bag.
What I love about it:
Two separate bassinets that are easy to remove
Light weight for easy transportation
For birth to 3 months
One-hand lock
Playard section for safe play
Baby equipment that does more than one job is always handy, especially when you have twins. This Pack 'n playard comes with a carry bag to make transporting it easy. When in play yard mode it's large enough for 2 little ones and plenty of toys. The base of the play yard moves up to the top and becomes the base of a divided bassinet.
A quilted bumper wraps around each of the bassinet areas and two canopies create cozy sleeping pods. The sides are mesh to ensure plenty of air flow. It comes in a nice gender neutral color with modern, geometric patterns. All the surfaces are wipe clean material.
What I love about it:
Easy to transport
Spacious sleeping areas
Bassinet for babies under 15 lbs.
Graco are a trusted baby product manufacturer
Something to keep in mind:
The bassinets cannot be used on their own when removed
There is only one base, it is lowered and raised for use in the play yard or the bassinet
---
What's Better For Twins? A Double Bassinet Or Two Singles?
There are pros and cons with each. A double bassinet allows twins to sleep closer side by side. This will help them settle easier. These bassinets are also more compact in size which is important if space is limited. Having two single bassinets, however, would give you the chance to take each baby out separately, maybe to visit family.
What to Consider When Buying The Best Bassinet For Twins
Some considerations will be more important to you than others but thinking about the portability, size, weight, ease of movement and weight limits is essential.
Safety is always the first consideration when it comes to baby equipment. Does the bassinet pass all safety regulations and is the material non toxic?. Well-known brands are better trusted for safety and will have experience when manufacturing baby items.
Make sure the item is suitable for the age and weight of your babies. Usually bassinets are for newborn and up to 3 months old but some can be used a little longer. Once a baby is too heavy for a bassinet, it's time for the twins to move onto a crib.
When it comes to functionality, there are several things to look at. Do you want bassinets that can be removed from the frame independently and used for carrying each baby around? Some twin bassinets offer multiple functions and convert into a playard with a changing table and organizer. Pockets and compartments for wipes and pacifiers can be helpful.
Look for wheels for easy portability around the home and a locking system for safety. For travel, a range of bassinets fold down and fit inside a carry bag. If you plan to move the bassinet regularly, make sure it is lightweight and easy to fold down and assemble.
For keeping inside a single household, these features aren't necessary.
Most bassinets today are made with mesh walls. This is to ensure free-flowing ventilation and it also helps to see the baby at all times. Mesh will prevent the bassinet from getting overheated.
Bassinets with canopies are available. The canopy keeps sunlight off the baby's face and creates a cozy feeling. Canopies also protect babies from draughts when it's cold. Canopies are handy for hanging toys from to keep little ones entertained.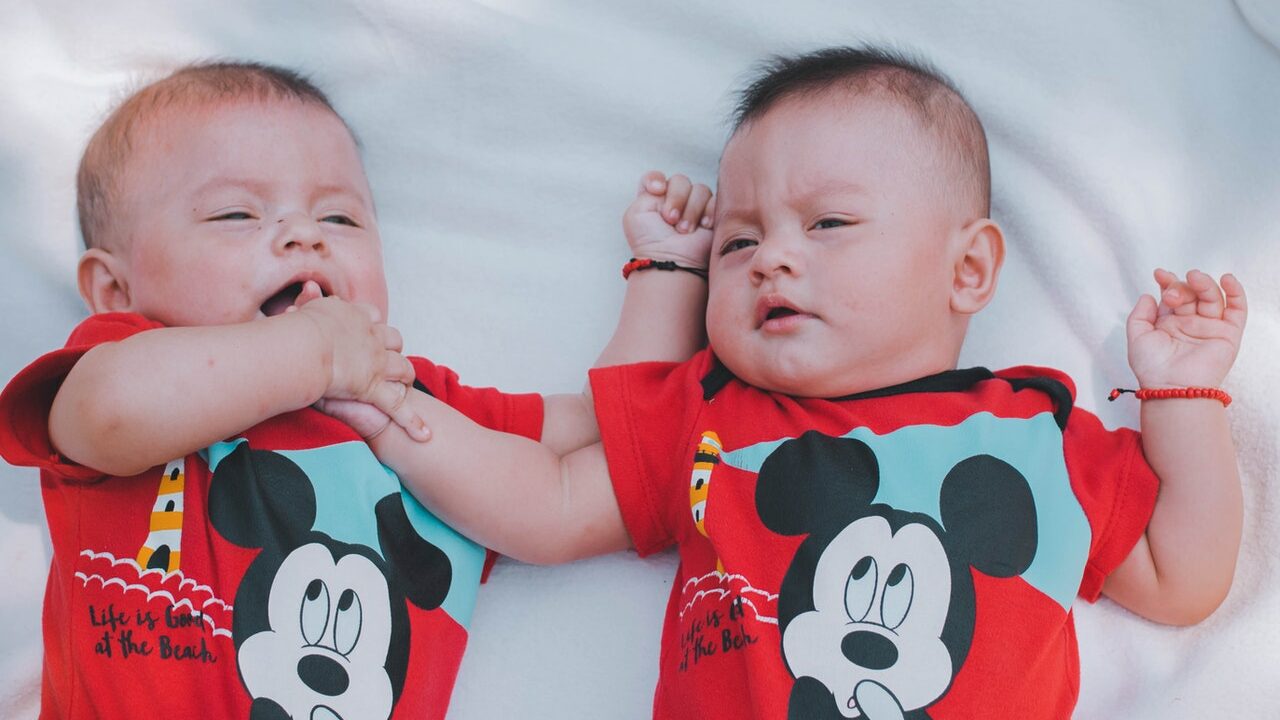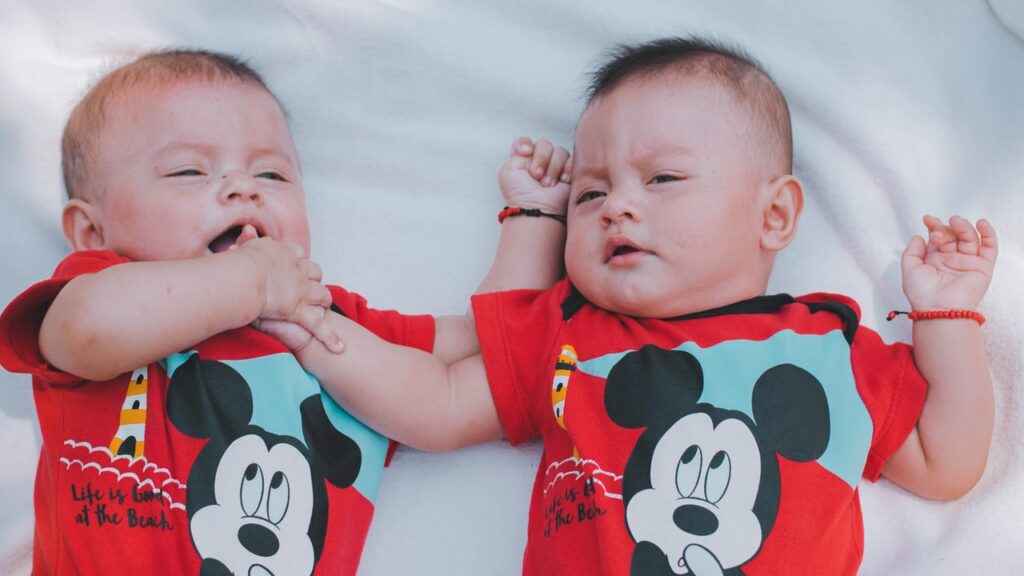 Tips For Choosing The Best Bassinet For Twins
The first tip is to measure the area you have for your twin bassinet. Items in a shop tend to look smaller than they do in your home so get out the tape measure and write down the ideal size.
Check the cleaning instructions. Baby equipment will get spit ups and spills on it, it's inevitable, so easy cleaning is essential.
If you want to move the bassinet from room to room as you spend time in different parts of the home, make sure your chosen product has wheels.
To get good value for money, a bassinet that converts into a playard will give you more use. A playard can usually be used for more months – until the baby starts to climb.
Always look for a sturdy well-made bassinet. A quality product can be used for your next baby or passed onto to friends.
My Experience with Bassinets for Twins
One of my dearest friends has twin boys. She says everything is easier after a good night's sleep and finds a twin bassinet helps with this. The boys settle when they are near to each other, but they need some separation so they don't disturb each other in the night.
Do you need two bassinets for twins?

Bassinets are small and not big enough for two babies to sleep peacefully. Separate bassinets are recommended to guard against SIDS.

Is a co-sleeper bassinet safe for twins?

Although tempting, it's not recommended that two babies are put in the same bassinet. Give them each their own sleeping space to prevent SIDS and so they don't disturb one another.

How long can you put a baby in a bassinet?

Bassinets are usually used up to 3 months old, or until the baby is around 15 lbs in weight.

Do you need two cribs for twins?

It is not recommended to put both twins in the same crib, even though there may be space for two. Keep both of the children in the same room, close to one another, but give them their own crib to help prevent SIDS.
Every family has different needs, whether it's the size of your home or the amount your newborns will need to travel. Make sure you understand your lifestyle and base your decision around that. Of course budget is also a factor. Preparing for twins is an expensive time so think about how much you can comfortably spend on your bassinets.
There is no doubt that twin bassinets will make life easier for both you and the little ones so take a little time considering the best bassinet for twins that suits your family. Then all that's left to do is enjoy time with your beautiful babies.