Organic nursing pillows do not contain any synthetic materials. These breastfeeding pillows are essential during breastfeeding and for the first year of your baby. Additionally, besides nursing, they can be used in a lot of other ways. The best nursing pillow is tailored to bring your baby closer to the breast for easy latching and feeding. It also helps to nurse in a position that is more comfortable. Choosing and purchasing the best breastfeeding pillows is definitely worth your time and money.
A lot of nursing pillows are made from polyurethane foam or polyester. However, these organic nursing pillows are different since they are made from natural materials like cotton. Just like other new moms, you will probably be using your nursing pillow a lot, and this article will guide you on which are the best organic nursing pillows for breastfeeding.
What is a Nursing Pillow?
A nursing pillow is a crescent-shaped pillow that can be wrapped around mother's tummy. It helps bring your baby closer to your breast while nursing.
Is A Nursing Pillow Necessary?
I highly recommend getting a nursing pillow if your budget permits it. You're going to be spending a lot of time nursing your baby during the first few months. Even if your plan is using formula supplements for your baby, using a nursing pillow can be helpful in propping your baby and have an easy time bottle-feeding.
It is safer to use non-toxic and organic nursing pillows as other nursing pillows may be made from materials that are petroleum-based. Material such as polyurethane or polyester could emit volatile organic compounds or toxic flame-retardants that the baby might inhale.
Different Ways of Using a Nursing Pillow
It can be used to support your back during pregnancy
It brings baby closer to the breasts for pain-free breastfeeding
If you have a C-section scar, the nursing pillow takes pressure off the scar at the time of healing
Offers support at the time of bottle-feeding
Offers episiotomy pain relief when you sit on it
Helps relieve the baby of re-flux in many cases
It props the baby up when resting on the tummy
Offers support as the baby learns to sit
Read on for our shortlist of some of the best organic nursing pillows in the market right now.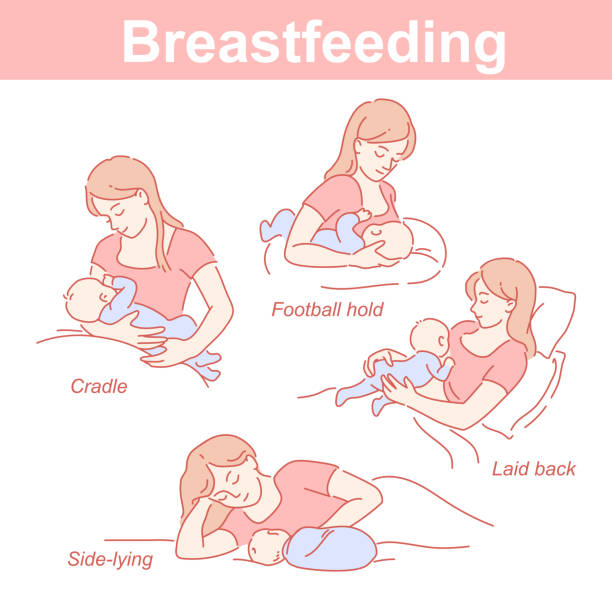 Best Organic Nursing Pillows For Breastfeeding 2021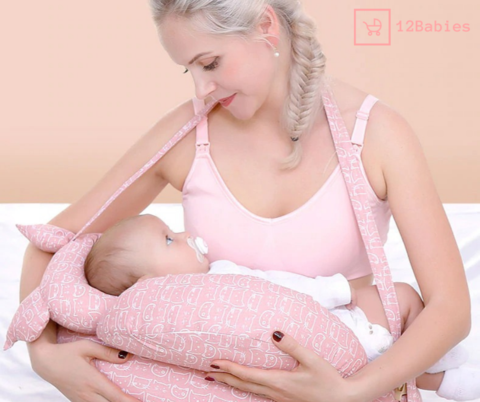 SweetSleep Nursing Pillow™ is specially designed to make every breastfeeding session as comfortable as possible for every mother and child. It's made of 100% cotton with an adjustable auxiliary shoulder strap and waist belt to better adapt around the body, maintaining the correct position when breastfeeding. This helps reduce the pain caused by conventional feeding posture. Additionally, this pillow comes with a scientific baby pillow that forms a comfortable feeding angle of 15 ° that prevents the baby from choking on milk or reflux.
What I love about it:
Reduces Body Pain
Provides Comfort
Provides Relief From Reflux
Easy To Carry
Something to keep in mind:
Compared to the other listed organic nursing pillows, this is not as great for tummy time.

Get an additional 10% discount off your order with the code 'SAFEPARENT' at checkout.
It is made in the USA, crescent-shaped, and filled with hulls of organic buckwheat. Additionally, the contents can be shifted around and has a washable slipcover made of organic cotton.
It is my best friend nursing pillow of them all as it offers the best, most flexible and stable support for the mother and the baby during nursing time.
What I love about it:
It does not have any chemicals and the pillow insert can be easily removed and sanitized or washed and dried.
The pillow can be molded just like a bean bag, conforming to the baby's shape and provides great support, it is the best baby nursing pillow.
Something to keep in mind:
The Nesting Pillow is, however, compared to the other listed organic nursing pillows, not as great for playtime activities and for tummy time.
---
This nursing pillow is made in the USA. Overall, it is another awesome choice for an organic nursing pillow. It is a U-shaped nursing pillow that has eco-wool battling and an organic cotton cover.
What I love about it:
This might be the best choice of a nursing pillow made from natural materials.
Wool is an excellent choice for babies as it is thermal regulating and breathable.
The pillow cover is easily washed. Additionally, you can buy extra covers.
---
This nursing pillow is neither too soft nor too hard as it has been filled with the organic kapok fill. This special fabric offers extra safety as it is bathed in natural zinc. This makes it anti-mold, anti-mite, hypoallergenic, and anti-fungal. It is the best twin nursing pillow.
What I love about it:
Although it is lightweight, it offers a perfect comfort and structure for bottle feeding and nursing.
The Nook patented pebble fabric is water-resistant by nature, and therefore makes any spit-up, leakage, or other unforeseen accidents easily cleanable.
The material of an organic pebble wrap is as soft as the skin of an infant. It helps in keeping the mother and the baby comfortable and comfortable and relaxed and is the best nursing pillow for newborn.
It has a strategically tailored square shape, offering the biggest surface space for extended use.
Every organic breastfeeding pillow highlighted is the best nursing pillow in its own unique way. A good nursing pillow is among the essential nursery items that you as a nursing mother will use a lot.
Selecting an organic nursing pillow comes with numerous health benefits for the baby. Organic nursing pillows do not emit harmful chemicals, unlike commercial nursing pillows that are made from polyester and polyurethane.
The best breastfeeding pillow has to have various features. First, the best shape is 'U' or 'C' for snuggling against your tummy or wrapping around the waist. Also make sure it fits well, and choose safe materials for baby's health. A removable cover pillow makes the cleaning of a nursing pillow easier. Lastly, it should be BPA free and non-toxic.
Hope the above round up gives you a better idea of the best organic nursing pillows out there. To find out more about nursing and breastfeeding, read our reviews of the best organic nursing bras and breast pumps available.
If you're pregnant and expecting a baby soon, them make sure you read our pregnancy guides which include great tips for back pain and insomnia, how to prepare for labor naturally, and the lowdown on non-toxic pregnancy gear like pregnancy support belts, and the best and safest stretchmarks oils for pregnancy and post-partum.

If you're new to organic and non-toxic baby products and want to know more about it for the safety and well being of your child, then I recommend you start here.