Choosing the right bottle is extremely important, whether you feed your baby formula or expressed breast milk. Breast is best, there is no doubt about it, but there will be times when you will need to express milk and have someone else feed your baby if you are not around to do it yourself. However, with so many types of bottles available, how do you know that the one you choose is the best one for your baby? According to many parents, stainless steel bottles are the ones that work the best for them and their babies. Following is a guide to the best stainless steel baby bottles available, their benefits, and plenty more information that will help you decide which bottle is best for your baby.
Are Stainless Steel Bottles safe?
Stainless steel baby bottles are safe alternatives to those made from glass or plastic. One of the main advantages of these bottles over others is that they don't shatter when they are dropped, like glass bottles. They also don't have any of the bisphenols that plastic bottles contain.
Benefits of using stainless steel bottles
There are several benefits to using these bottles, including that it keeps hot drinks hot and cold drinks cold, which is perfect for those times when you are travelling. Neither plastic nor glass bottles do this. If you use a bottle made from plastic, there is always the risk of chemicals seeping into the liquid. On the other hand, the contents of a stainless steel bottle remain completely chemical-free. In addition to this, these bottles are also:
Hygienic
Eco-friendly
Easy-to-clean
Durable
In short, stainless steel bottles are the best non-toxic baby bottles around.
Do stainless steel bottles leach chemicals?
According to the experts, most baby bottles are made with #304 or 18/8 food-grade stainless steel for the simple reason that it does not leach chemicals. Granted, there are some stainless steel bottles made from different grade stainless steel that do contain dangerous levels of lead.
However, those in the know guarantee that both baby and adult bottles made with #304 or 18/8 grade stainless steel are perfectly safe to use for drinking purposes. In fact, this grade steel is safe whether hot or cold and will not leach chemicals into the liquid, even if the bottle is old or scratched inside.
Glass vs stainless steel baby bottles
Apart from being cost-effective and extremely easy to clean, stainless steel bottles are a much better investment than even the best glass baby bottles. This is because they last a lot longer, for the simple reason that glass breaks way more easily than durable stainless steel!
Can stainless steel bottles be sterilized?
Definitely! Bottles made from stainless steel are in fact, dishwasher safe, but the majority of manufacturers recommend hand washing, since it will help the bottle to last longer. You can sterilize stainless steel bottles with ingredients you probably have in your kitchen already, such as:
Scrubbing the inside of the bottle as well as the cap with water, vinegar, and baking soda, and then rinsing well with clean water
Putting stainless steel bottles into a mixture of bleach and water, then soaking in the dishwasher for a few hours to remove any bleach
According to those in the know the simplest way to sterilize these bottles, is to soak them in a solution designed for cleaning hands.
Following are what many people consider to be the best stainless steel bottles available today.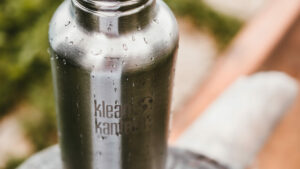 Best Stainless Steel Baby Bottles 2021
Many parents consider the Pura Kiki, a double-wall vacuum insulated food grade stainless steel bottle to be one of the best non toxic baby bottles available. Components are made from medical-grade silicone with absolutely NO plastic parts!
What I love about it:
Contains no BPS, BPA, PVC, EA, phthalates, or any other types of toxins.
No lining to cause leaching
Keeps liquids hot or cold for up to 24 hours (with ice, 8 Hours without ice)
Wide neck
Internal measurement markings
Something to keep in mind:
The great thing about this bottle, and why many feel it to be one of the best non toxic baby bottles around, is that it is designed to change with your baby as he/she grows. By simply changing the nipple top for another top, it quickly becomes a sippy cup, straw cup, container for snacks, or a tea/coffee tumbler.
Best for Breastfed Babies:
No products found.
Made from ultra-polished, medical grade stainless steel, it's no wonder that the Thinkbaby is thought to be one of the best baby bottles. When your baby drinks from the super-soft, cross-cut nipple, he/she gets the same sensation \as when breastfeeding, which also puts it on the list as a best bottle for breastfed babies.
What I love about it:
Contains no lead, BPA, or any other dangerous ingredients
Measurement lines are etched into the surface so they cannot be rubbed off
Comes with a travel cap to keep the nipple germ-free
Something to keep in mind:
Many parents love this bottle as it scalds breast milk effectively to combat excess lipase levels. Additionally, it does very well after being washed in a dishwasher.
No products found.
---
Another one considered as one of the best baby bottles as well as a best bottle for breastfed babies. The Pacific Baby Hot-Tot Insulated is Eco-friendly and great for moms when travelling, visiting friends or family, or for those late-night feeds.
The anti-colic nipples are designed to resemble a mother's breast. And they make excellent breastfeeding bottles since they keep breast milk perfect for as long as 8 hours.
What I love about it:
Keep liquids hot or cold for up to 10 hours
Recyclable
Accessory tops make it possible to use for up to 5 years of age
Something to keep in mind:
Parents rave about this bottle and recommend it to all new moms. Some also say that it would make a fantastic baby shower gift.
---
Parents everywhere love Innobaby Aquaheat, and it's no wonder. You will have warm milk for your baby anywhere, anytime with this handy little gadget. Whether driving in your car or hiking in the mountains. What's more, the Innobaby Aquaheat is a power free bottle warmer, able to warm up the contents for your baby in as short a time as 1 or 2 minutes.
What I love about it:
Made from food grade stainless steel, it is phthalate free, BPA free, PVC free and lead free.
Heat packs, used once, are non-toxic and biodegradable.
Just place heat pack in heating pod, and add some water to activate
Something to keep in mind:
One user referred to it as a "miracle little thing" and quite rightly so. It allows you to defrost and reheat frozen breast milk. You can also scald milk with excess lipase, and use it as a warming aid for baby's bottle anywhere, anytime.
---
The Klean Kanteen Kid Kanteen is yet another best baby bottle for newborns. Besides being healthy, safe, and toxin-free, it is also designed to promote a relaxed feeding experience for the baby at his//her own pace. It also encourages proper development and digestion. The wide mouth is designed for easy filling, pouring, and cleaning, and the tapered and contoured shape of the bottle is easily managed by small hands.
What I love about it:
Backed by the Klean Kanteen Strong as Steel Guarantee
Does not retain or give off flavors
Slow-flow Nipple with dust cover included
Something to keep in mind:
This is one of the best baby bottle for newborns according to many parents. Most of them use the bottle until their toddler reached the age of 3 or 4.
Babies can be finicky sometimes. Do note that there are some great plastic bottles and best glass baby bottles available. But there is little doubt that stainless steel baby bottles from the list above are all absolutely safe, chemical-free and non-toxic. Overall, they are some of the the best bottles you can buy for your baby.
If you want to learn more about natural, non-toxic and chemical free baby products, I recommend you start here.