Babies only use their nose to breathe which often gets congested and since they have not mastered blowing out their noses it is difficult to help them. It is heartbreaking for any parent to see their child struggle with a stuffy nose or hear your child sniffle. To help clear things out, you need the best nasal aspirator for babies. These come in different varieties and are very essential for your baby. Thankfully with the best nasal aspirator, there's a solution to this problem and they will keep your baby comfortable.
In this article, we are going to break down everything there is about nasal aspirators for babies from which one is the best to how do you suck the snot from your baby's nose.
What is a Nasal Aspirator?
A nasal aspirator is a medical device that is used to relieve the baby's nasal passages by suctioning mucus resulting from allergies, colds and even teething.
According to Healthline, "Congestion occurs when extra fluids (mucus) accumulate in the nose and airways. This is the body's way of fighting foreign invaders, whether they are viruses or air pollutants.".
When a baby has a congested nose their ability to eat, sleep or breath is affected and that is where the best nasal aspirator for babies comes in handy. Not only does an aspirator reduces mucus from the baby's nose but it is so gentle that the little ones will not feel any pain. Nasal aspirators come in different types and it is up to the user to choose the one that bests suits you.
Types of Nasal Aspirators for Babies
These are the three different types of nasal aspirators.
1. Oral Suction Aspirators:
These manually work by using parent-powered suction. They work by placing a tube into the baby's nose while the other end has a mouthpiece that goes into the parent's mouth. Once you suck on the mouthpiece it creates a suction that clears the boggers out of your little one's nose. This aspirator has a unit comprising of a stopper and a filter that prevents you from eating the boggers thus the method is hygienic. Oral suction aspirators are effective, easy to use and cheap.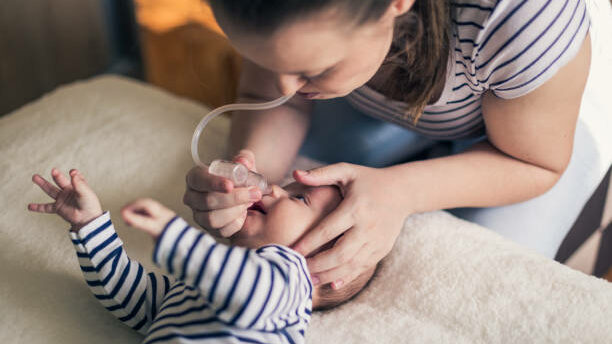 2. Electric Nasal Aspirators:
Just like the name suggests electric aspirators are automated and are designed for ease. They work by having one end going into the baby's nose then by pressing a button this aspirator automatically suctions mucus and boggers from the baby's nostrils. This is nice and easy, right? Electric aspirators are easy to use, reliable, quiet and can be charged using a USB charger thus there is no need to regularly buy batteries. They also feature two suction levels, that is the lower suction for mild colds and higher suction for more aggressive colds.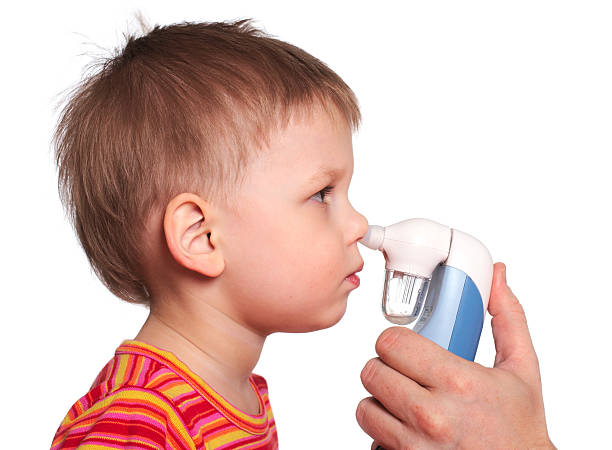 3. Bulb-syringe Aspirators:
Also known as a 'bulb aspirator' and they are the most common kind of aspirators in hospitals. A bulb aspirator is designed in that they have a rubber bulb at one end and a narrow opening on the other end. It works by first squeezing the rubber bulb until it is air free then gently place the narrow opening into your baby's nostril. Slowly release the rubber bulb and the vacuum suction created will extract the substances out of your baby's nose. Bulb aspirators in the market have been modified to address the previous issues.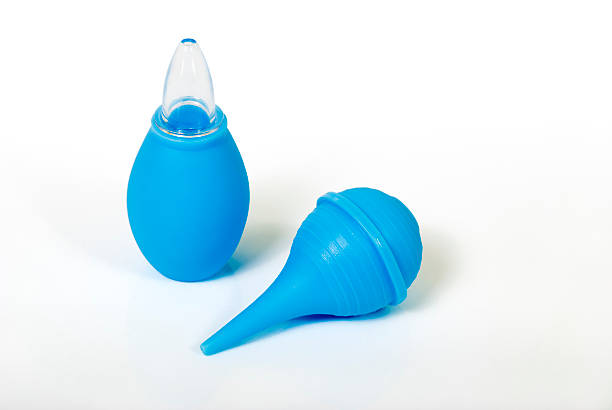 Best Bulb Nasal Aspirator for Babies:
The Boogiebulb is a top contender on the best nasal aspirator for babies due to the fact it is highly used in hospitals and has a range of other benefits. It is BPA, latex and phthalate-free which guarantees your baby will not suffer from toxic chemicals.
What I love about it:
Comes in different sizes.
Safe to use and can be used from birth.
Something to keep in mind:
It has poor suction.
The top unit constantly falls off.
With a bunch of features to love the Innovo Twister Bulb is made from hospital grade silicon thus it is soft, resists microbial growth, safe and it is flexible. The bulb is transparent enough to see what is happening from the inside, making it a top pick for the best nasal aspirator for babies.
What I love about it:
It is easier to clean
Has a warranty
Reasonably priced.
Something to keep in mind:
Has a low suction.
The tip is wide making it difficult to fit in a newborn's nose.
---
This is among the best nasal aspirators when taking care of tiny stuffy noses. That's because it is designed for snot removal with features such as a syringe design, a safety guard an easy clean plug. Moreover, it's fun to use on the baby since it emits sounds thus keeping them engaged.
What I love about it:
Easy to clean
Easy to use
Efficient nasal aspirator
Something to keep in mind:
The bulb is opaque and you cannot see the boggers.
---
Top Oral Suction Nasal Aspirators
This oral suction has a small tubing that can be used even on the smallest nostrils and it is designed for great comfort. It is manual therefore the level of suction is customizable and regulated by the parent. Additionally, the mouthpieces are dishwasher safe and thus you can use it for a while. This is considered by many as the best nasal aspirator for babies.
What I love about it:
Easy to clean
Comes with disposable filters.
Something to keep in mind:
The unit can easily disconnect.
It is not adjustable.
---
Best for Sinus Infection:
No products found.
This aspirator was made by two Australian new parents Angela and Elijah. This aspirator is great for storage since it comes with a carrying case and there are no batteries or chargers to worry about.
What I love about it:
It doesn't require any filter and you can use it at any angle.
Has excellent suction.
Something to keep in mind:
The unit falls apart easily.
The tip is too hard and causes discomfort.
No products found.
---
This nasal aspirator is budget-friendly and it has an ingenious design. Additionally, it takes care of boogers by having a collection cup that acts as a mucus chamber so no germs will come into contact with your mouth. What's more, the chamber is clear so you can see if the suction is effective or not.
What I love about it:
It gives the parent control over the suction force.
The clear design lets a parent see if it is effective or not.
It is gentle
Something to keep in mind:
The nose piece is not adjustable.
---
Best Electric Nasal Aspirators for Babies
Created with specialists the Nosiboo is among the best nasal aspirators in the market. Its unique design makes it easy to clean and the only part that requires cleaning is the head. Additionally, you can clean the head easily as it is easy to disassemble. Moreover, it allows the parent to control the suction through its multiple settings.
What I love about it:
Has a cute design.
Easy to clean.
Something to keep in mind:
Small nose piece
It is noisy
Has a low suction
---
If you are looking for a pocket-friendly nasal aspirator then the OCCObaby is the one for you. The reason why it is among the best nasal aspirator for babies is that it is made to cater to all baby stages. Additionally the multiple tips give it a longer life and also allows gives it a longer reach which is essential for your baby especially if they are suffering from a severe cold.
What I love about it:
Has a compact design
Comes with multiple tips
Something to keep in mind:
It is costly to buy and replace batteries.
---
This is the mother of all aspirators though it comes at a price and is worth it. That's because it is very gentle on your baby's nostrils and at the same time very effective in cleaning out the nasal passages. Moreover, its large compartment allows for the storage of mucus and it is designed as a hospital-grade suction power. This makes it a top contender for the best nasal aspirator for babies.
What I love about it:
You can use at any angle
The kit is small and compact.
Something to keep in mind:
Pricey
Some kits are defective
---
No products found.
The concept behind the creation of this nasal aspirator is one of a kind because it can be used with your vacuum cleaner. Ingenious right? With a hose diameter of between 0.90 inches to 1.22 inches, it can fit into any vacuum cleaner with the same diameter. Additionally, it weighs 4 ounces, does not require any batteries and is not portable.
What I love about it:
Excellent suction
Easy to use
Something to keep in mind:
No products found.
---
No products found.
The Waltolt nasal aspirator comes in baby-friendly designs and it cleans your baby's nose with ease. It comes with an LCD screen display screen that engages your baby making cleaning the nose hassle-free.
What I love about it:
Portable
Different levels of suction power make it efficient
Comes with reusable tips thus it can be used for a longer time.
Something to keep in mind:
The first 2 levels have a lower suction power.
No products found.
---
Best Alternative to Nasal Aspirators:
If this is not among the best nasal aspirator for babies, then I don't know what is. This 2 in 1 baby ear and nose cleaner gets the job done without the help of saline drops and is safe to use.
What I love about it:
Lightweight and very portable
Easy to use
Something to keep in mind:
Expensive
Best for babies under 18 months
Does not unclog the baby's nose.
---
How to Choose the Right Nasal Aspirator
Before purchasing the best nasal aspirator for babies, these are the things to consider.
Strength of suction. It is worth considering the strength of the suction based on your baby's needs. The level of suction varies from one baby to another and thus you should know the one that works for your baby.
Cleanliness. To prevent microbial growth you should choose an aspirator that can be cleaned with ease to ensure proper hygiene. Some aspirators also have disposable parts to allow easy cleaning.
Size of the nasal tip. If you plan on using an aspirator for a while you should one that either can accommodate different sizes or has interchangeable tips.
Material. Ensure your aspirator is made from silicone material as it is the standard for medical devices and it is also flexible and comfortable. Other materials such as polypropylene or other plastics can do too.
How to Use a Nasal Aspirator
For babies using an aspirator on them is an uncomfortable experience that is coupled with crying and fussing. Before using an aspirator hold your baby in a steady position so that they do not grab the device and gently place it in the nostrils. I promise you after using an aspirator on your baby they will feel better since they can easily breathe.
When correctly used, the best nasal aspirator for babies will not hurt or cause any harm to your baby. Remember that your baby's nostrils are very sensitive and thus if you exceed using the nasal aspirator for more than 2-3 times a day it might irritate them resulting in nosebleeds. Also, you should be very gentle when placing the tip on them and don't place it deep down as it can irritate the inner lining of their nostrils.
FAQs About Nasal Aspirators
Why use an aspirator over nose blowing?

An aspirator is an effective way to get the most stubborn boogies from your baby's nose while nose blowing is difficult for babies and young toddlers.

Why does my baby's nose keep getting congested?

It is because you are exposing your baby to dry air, cold, allergies and viral infections. Weather change is another common reason that would keep their nose congested.

How often can I aspirate my baby's nose?

In a day you can aspirate their noses 2-3 times this because their noses are delicate and you do not want to harm them. If necessary you can aspirate them until they can breathe better.

My baby hates when I clean out his nose. Is there anything I can do to make him hate it less?

Not really, though you can apply some olive oil to reduce the irritation and be as gentle as possible so as not to harm them.

What causes baby's nose to get congested?

The following reasons can cause your baby's nose to get congested and they include dry air, allergies, viral infections, colds and even weather changes. Flu and pneumonia are other serious causes of congestion.

What's the earliest age that you can use a nasal aspirator?

How to know if my baby's nose is congested?

To know if your baby's nose is congested you might notice the following symptoms:

-Sniffling
-Coughing
-Difficulty sleeping
-A runny nose
-Noisy breathing
-Difficulty with eating and when feeding

Is it okay to let baby sleep with a stuffy nose?

In my humble opinion, this would be a No. The reason being is that babies under 3 months of age use their noses and with a stuffy nose there is a likelihood they won't sleep well at all.

At what age do babies breathe through their mouth?

At around 3 to 4 months that is when babies and young toddlers begin to use their mouths for breathing. Before they are of this age they only use their noses to breathe.

Is it better to use a battery-operated aspirator or oral?

This is a matter of preference and situation. Some parents prefer using battery-operated aspirators while others opt for oral suction aspirators.

Should I use nasal spray before I use the aspirator?

No, unless it is necessary that is when you should use an aspirator. If you use a nasal spray give it a duration of between 30 seconds to a minute before you can aspirate.

The best nasal spray for babies

The only nasal spray that you should use on your baby is saline drops because they are designed for newborns. Adult saline spray should never be used at all costs.

Why does baby's congestion get worse at night?

Because there is mucus build-up from having them lying down which worsens the congestion. Poor babies cannot blow out or wipe their noses thus they remain congested.

When should I take the baby to the doctor to address congestion?

It is advisable to first give your baby's doctor a call and give them your concerns. They will advise on what to do and if the congestion persists you can take them to the doctor.

How do you tell if a baby is struggling to breathe?

Signs such as wheezing, rapid breathing, difficulty breathing, a change in the color of their lips including pale or blue-colored lips and if they use their chest or neck to aid their breathing.
One of the horrible feelings is seeing your baby suffer and you can do nothing about it. In the case of nasal congested worry less because the best nasal aspirator for babies and the best thermometer for babies are there to save the day. They come in different types and it is up to you to find the perfect one for your little one.
Using an aspirator on your baby will be accompanied by a few tears but I promise you they will feel better sooner or later. Therefore a nasal aspirator is an essential tool for every parent.