If you're thinking of losing that pregnancy weight by going for a run around the creek or in a country park, but also want to invest in a travel system that can double up as a car seat, what you need is a jogging stroller travel system. The best jogging stroller travel systems don't just come with the best specs but also address concerns that many new parents have after getting a baby. For example, they are designed to keep babies comfortable, even when you go over rough terrain. Remember to check how much comfort the stroller can offer, as well as make sure it is chemical free and made with safe materials.
A jogging stroller travel system can help you get back into shape, and lost that extra fat that even breastfeeding wasn't able to burn off. Since there are so many options out there, how do you make a distinction between poor-quality ones from the top runners? Read on to find out my shortlist of the best and safest jogging stroller travel systems on the market today.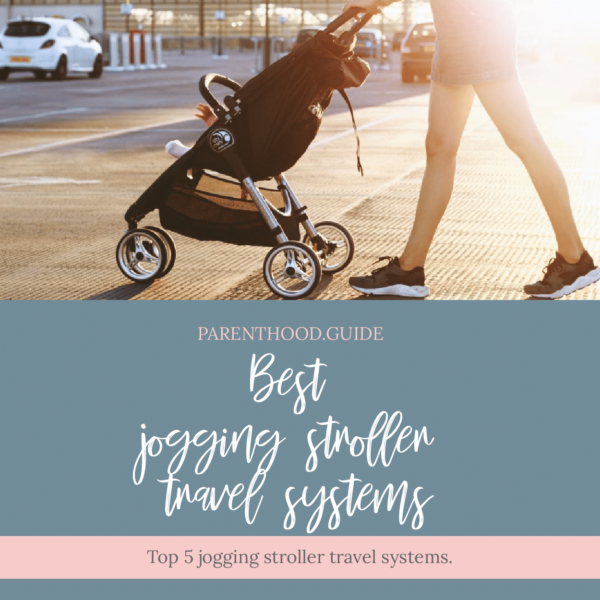 Top 5 Jogging Stroller Travel Systems in 2021
This is a sturdy stroller whose adapter fits well with many car seats. With this stroller, it is hard to realize that you're moving, even when on gravel. I've used it on gravel driveways with much ease and fun. The ease of usability definitely justifies the price tag. The ease at which it moves makes it the perfect jogging companion. The stroller is designed to fit easily into your car, so you don't need to worry if you've not got a Range Rover.
What I love about it:
There is no fixed position for the paddled seat, and it reclines to many positions.
It has a tether strap and a 5-point harness.
BPA free.
Has an adjustable canopy that blocks the sun at any time of the day.
Fitted with a release fold mechanism.
Something to keep in mind:
It has non-adjustable handles.
The Baby Trend Expedition Travel System is a three-wheel jogging stroller that is designed with an infant car seat in mind. This seat locks itself to the car base when you are on the go. The stroller comes with a lockable swivel wheel that is fixed at the front to enable jogging, and this quickly proves to be a very useful feature. All-terrain tires with a quick release function allow compact storage, enabling safe running in, you guessed it, all terrains. The comfort derived from the two beverage trays and a spacious storage basket is definitely noteworthy. For even more comfort, the manufacturers include an ergonomically shaped extra wide push foam padded handle.
What I love about it:
Features a smooth front wheel swiveling.
The baby is buckled safely by the 5-point harness.
It has a trendy child snack tray and parent console.
Safe for babies as it does not have any traces of BPA.
Affordable.
Something to keep in mind:
The seat lacks side padding.
Doesn't fold up easily.
The high-speed jogging produces a slight wobbling effect, which might make you a tad uncomfortable.
---
This stroller is quite sturdy and is designed with great reliable brakes. The jogging stroller is made of high-quality materials and comes with a cell phone holder (plus plus!). For a person who prefers to run on country roads like me, this is the ideal suburban companion. It has a stunning ability to handle the beach on firm sand. This jogging stroller comes with air-filled tires that allow you to carry the baby in any terrain.
What I love about it:
It accommodates any size of diaper bag easily. (sounds inconsequential, but trust me it's important!)
Can be cleaned easily.
Has a comfortable baby seat.
Free of toxic chemicals like BPA.
Has a spacious storage basket.
Something to keep in mind:
It is quite heavy and cannot easily fit in a small car.
It is not comfortable to use on extremely rough terrain.
The occasional sticking of the front swivel wheel can be slightly annoying.
---
The Joovy Zoom 360 Ultralight Jogging Stroller is the perfect solution for parents who want an easy-to-fold stroller that is also comfortable for baby and the parent. You can easily go for a run with this jogger, while your baby naps or coos inside. The design of the product sleek, easy and comfortable. It comes with absorbers that eliminate any shock emanating from rough terrains.
What I love about it:
It has a high comfortable seat.
Good storage space that is easy to use.
It has a fantastic sun shade.
Free of latex, BPA and flame retardants.
It is affordable.
Something to keep in mind:
It is slightly tricky to open the stroller.
There are very few color shades to choose from.
The handle bar is not very soft.
---
Graco Trax Jogging Travel System 2019 is a light and easy-to-open stroller that is comfortable enough for jogging. It is designed with a car seat fitted into it. Although it's slightly short, it is quite comfortable for tall people to push without having to bend. The spacious storage at the bottom comfortably fits the baby backpack. You can easily load and unload this beautiful jogging travel system from the car since it has an easy-to-click car seat.
What I love about it:
It has a well-fitting car seat that is firm.
Front wheel swivels.
There are suspensions on the tires.
Does not contain traces of BPA, latex, and other dangerous materials.
It has an automated storage lock.
Something to keep in mind:
Infant support can be better with some more cushions.
This is an expensive stroller.
---
When looking for the best jogging stroller travel systems, comfort and safety are your prime concerns.
In terms of comfort, the above strollers are great for a multitude of terrains, as well as ergonomic comfort for both shorter and taller parents. Additionally, you need to look for a stroller that is made from non-toxic materials and make sure the stroller is free of flame retardants. The safety of your baby comes first, and it is worth checking the materials that make up your stroller.
Consider buying baby stroller travel systems that are free of any other harmful chemicals to ensure the safety of your baby. Any of the above make the cut, in our view. Which one will you choose?