Finding a reliable tandem stroller can be frustrating. There are so many factors to consider when searching for best sit and stand stroller for your infant as well as your growing toddler. You want something that is safe, comfortable, with convenience features to make your day smoother as you hit the town, run errands, take kids to the park, and catch those mall sales. The last thing you want to worry about is whether your baby's stroller might be hazardous to their health. We have round up some of the best non-toxic sit-and-stand strollers for infants and toddlers so that you can leave your house feeling confident that your kids are safe and cozy.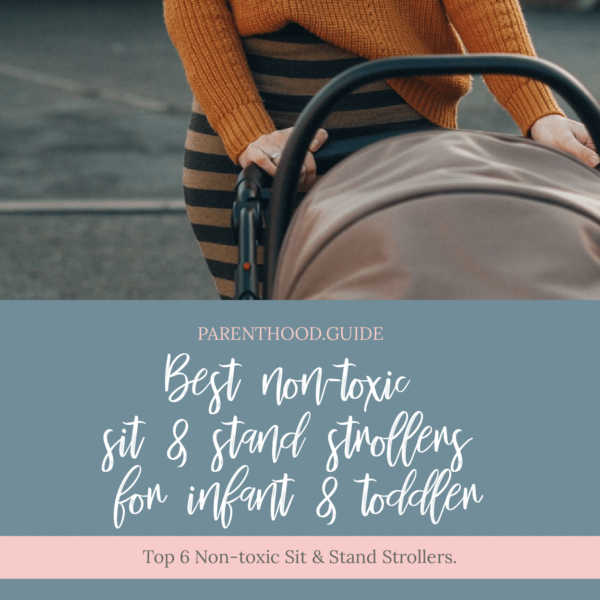 Reviews of the Best Sit and Stand Stroller for Infant and Toddler
The most compact, lightweight double stroller on the market, the Joovy Caboose Ultralight is perfect for a day out shopping with your little ones. Designed to accommodate a variety of age ranges between two children, this is one of the best sit and stand stroller that can be converted in several different ways. It includes a universal infant car seat adapter that fits most brands and a standing option for children. It is also compatible with a caboose seat that can be front or rear facing for children who are still too young to stand.
What I love about it:
Includes a newly designed extended rear facing canopy
Parent organizer for added convenience
Adjustable leg rest
Something to keep in mind:
Some reviewers found it difficult to maneuver, particularly on sidewalks.
Additional Specs:
Weight: 22 pounds
Dimensions: 25.6 x 23.6 x 46.5 inches
Average Review: 4.0/5.0 stars
This Baby Trend sit and stand stroller is great for running errands or visiting the zoo with two children up to 50 lbs. each. It is designed for the busy parent who does not have time to wrestle with bulky strollers and multiple folding steps. It is compact and lightweight and can be folded with one hand. The built-in front wheel suspension makes it a breeze to man-oeuvre so that your children have a smooth, enjoyable ride.
What I love about it:
Padded bench seat
Reclining front seat for versatility
Easy to remove, machine washable fabric (delicate cycle)
Something to keep in mind:
Designed for Graco Snugride Classic Connect and Click Connect car seats, so other brands may not fit as well.
Additional Specs:
Weight: 26.5 pounds
Dimensions: 42 x 21.5 x 40.5 inches
Average Review: 4.2/5.0 stars
---
Similar to its cousin, the Ultralight, this sit and stand double stroller is super lightweight and easy to move. It has a reclining front seat with three position options and a much larger sun visor than other models, making it perfect for a sunny day at the park or for running errands while your baby naps.
What I love about it:
Includes universal car seat adapter that fits most brands
Compatible with booster for children too young to stand
Two year warranty
Something to keep in mind:
The only storage is one small basket.
Additional Specs:
Weight: 28 pounds
Dimensions: 37 x 21.5 x 41.5 inches
Average Review: 4.2/5.0 stars
---
This is a fantastic choice for an all-day event. It has multiple storage options as well as snack trays and cup holders in the front and back. There is even a snack tray for the adults with a pivoting cup holder for even more convenience. The front wheels swivel for ease of movement and the buckles offer three and five-point safety harnesses to help you ensure that your children are safe and secure as you go about your day. This is clearly a top pick for the best sit and stand stroller for infant and toddler.
What I love about it:
Removable, machine washable fabric
Removable snack trays for easy cleaning
A removable face-time rear seat available for purchase that holds up to 40 lbs.
Something to keep in mind:
Many reviewers loved the convenience features but stated that it is difficult to maneuver with heavier children.
Additional Specs:
Weight: 22.75 pounds
Dimensions: 38.63 x 25.50 x 45.50 inches
Average Review: 4.5/5.0 stars
We all want the best for our children. With all the things a parent has to keep track of, from soccer practice and doctor appointments to veggie intake and school paperwork, it is nice to know there are products out there that meet your convenience needs with safe, quality material that is free of toxins, such as flame retardants and lead. This gives you one less thing to worry about. These are some of the best sit and stand strollers that will keep your growing children secure and comfortable so you can enjoy your busy day out with the family with confidence that you're making good decisions for their health and well being.
Looking for some great safe baby gear for you and baby? Read our shortlist of the best cribs with built-in storage, baby walkers, and strollers. Or if you're new to the world of organic, non-toxic and chemical free baby products, then I recommend that you start here.